Last update: August 2023
My love of collecting stamps began during my trip to Japan in 2018 and has become a real addiction during my recent travels. I've always loved collecting souvenirs from my travels to keep them safe in our memory box or to decorate my travel diary, but in Japan I discovered the pleasure of stamp trails, where you can collect stamps as you walk along. You can discover districts or historic buildings while collecting beautiful stamps (or even receive a souvenir at the end). More common in Asia, it's an activity that many people enjoy, young and old, and you'll find other people stamp-hunting along the way!
During our trip to Korea, I wanted to discover Seoul in a slightly unusual way. So I did a little Google research to find the capital's best-known stamp trails, and it turned out to be quite hard to find the information in French or even English. It was during my long search that I came across the Jungnang Trail (or Jungrang trail) and its stamp tour. I hope this article will help you if you're looking for an unusual walk in Seoul, if you like stamps or if you're just curious.
Discover an unusual side of Seoul with the Seoul Trail (Seoul Dulle-gil)
The Jungnang Trail is part of the Seoul Dulle-gil hiking trail that circles the city. With a length of 157 kilometres, the trail is divided into 8 sections, each of which starts and finishes next to a metro station (it's easy to get to, and you can divide up your walk as you like). These sections cross several mountains, forests, parks and streams: it's a really great way to discover nature right in the heart of the Korean megalopolis. Along the way, you can collect 28 stamps to fill in your stamp booklet and claim your Seoul Trail completion certificate.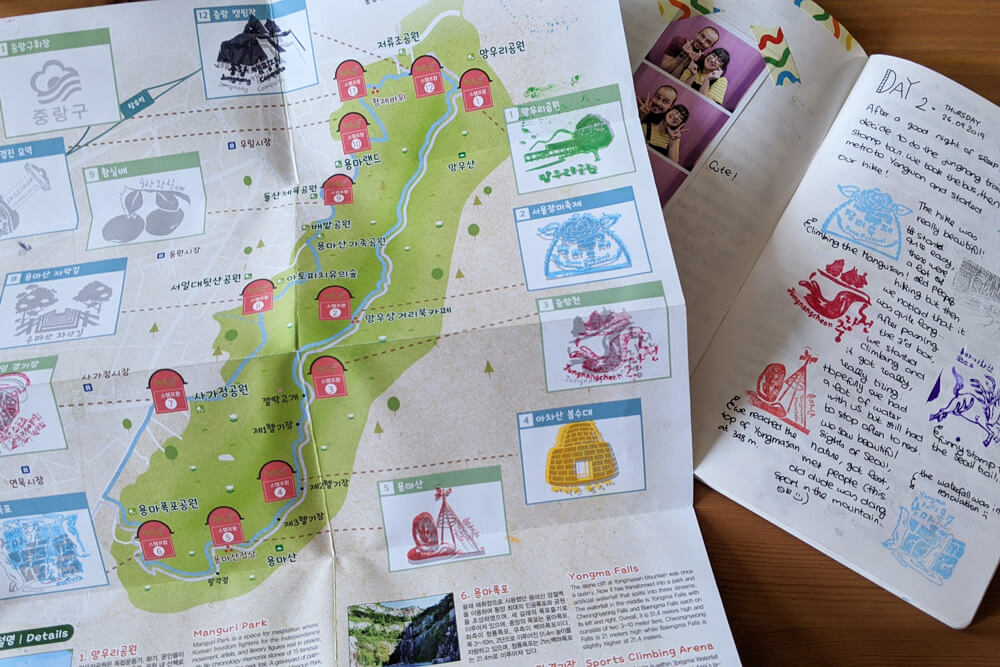 ---
Explore the Jungnang Trail
The Jungnang Trail is a hiking trail that is based in part on the 2nd section of the Seoul Dulle-Gil and takes you for 10 kilometres over Mount Mangusan, Mount Achasan and Mount Yongmasan while discovering some of Seoul's favourite spots and collecting 12 stamps along the way. There's a 360° view of the city, and you can see Mount Namsan, the Han River and the Jamsil Olympic Stadium along the way.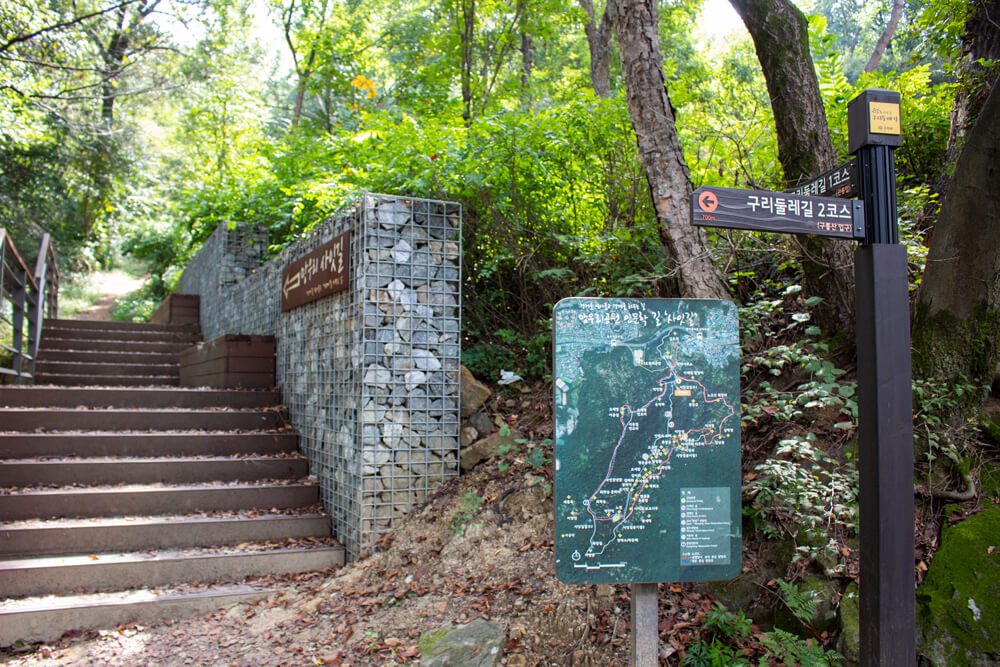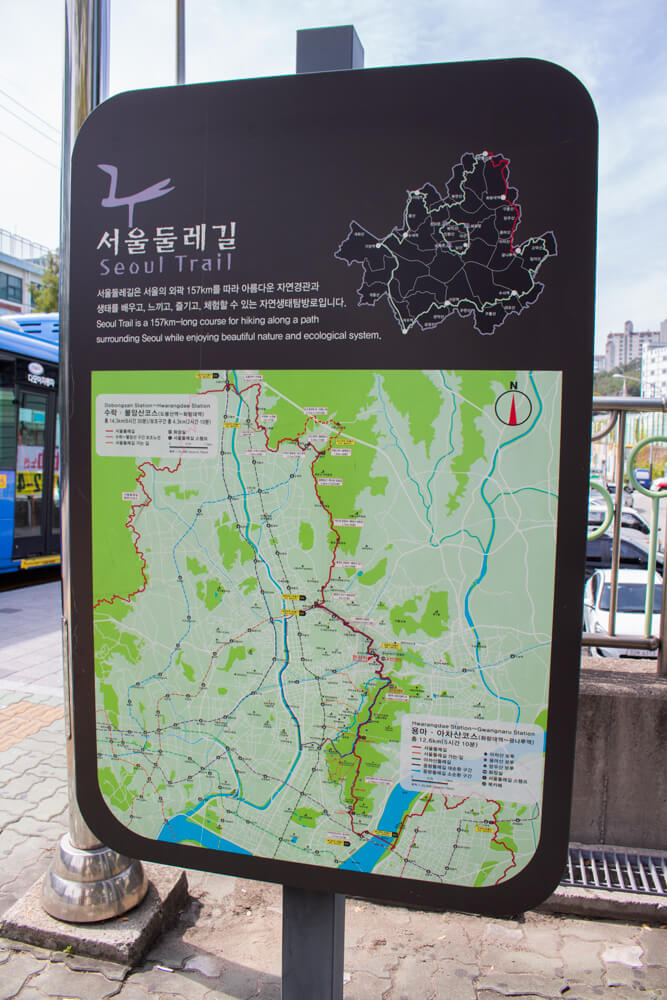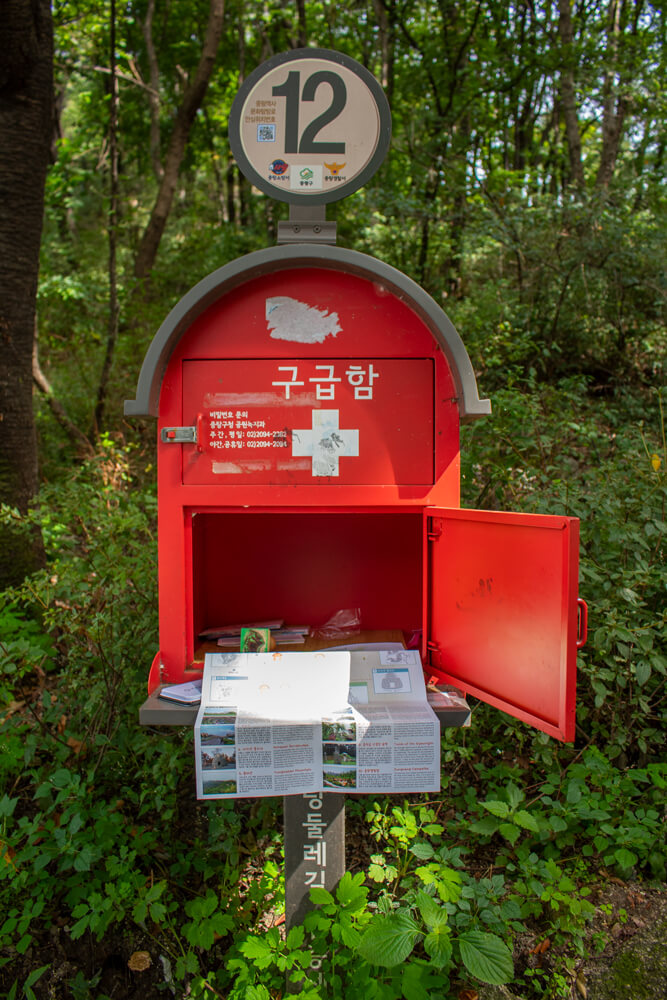 We began our walk at around 10am, arriving at the Mangu metro stop (directly accessible from our accommodation) and, after walking through the streets of Jungnang district, we started at stop no. 11 (the tomb of Sin Gyeongjik – a former general during the war against Japan) which leads to the Jungnang Campsite and the Mangu Cemetary Park (stop no. 12), where many famous Koreans are buried, including authors, poets, activists and, for example, the pioneer of smallpox treatment in Korea. Who would have guessed?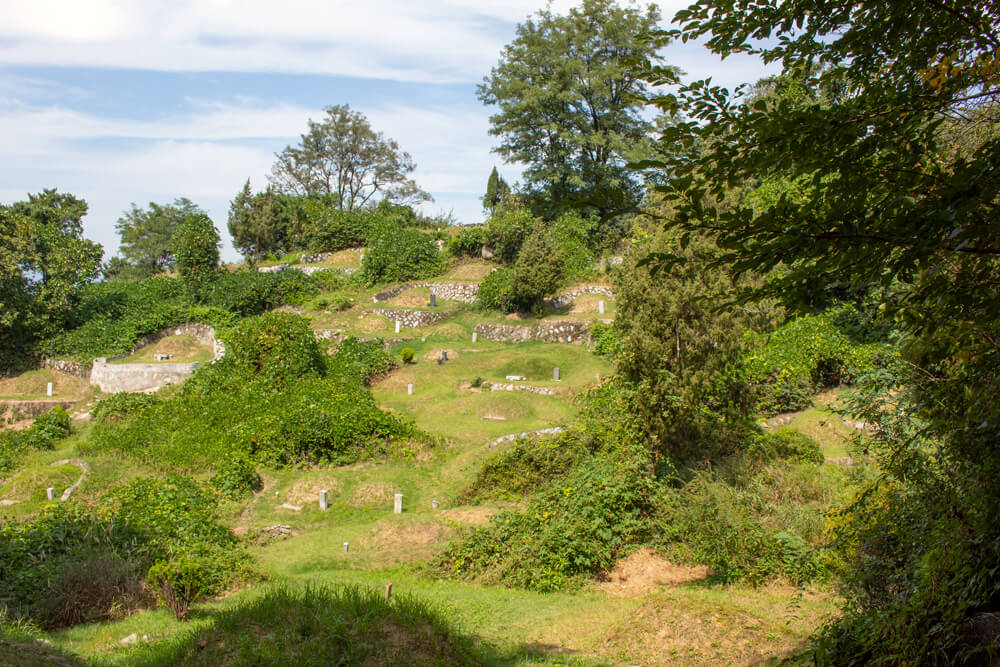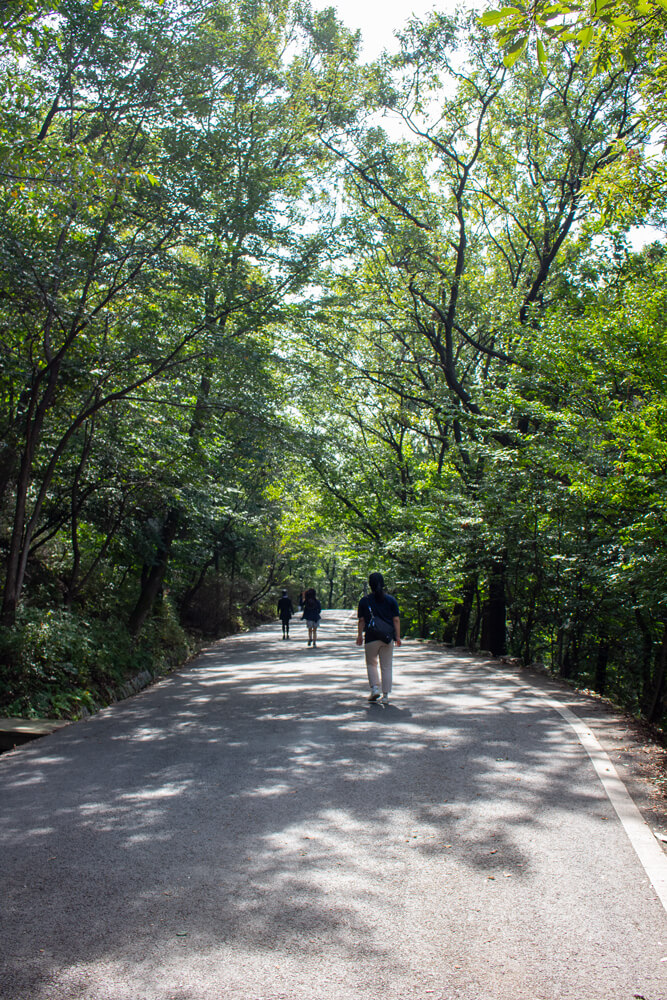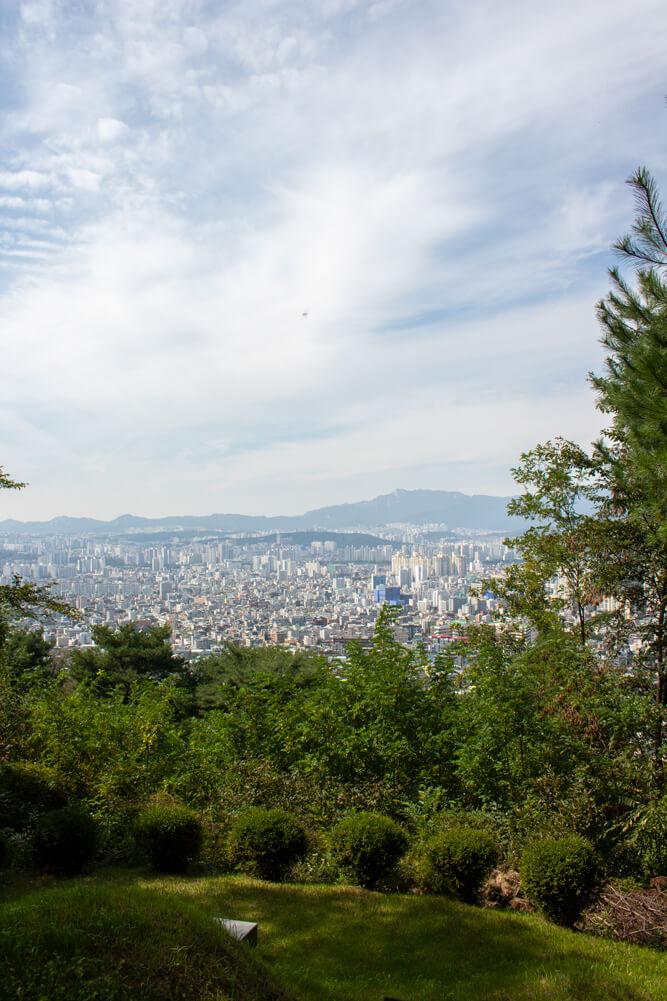 We walked along the shaded path, slightly uphill across Mount Mangusan, which rises to 282 metres (stamp no. 1). It was a really nice section, with plenty of places to rest and admire the view over Seoul. At this very moment we were thinking "oh well, it's not that hard!"… Ah well, it is. At least we had an incredible view of the city, so it was really worth it!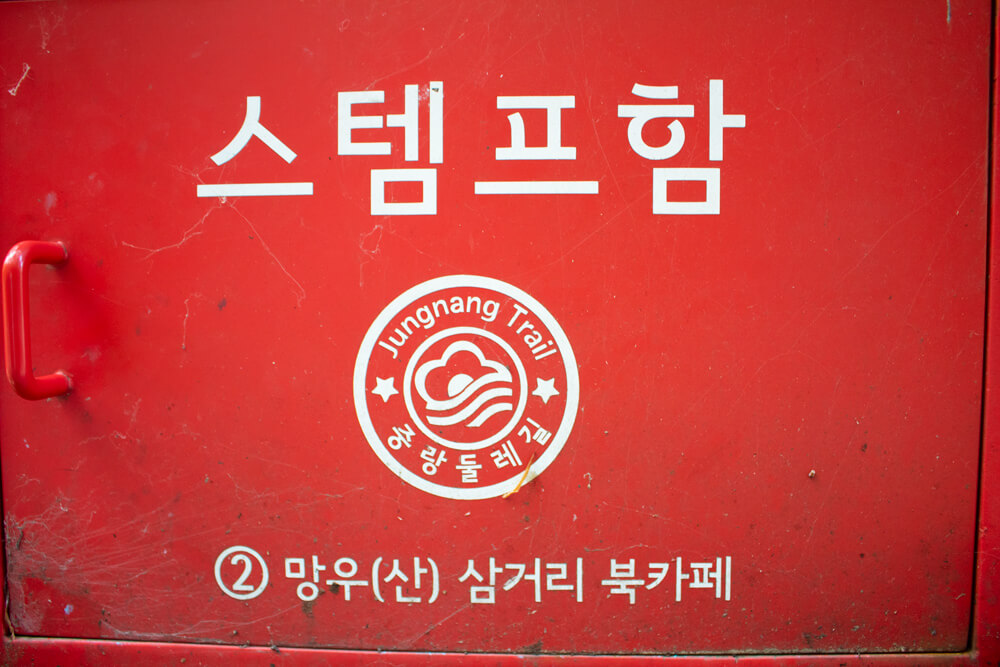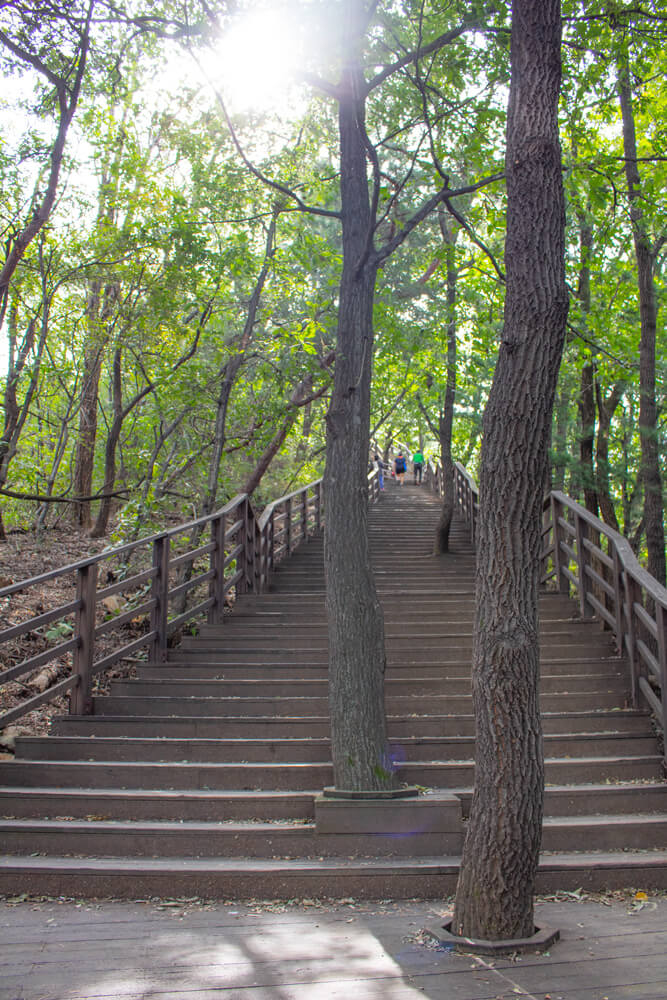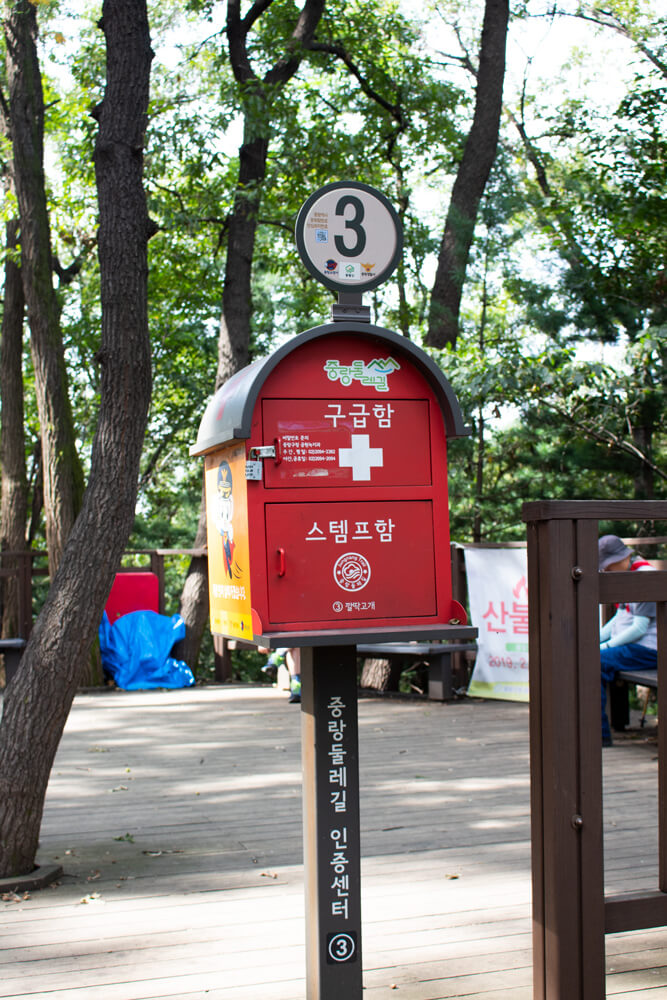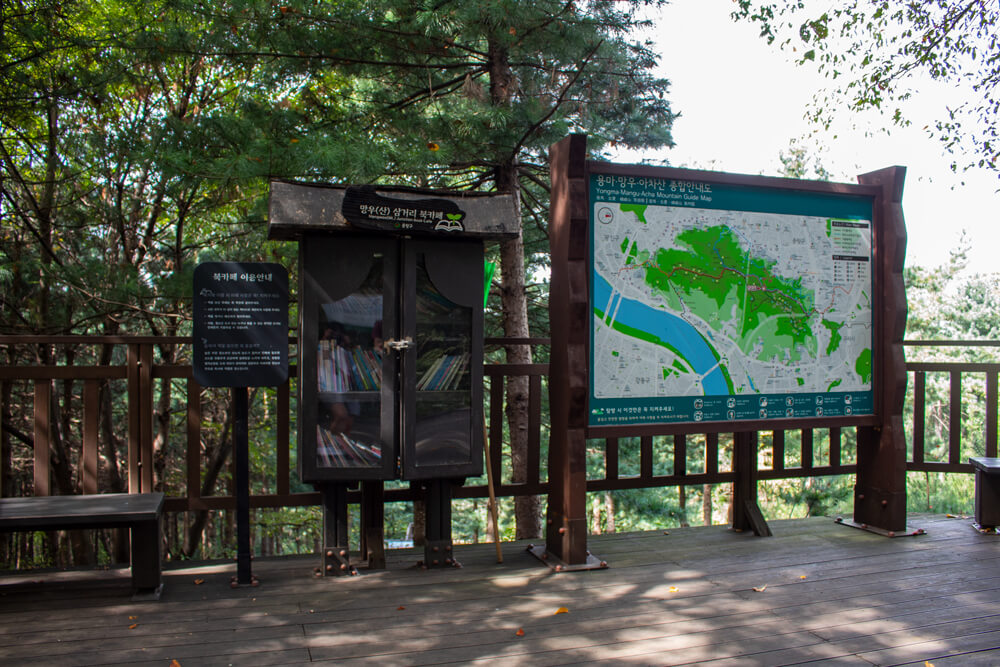 We pass stop no. 2 (where the Seoul Rose Festival usually takes place in May) before arriving right on Mount Achasan at Kkattak Pass (stamp no. 3), which marks the start of the climb to Mount Yongmasan. On the program: lots of stairs to climb and platforms where you can rest (stamp no. 4 where you'll find the "bongsudae" – an ancient communication system with smoke signals). Here, you have to be a little more careful, as the stone is quite smooth and it's easy to slip, and there's not much to hold on to. The sun is out and we're getting tired, but the summit of Mount Yongmasan is almost there!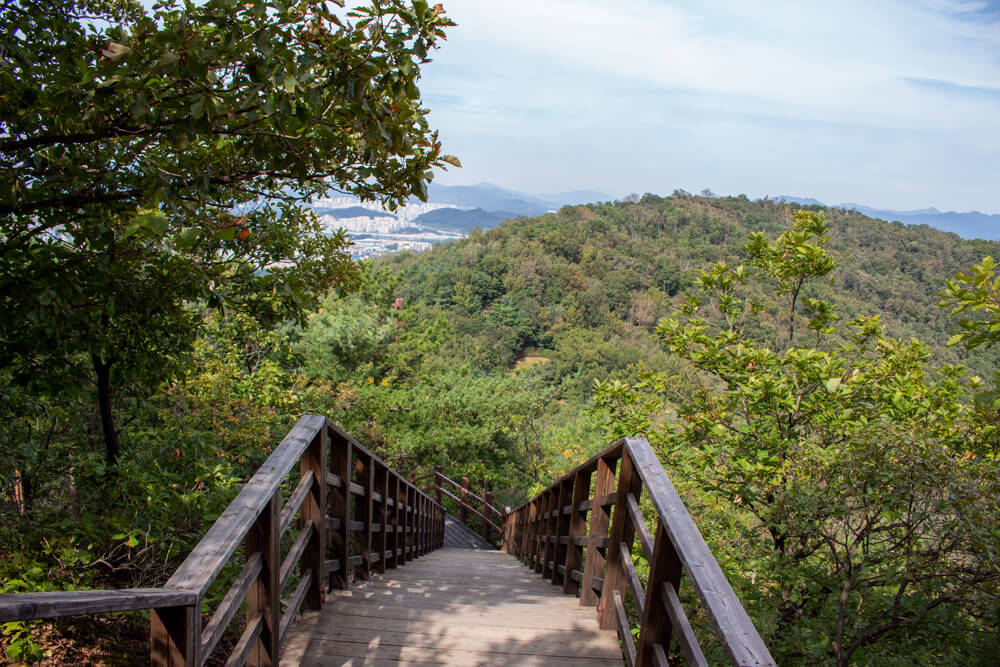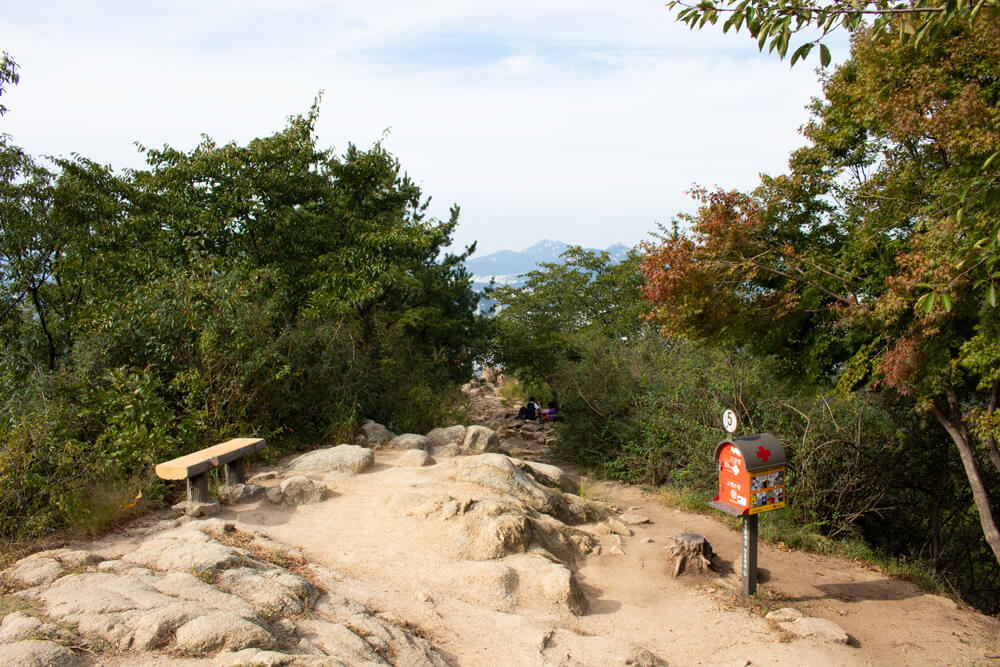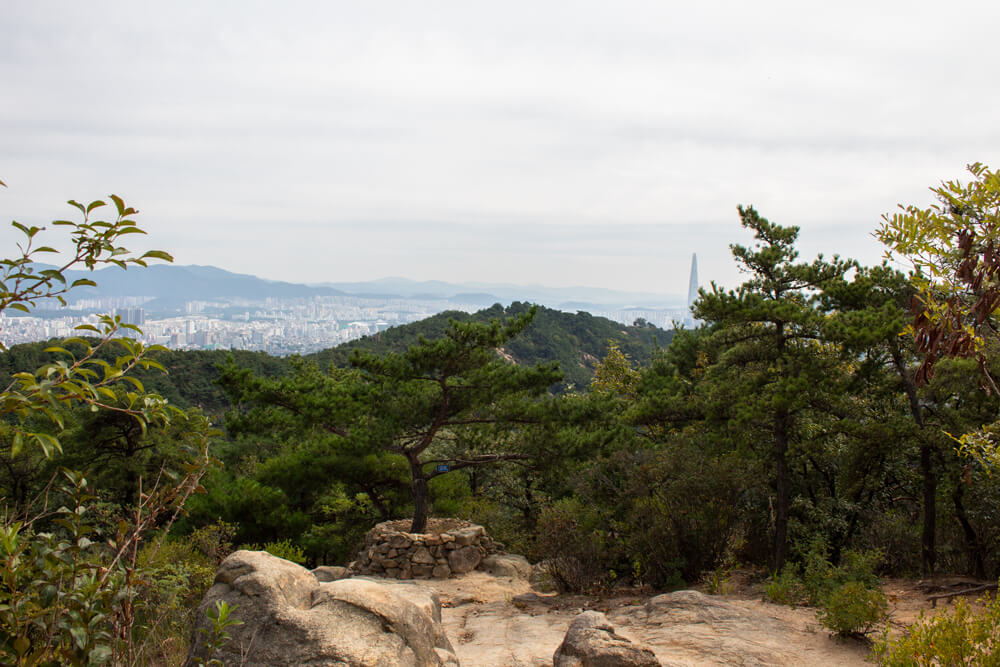 Once we reached the top of Mount Yongmasan (348 metres above sea level), we could admire the view, rest, have a picnic and pick up the 5th stamp. Then things got a bit complicated. It was mid-afternoon, we'd hung around and the sun was soon setting. It was time to head down to Yongma Falls Park where the 6th stamp was waiting for us. The descent was quite arduous and we got lost several times, with no signs to orient us.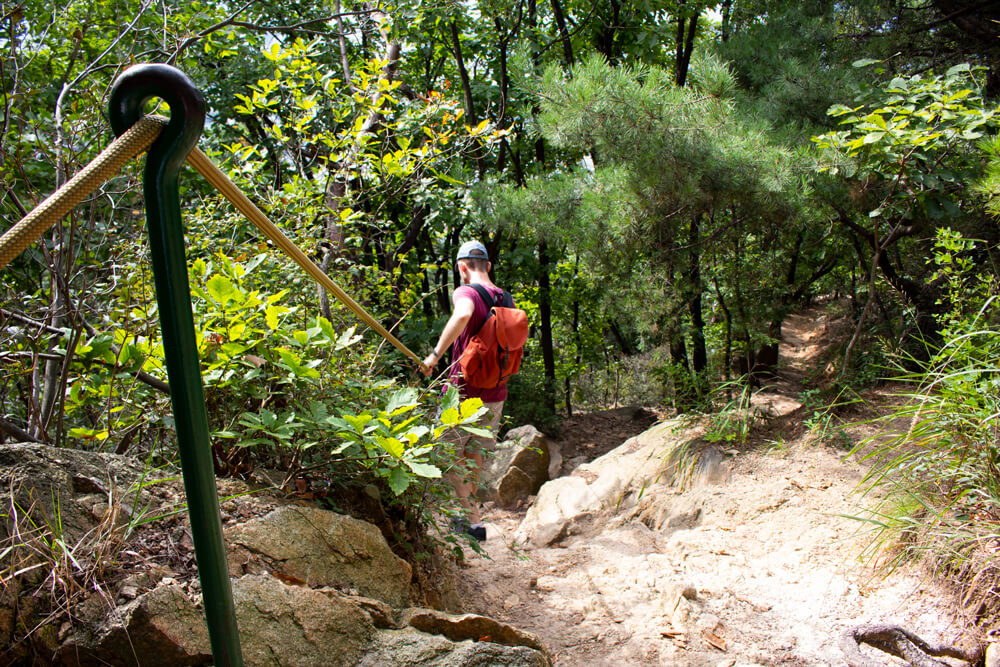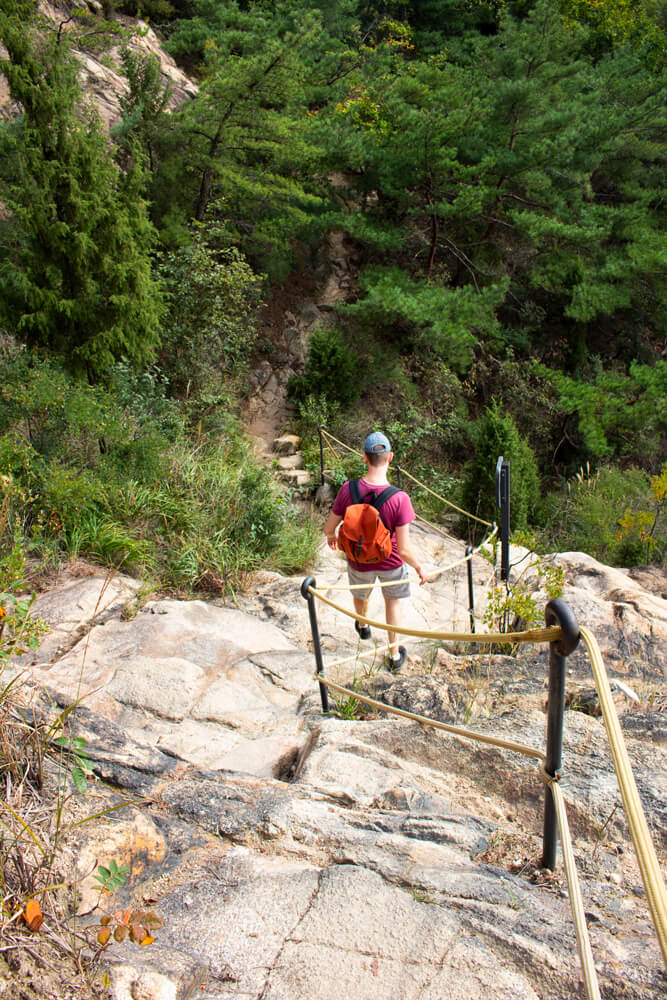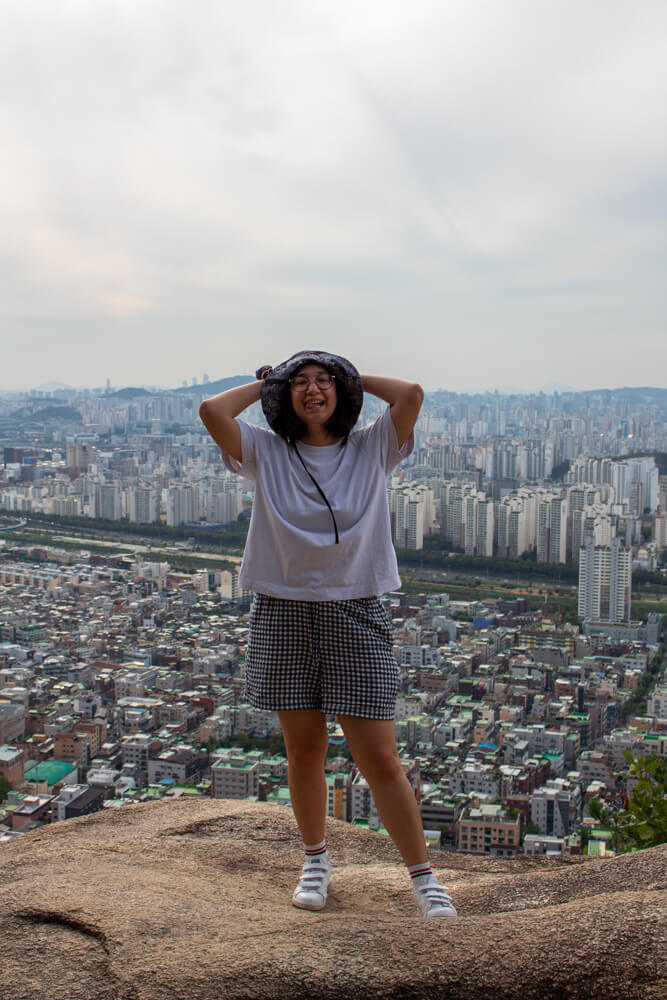 After finding the trail thanks to a Korean ashjussi, we managed to find the activity park where the Yongma artificial waterfall stands. At 51 metres high, it is the largest artificial waterfall in Asia. Little surprise, it's under renovation at the time of our visit (in 2018) and we couldn't see anything except the wooden panels! It was quite funny to see the faces of the Korean families when 2 sweaty tourists arrived looking for stamps. Once we'd collected our 6th stamp, we were on our way again.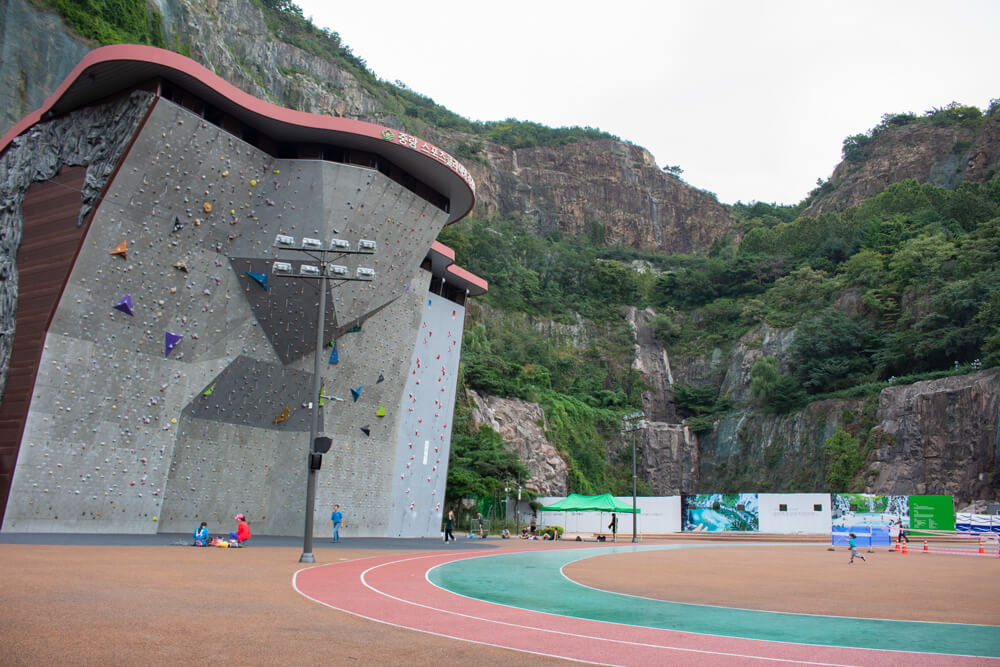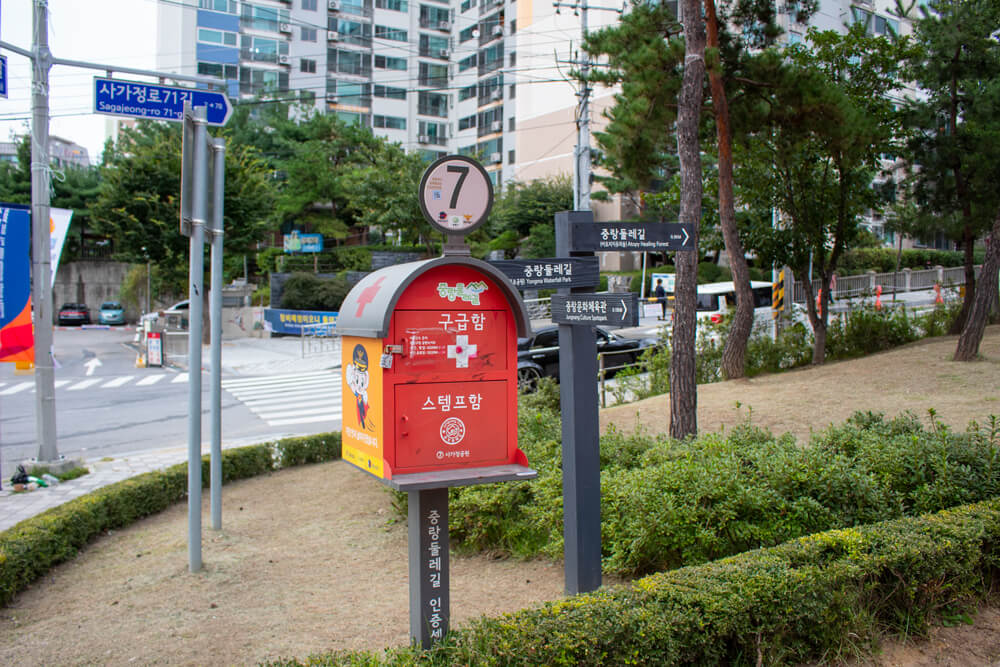 The heat, the sun and the physical effort weren't helping, and we were starting to get tired. We managed to find the 7th stamp in the parking area of the Yongma sports centre (nothing to see there) before venturing into Sagajeong Park in search of the "Atopy Healing Forest". Unfortunately, we couldn't find the next signs, our food and water supplies had run out and to top it all off, the night was starting to fall (especially in the forest)… This means, the perfect playground for the mosquitoes who were starting to feast on our legs! Despite my desire to collect the remaining 4 stamps, we decided to give up and go home to relax with a good Korean barbecue and a little late-night karaoke. Mark my words, I will finish this trail one day!
---
Hiking, Korea's national sport – tips and information
Along the way, be sure to watch the other experienced hikers. Did you know that hiking is THE national sport of Korea? You'll come across lots of people, of all ages (and some of them really – really – old!) dressed in full outfits, who will undoubtedly pass you with their walking sticks in hand (and an amused look on their faces). What's more, along the way you'll see sports areas with giant hoolahoops and other machines of all kinds to keep everyone fit in the great outdoors. We met a retired banker in the middle of a stretching session, who was delighted to be able to speak English with us. One of the pleasures of the hike is also taking a picnic break with gimbap or a glass of makgeolli (the local sweet rice alcohol). Unfortunately I don't have any photos of these scenes of life, as I felt rather uncomfortable taking photos of people without their permission… I hope you don't mind!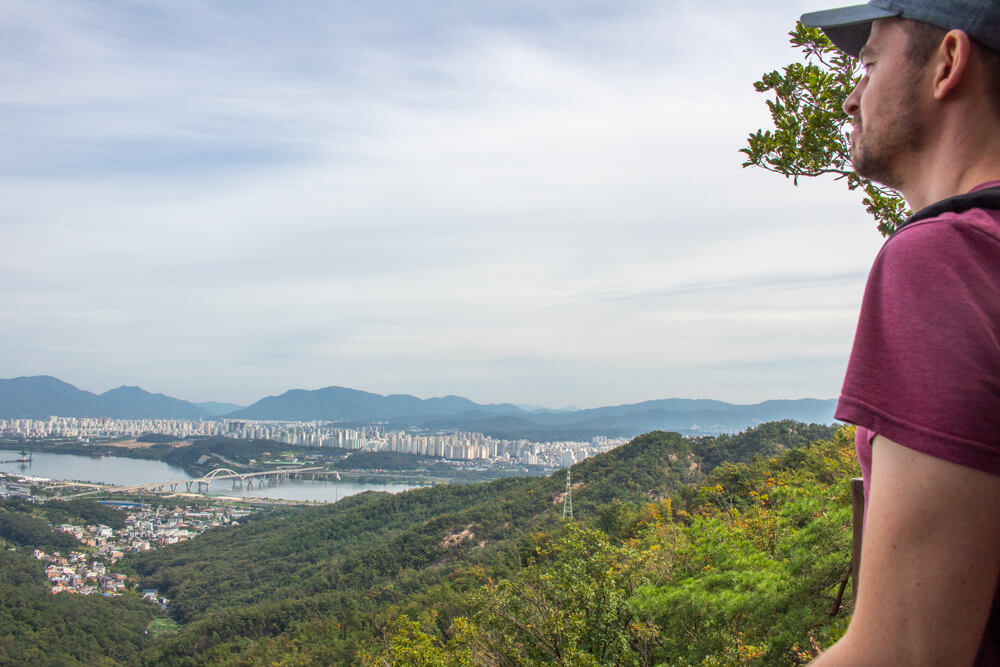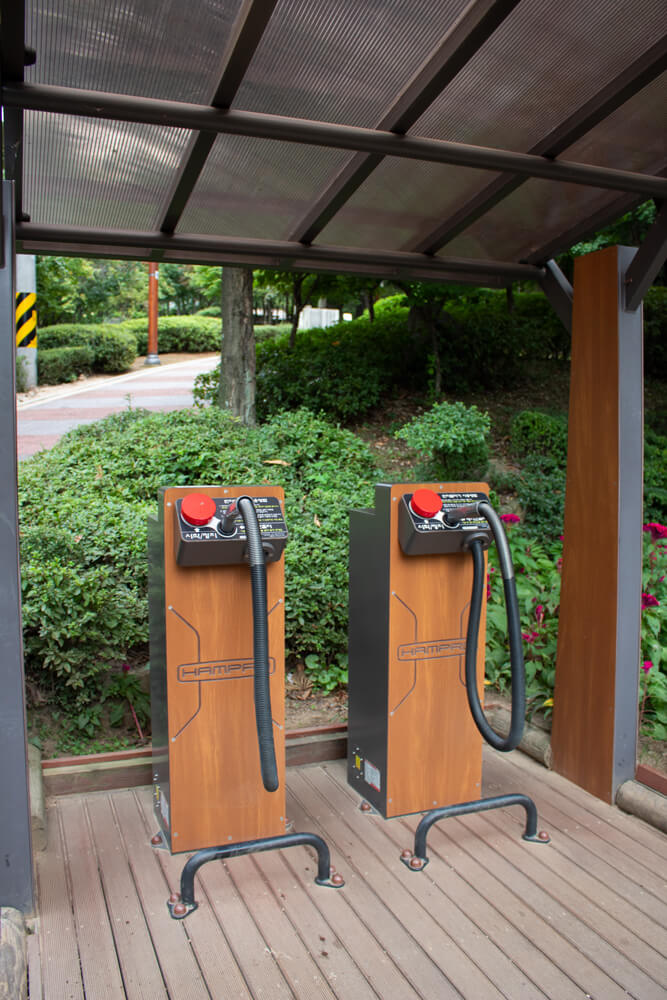 If you're lost (like us), don't panic, you'll meet lots of Koreans along the way and, if they don't speak English (which is very likely), you can point to your destination on your map or simply say the name of the path and I'm sure they'll be happy to help you (or use a translation app of course). We met a lot of Koreans who offered us food or simply walked with us for a while, in silence but with a smile. It was really nice to meet the locals in this way.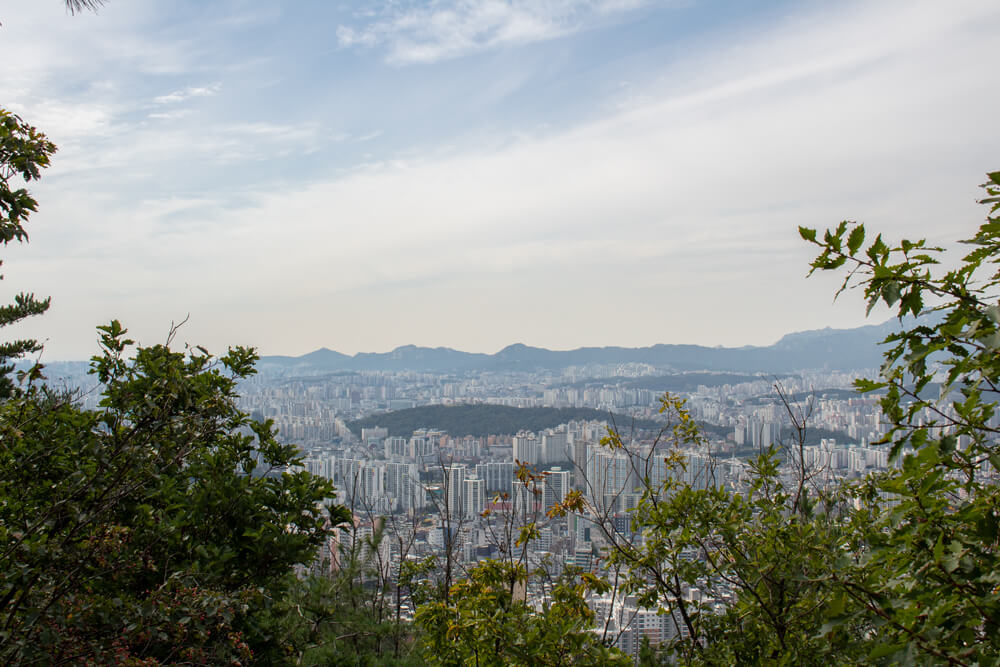 TIP: Be well prepared, don't forget to have snacks in your bag as well as your water bottles and, above all, good walking shoes. Experienced hikers estimate the walk to take 5 hours… Unfortunately, we started our day a little late and took our time, so we weren't able to finish the route.
Difficulty: it wasn't really hard, but there were a lot of steps and a lot of slippery off-road paths.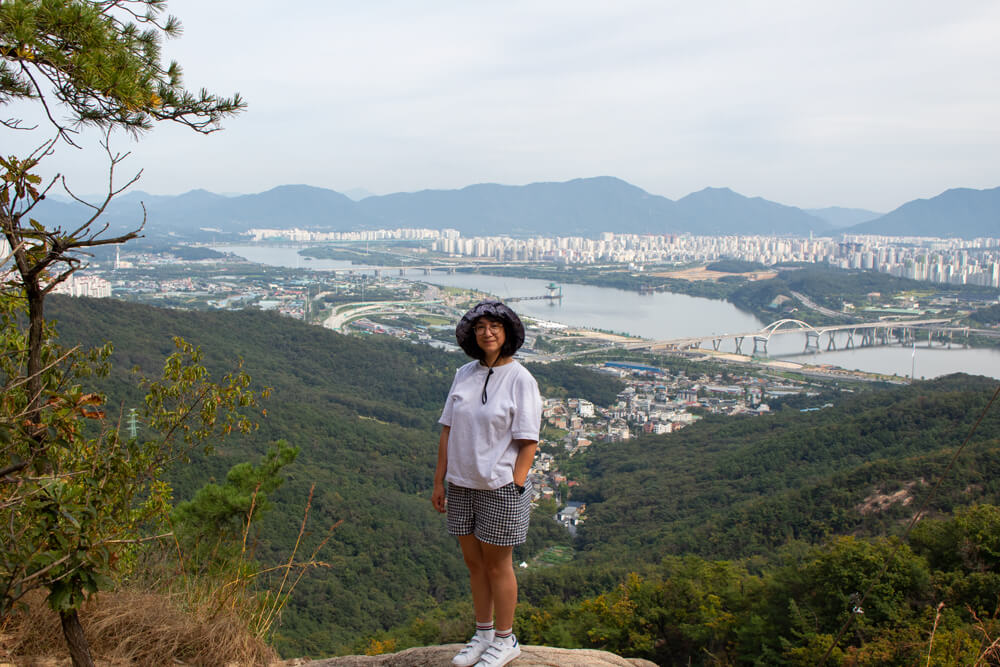 Useful links:
---
I hope you enjoy this article, which is a bit different from my usual ones, or that it helps you plan your stay in Seoul! It was a really great experience and I'm happy to be able to share it with you.