Düsseldorf is a perfect city for a weekend stay. There is so much to do here and there is something for everyone: gourmets, shopping addicts, museum lovers or simply looking for a German experience. In this article, I propose you my tips to ensure a stress-free visit as well as various recommended itineraries to make the most of your stay. I hope to be able to share with you my love for my adopted city where I have been living for 5 years and which really deserves to be known!
Why visit Düsseldorf ?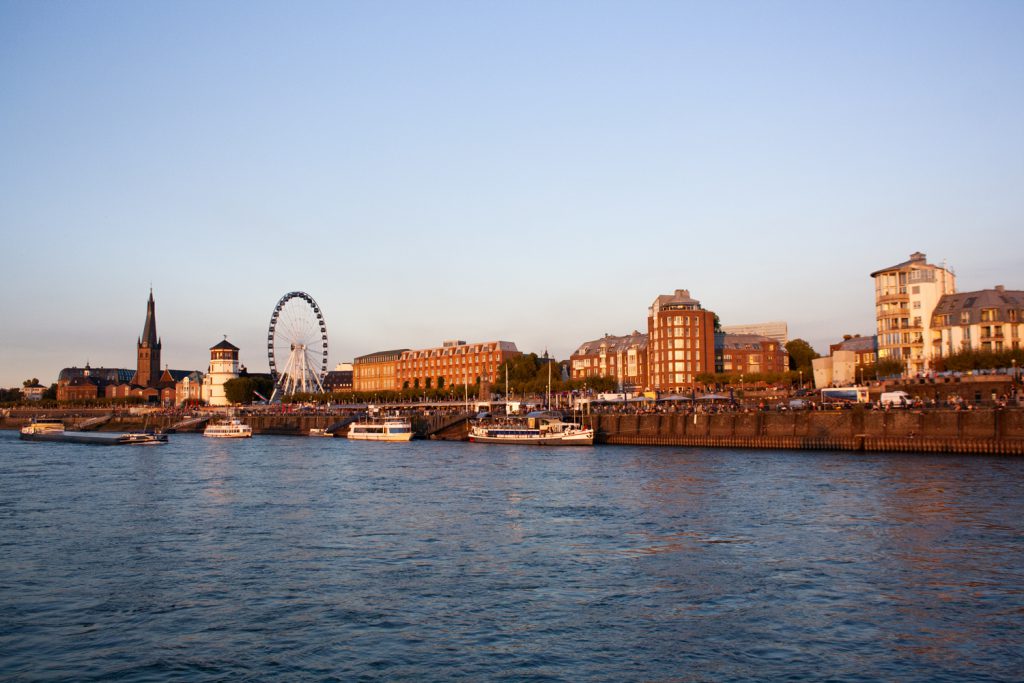 Düsseldorf, the capital of North Rhine-Westphalia (NRW in German), is one of the largest cities in Germany. There are many museums, parks and a lot of things to do, it's all about getting organised. One of the big advantages of Düsseldorf is its location. Situated close to Belgium, the Netherlands and France, it is a superbly connected and easily accessible. In terms of atmosphere, I promise you the discovery of a young, lively and multicultural city where you will surely come across a local event that takes place during your stay. You will be able to mix cultural visits, gastronomy and fun!
Düsseldorf airport (DUS) is really well served and allows you to arrive directly from everywhere in Europe. Many airlines are present there, whether low cost or not.
How to travel to Düsseldorf ?
You can also opt for a more ecological means of transport such as the train thanks to the Thalys, which links Paris, Brussels or Liège directly in a few hours. If you are on a budget, you can also choose the bus (Flixbus or the IC buses of Deutsche Bahn) and of course by car. There are many paying car parks in the city (free parking spaces are quite rare, especially in the city center, but do exist). In short, you'll be spoilt for choice!
How to get around in Düsseldorf ?
Düsseldorf is a big city, but if you are visiting for a weekend, you may not need public transport tickets and you can walk everywhere. In general, the city is very well served by public transport and I advise you to use Google Maps to organise your journeys, all timetables are noted there. I have given you a short summary of the different means of transport you can use:
Where to sleep in Düsseldorf ?
Düsseldorf is full of hotels and Airbnb and it is sometimes difficult to make a choice. If you want to stay close to the centre, choose accommodation in the vicinity of Altstadt (the old town) and Carlstadt. You will be within walking distance of the historic centre, bars and restaurants as well as the banks of the Rhine. You can also find a hotel in Stadtmitte to be close to the shops of Shadowstraße or Köningsallee (where you can find luxury boutiques), parks and the city centre. Would you like a slightly more picturesque stay, only a few minutes by public transport from the centre? Choose Pempelfort or Flingern (where I live) where you will find many small cafés to enjoy a brunch and bars to sip a cocktail with friends, and which is generally more residential.
A few hotel recommendations
First of all, you should know that Düsseldorf has a large conference centre where numerous trade fairs take place throughout the year. During the weeks/week-ends when these fairs take place, prices go up and availability is scarce. Anyway, I have selected some of my favourite hotels for you:
---
What to do in Düsseldorf on a weekend?
I tried to make a small guide of the essentials to visit when you are in Düsseldorf, for 24 or 48 hours in the city. Of course, these proposals can be accompanied by other proposals that you will find in my other articles (soon to be translated) about Düsseldorf, so don't hesitate to have a look at them.
Small note: Some pictures have been kindly offered to me by the Tourist Office of Düsseldorf. Unfortunately, I didn't have the opportunity to take pictures of some places/events (strangely enough, you never think about taking pictures of tourist places when you live in a city).
Visit Altstadt, the old town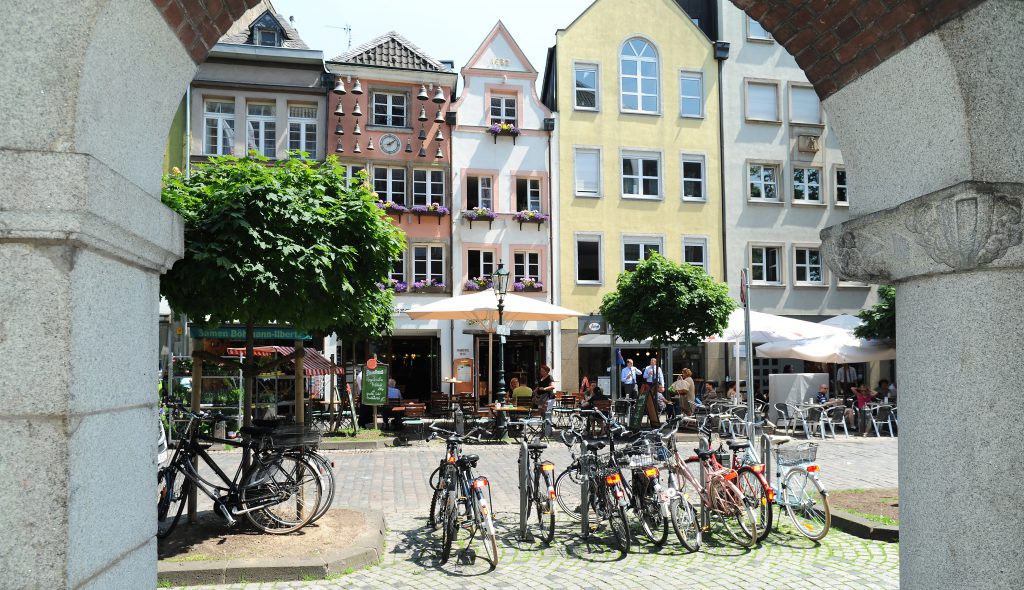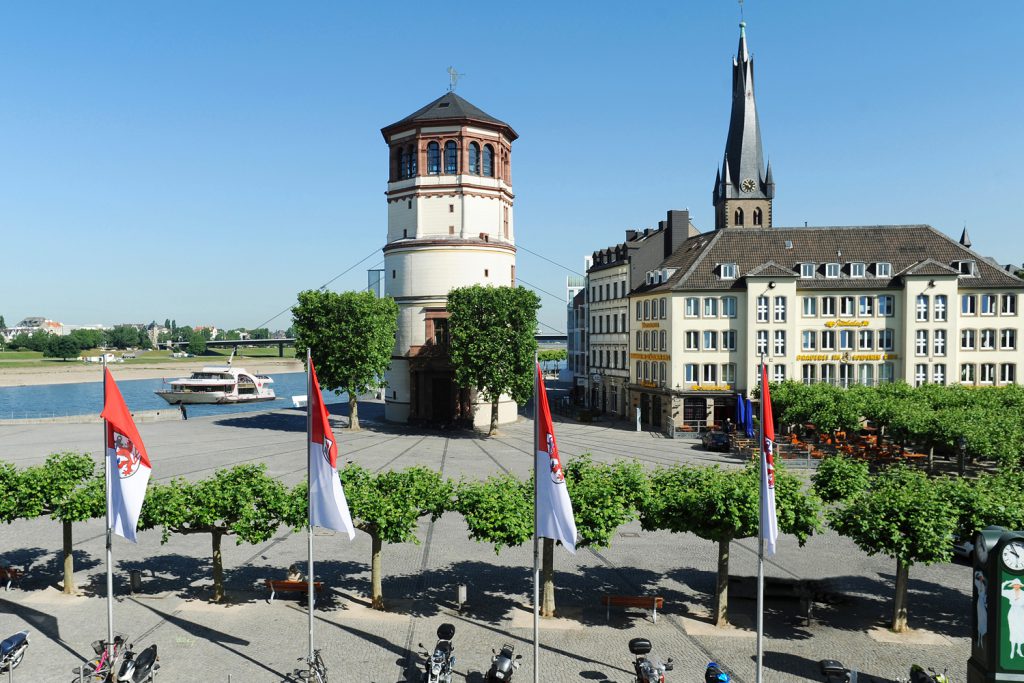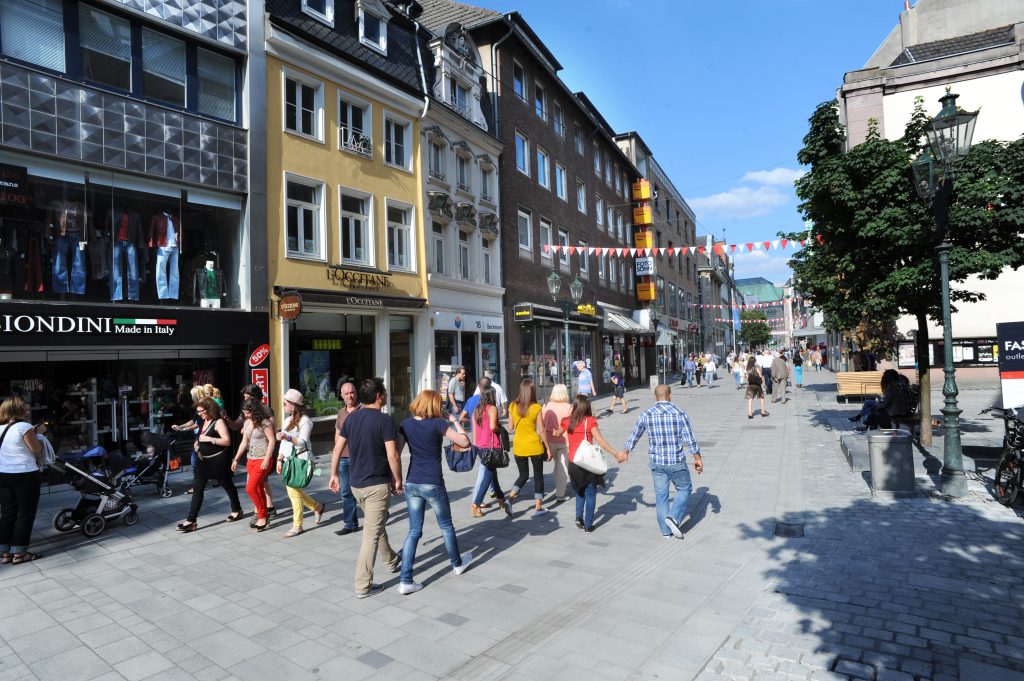 Along the banks of the Rhine, Altstadt is the soul of Düsseldorf. Known for never sleeping and for hosting numerous bachelor and bachelorette parties, this district is also known as "Europe's longest bar", with no less than 250 bars in a very small area! Here you can spend a drunken evening, dine in one of the local restaurants, and party all night long in one of the city's clubs. I recommend that you take the opportunity to taste the local craft beer, the altbier while enjoying a schweinebrotchen (a spit-roasted pork sandwich). The perfect combo for an early evening! If you would like to taste something stronger, ask for a killepitsch, the local herbal liqueur (42% alcohol anyway) which is a bit like Jägermeister.
Where to go out in Düsseldorf ?
I have prepared an interactive map with the places I recommend for going out in Altstadt. Small precision: I'm not a great party lover, so I can't offer you an article entirely dedicated to it.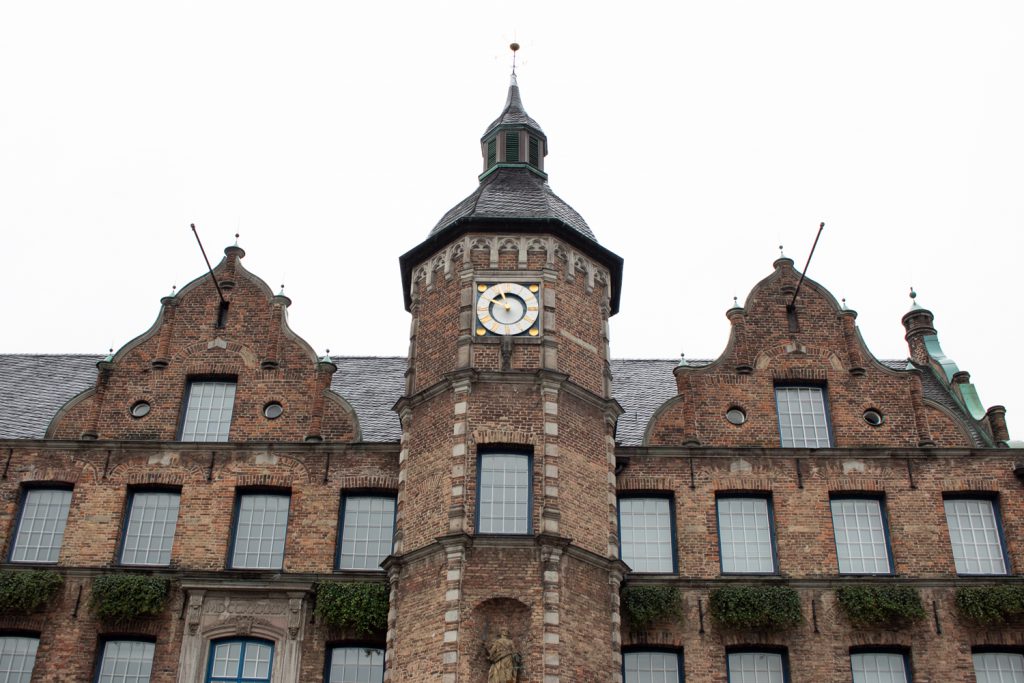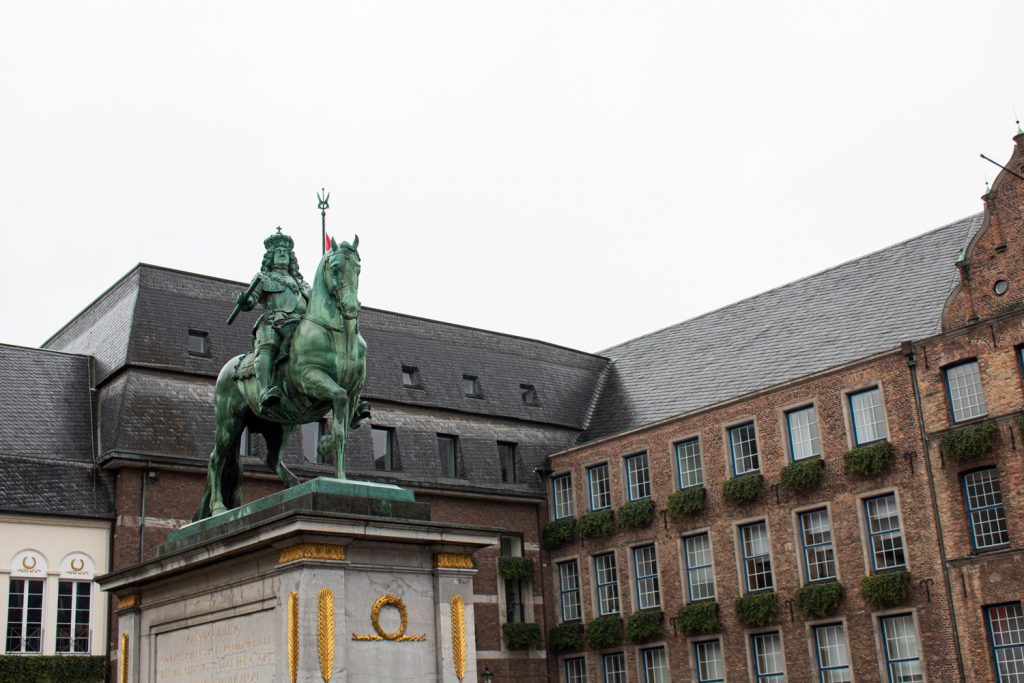 In Altstadt, don't forget to visit the Rathaus (Town Hall) and its statue of Jan Wellem (Jean-Guillaume de Neubourg-Wittelsbach in English), one of the most important figures in the city.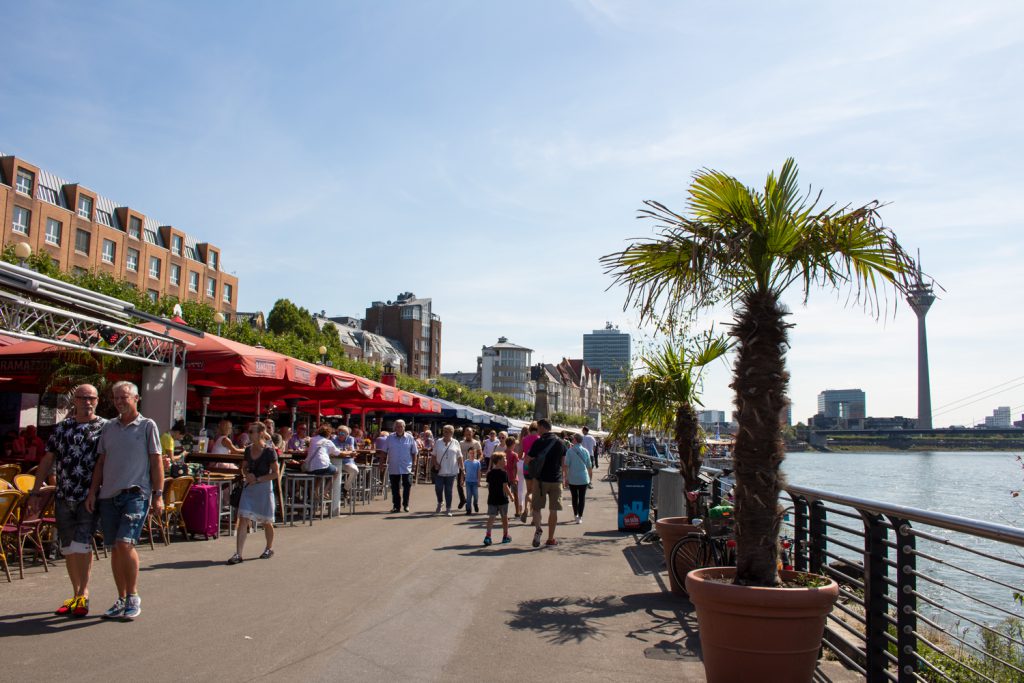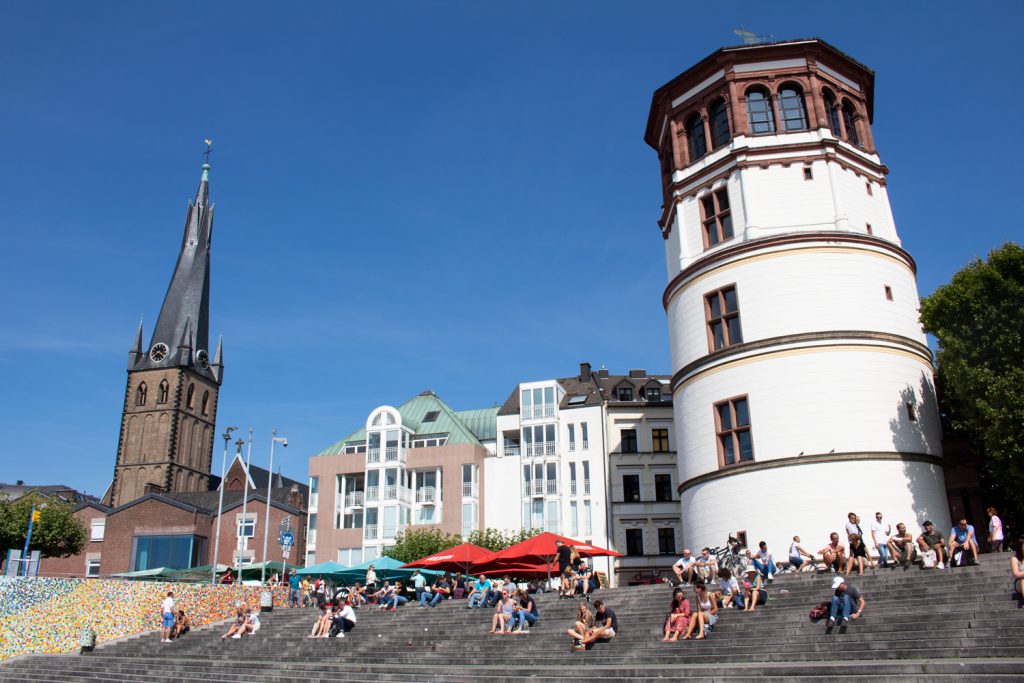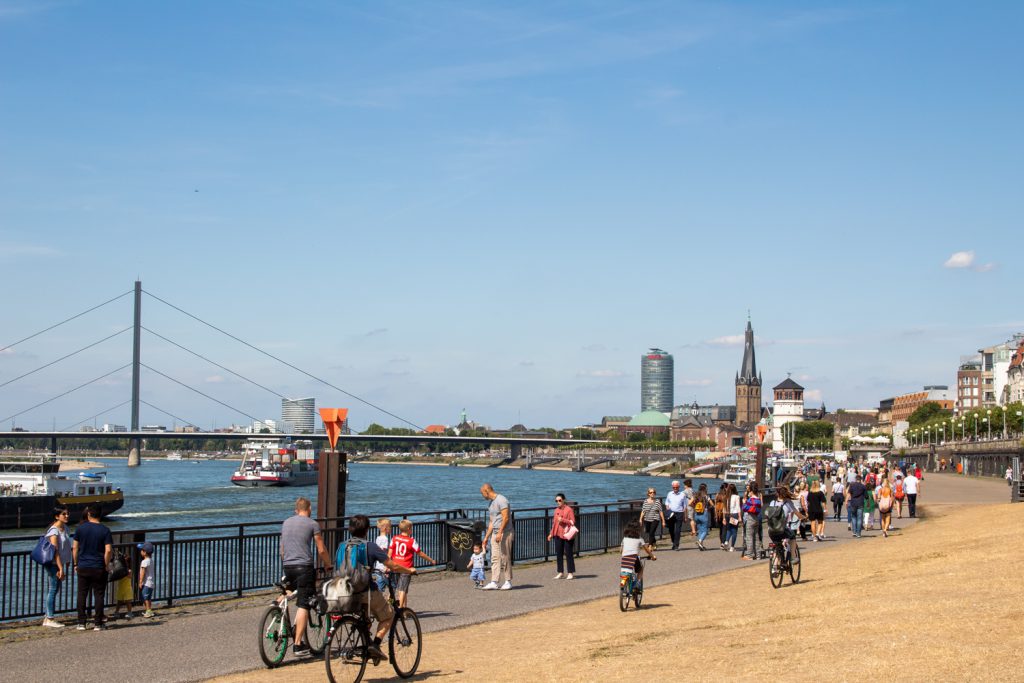 Just a stone's throw from the town hall square is the Rhine, where the river Düssel flows. This is where the name Düsseldorf (the village of Düssel) comes from. Being one of the favourite places of the Düsseldorfois (the Düsseldorf gentiles), it is a very popular place, especially on good weather days, where many people meet there at the end of the day to sip a beer bought at the kiosk (the corner grocery shop) or to eat an ice cream on the stairs of the Burgplatz, near the Rheinuferpromenade, the promenade on the banks of the Rhine. The Schlossturm, a former palace tower which was destroyed by fire and is now the Museum of Navigation, is also on display. If you continue walking along the banks of the Rhine, you can leave the Old Town and discover the quietest parts of the city: the Medienhafen district with the Rheinturm on the left and the large city park where it is nice to walk to the right.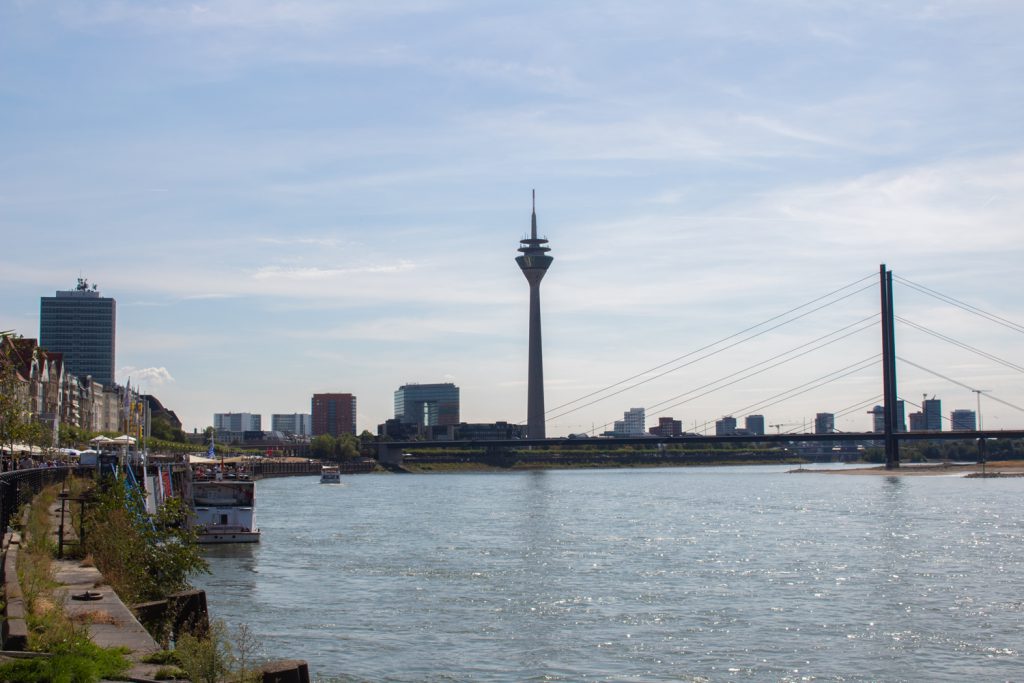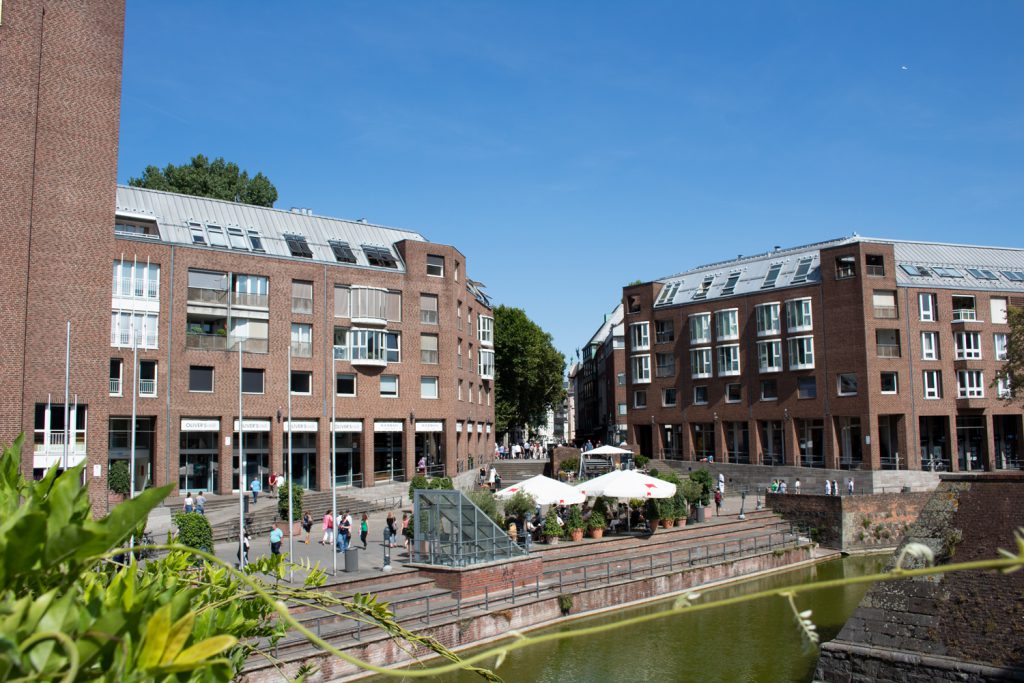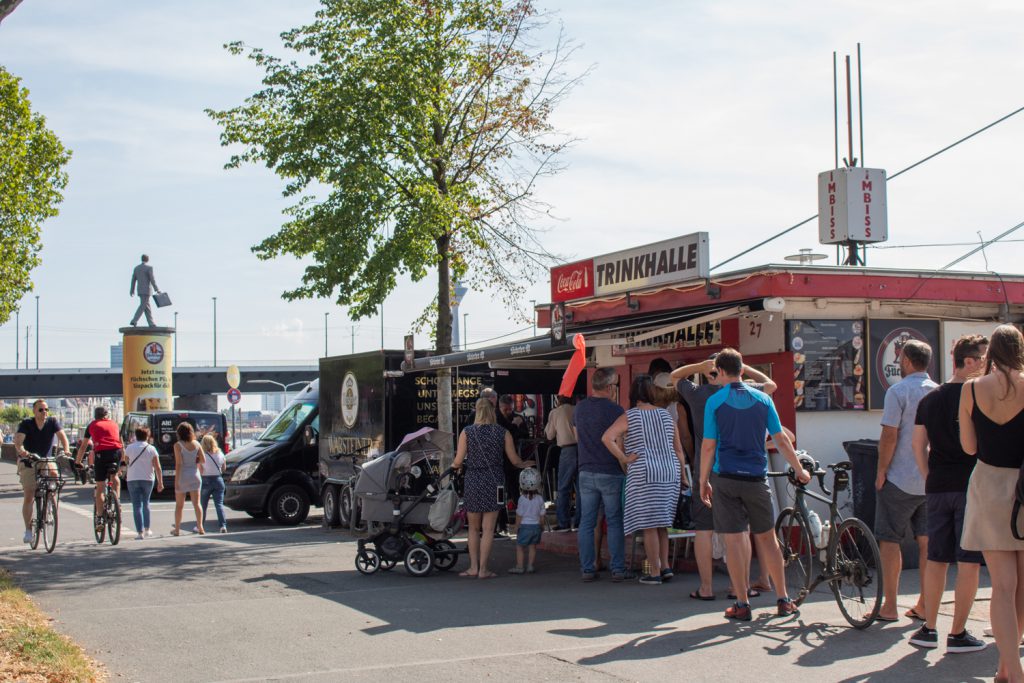 Visiting Düsseldorf by boat: an unusual experience!
I know it sounds cliché, but one of my favourite things to do when we have visitors is a boat trip on the Rhine. Different companies offer sightseeing cruises, some with or without drinks. I recommend the one-hour boat tour which will show you the highlights of the city and the different bridges (with commentary / 11€ for adults, 6 hours of departure per day. Website here). Another worthwhile boat cruise is the one that takes you in one hour to Kaiserswerth, a pretty little town near Düsseldorf where you love to walk around and have a bite to eat. The cruise includes unlimited drinks, so you might as well say that it's quite interesting! (23€ round trip for adults, drinks included, no comments. Website here).
---
Discover the green spaces of Düsseldorf, a green city!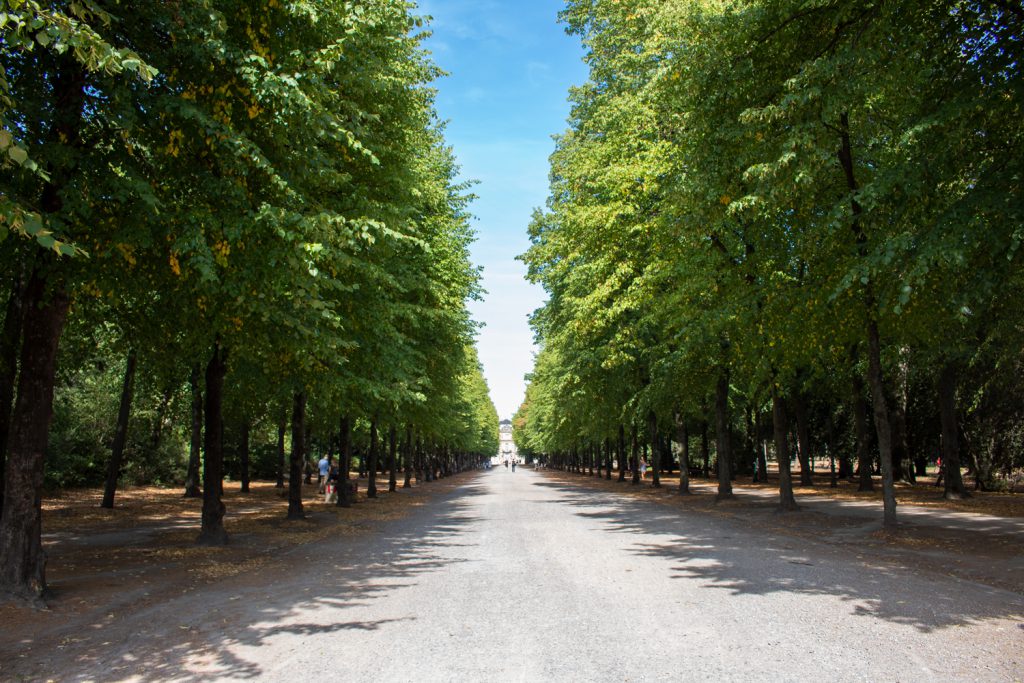 Düsseldorf is a very green city, especially considering that it is the capital of one of the most industrialised regions in Germany! Its main park, the 200 year old Hofgarten, is just a stone's throw away from the shopping streets and covers an area of 28 hectares. I love to rest there under the trees or near the ponds where there are many ducks and geese (be careful, they should not be bored or fed). You will find about 12 nature parks, with rivers or large grassy areas where picnics are welcome and where many events are organised in the summer (for example Parklife events). If you are travelling with your dog, you will also find plenty of space for dogs!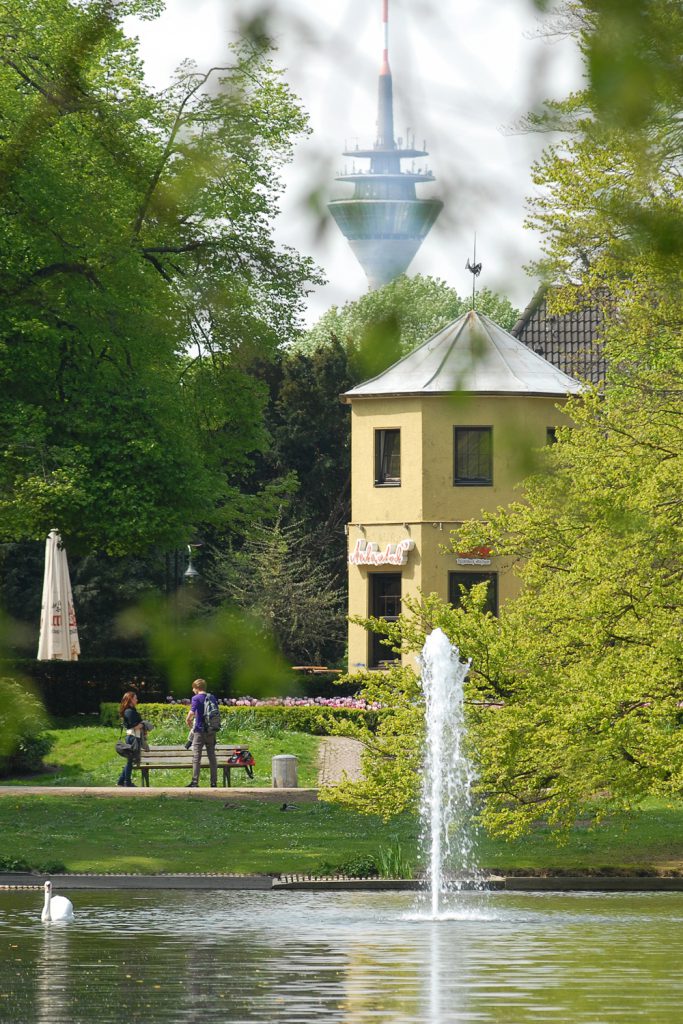 Parks & castles
Düsseldorf's Sudpark is home to a mini-zoo (more like a farm) where you can pet animals and walk in 79 hectares of forest; it is the largest park in the city. The Nordpark has a lovely Japanese garden with maple trees and a carp pond.
If you cross the Rhein and go to the Oberkassel side, you can see sheep peacefully grazing along the banks….
If you like castles, you won't be outdone as there are 4 castles on the outskirts of Düsseldorf, including Benrath Castle (with its historic garden), the former summer residence of the Elector.
---
Wanna do some shopping?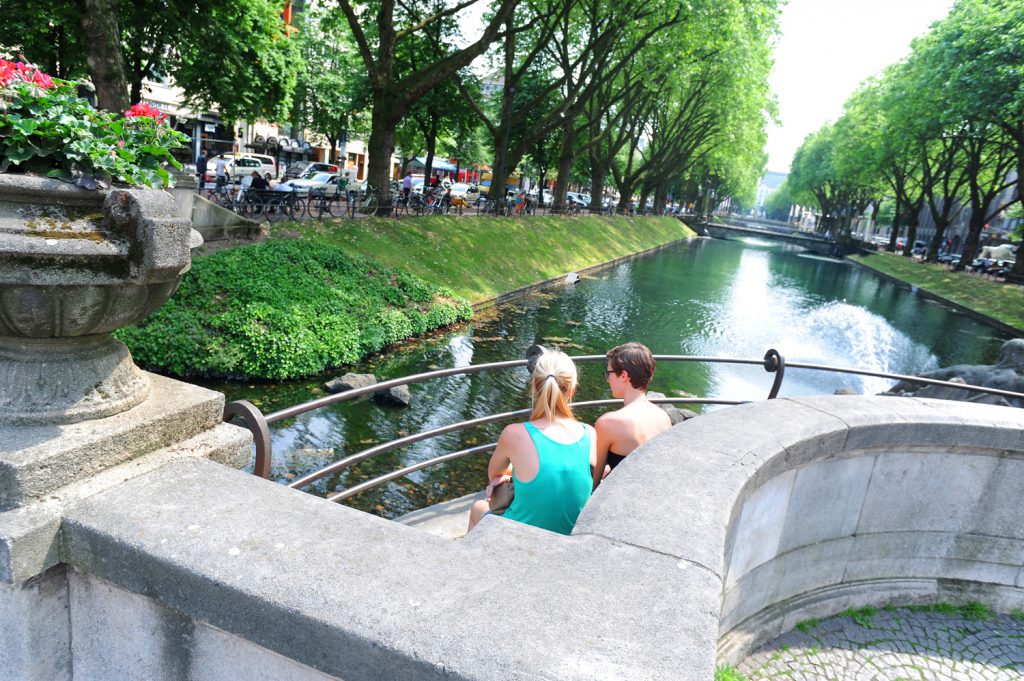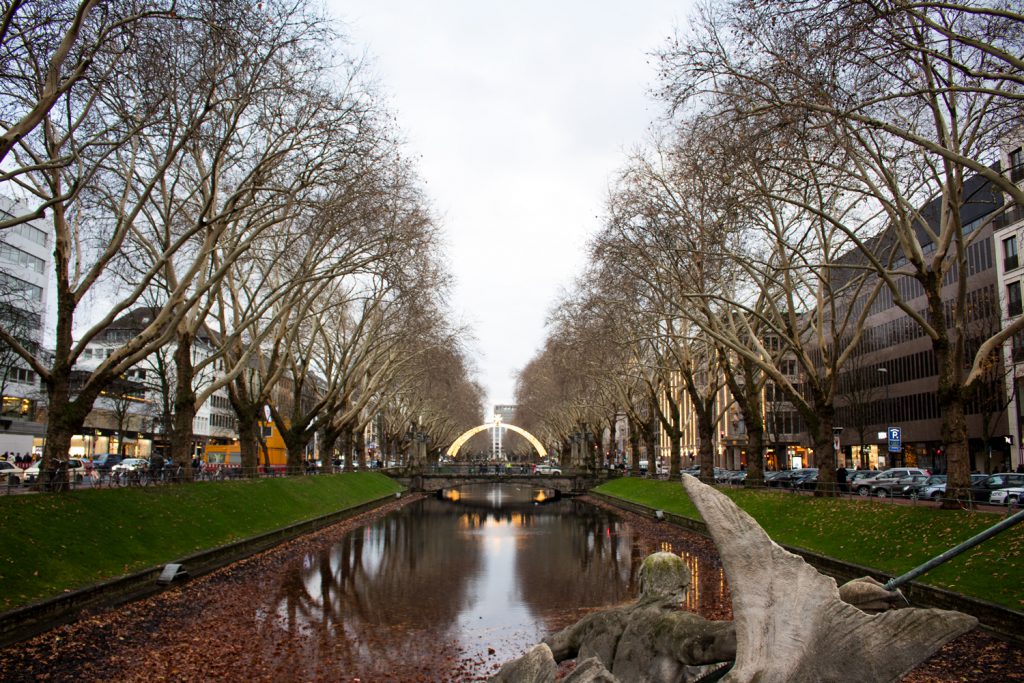 Known as Germany's luxury shopping capital, Düsseldorf looks like a little Paris with its own version of the Champs-Elysées. Divided by the Stadtgraben (the avenue "Köningsallee" is where you will find the most expensive shops and people who want to be seen. Funny little story: the name Köningsallee (the King's alley) was originally called Kastianienallee (the alley of the chatâigners, less cool). The name was changed in 1848 after King Friedrich Wilhelm IV, in the middle of a visiting parade in Düsseldorf, received horse dung in protest. As an apology, the city renamed the Köningsallee. The most accessible shops are located a stone's throw away on Shadowstraße (Uniqlo, H&M, Primark, …).
---
Discover the city's architecture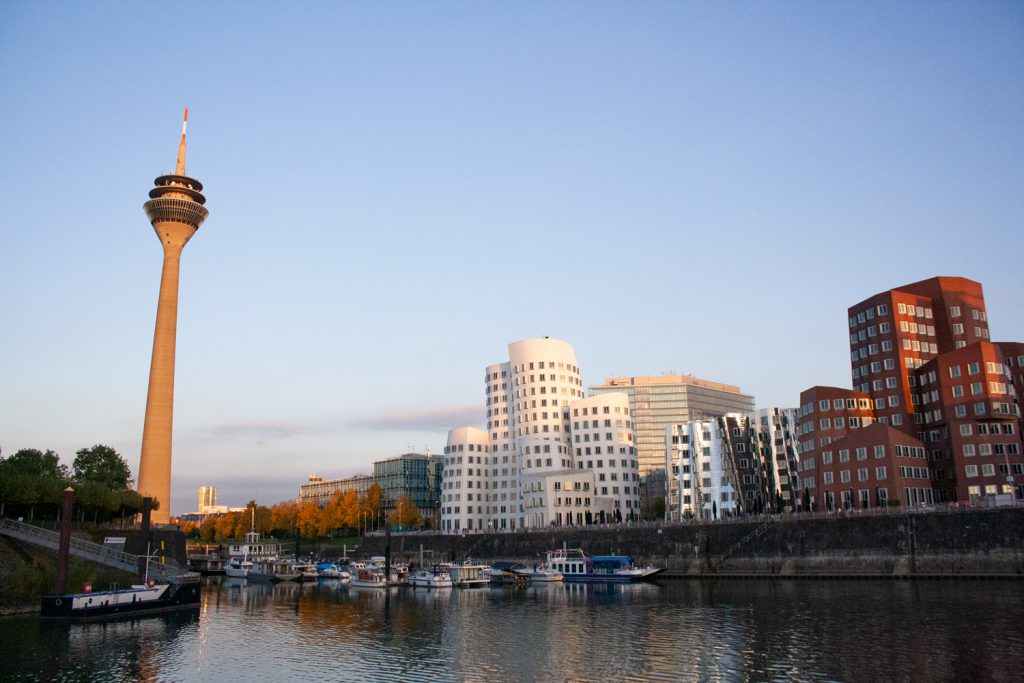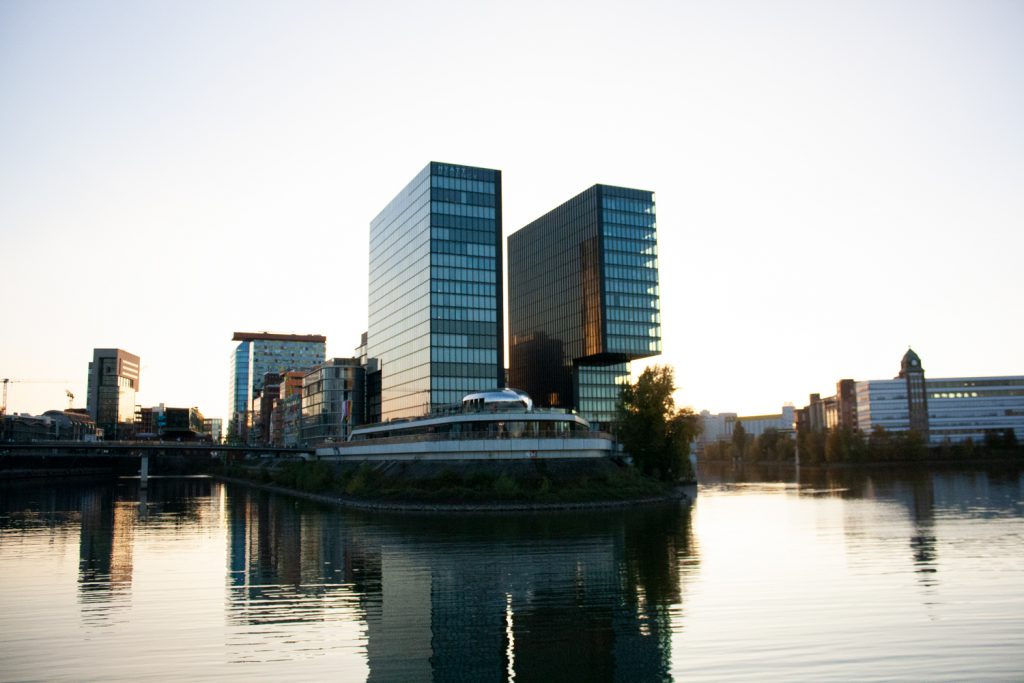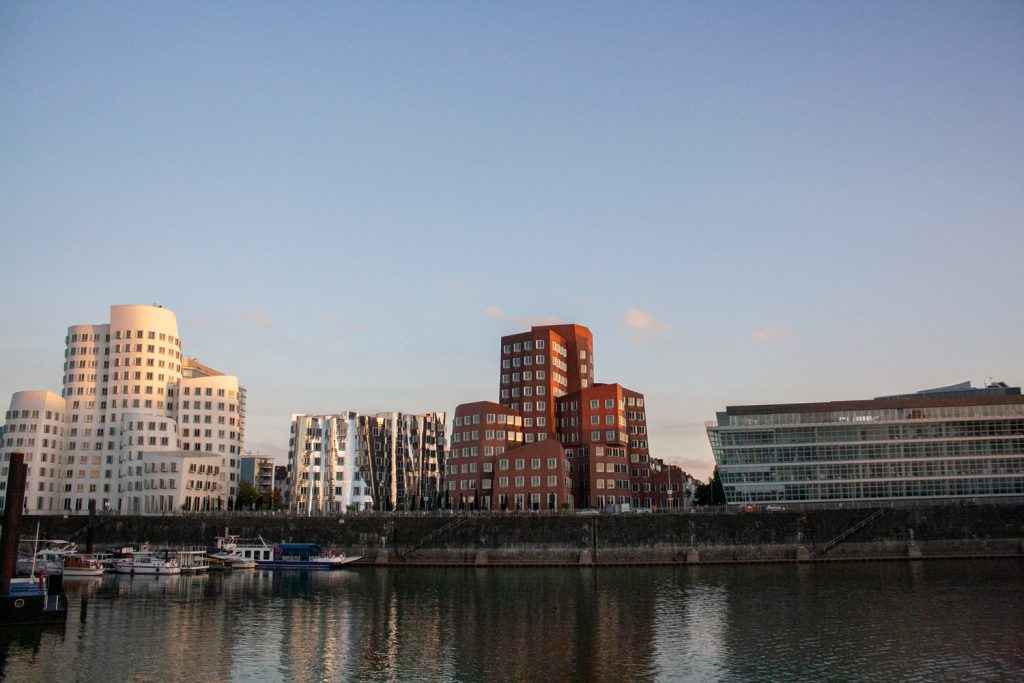 The Medienhafen district is the former port district of the Rhine and has been rehabilitated as a media and telecommunications district and is now home to many companies (such as trivago, where I work for example). It is loved for its modern architecture with many skyscrapers designed by world-famous architects (such as David Chipperfield or Frank O. Gehry and his sloping wall buildings at the Neuer Zollhof). Keep your eyes open and you will be able to admire buildings with surprising shapes, colours and materials (not bad for taking pictures for your Instagram for example) that stand next to the old quay walls, the stairs and transport rails have been preserved over the years. If you want to make a gourmet stop, I recommend the restaurants Hans Im Glück or Bob & Mary for burgers, Sattgrün for vegetarian food, Eigelstein for brasserie-style cuisine or Copenhagen for a coffee with real Danish pastries.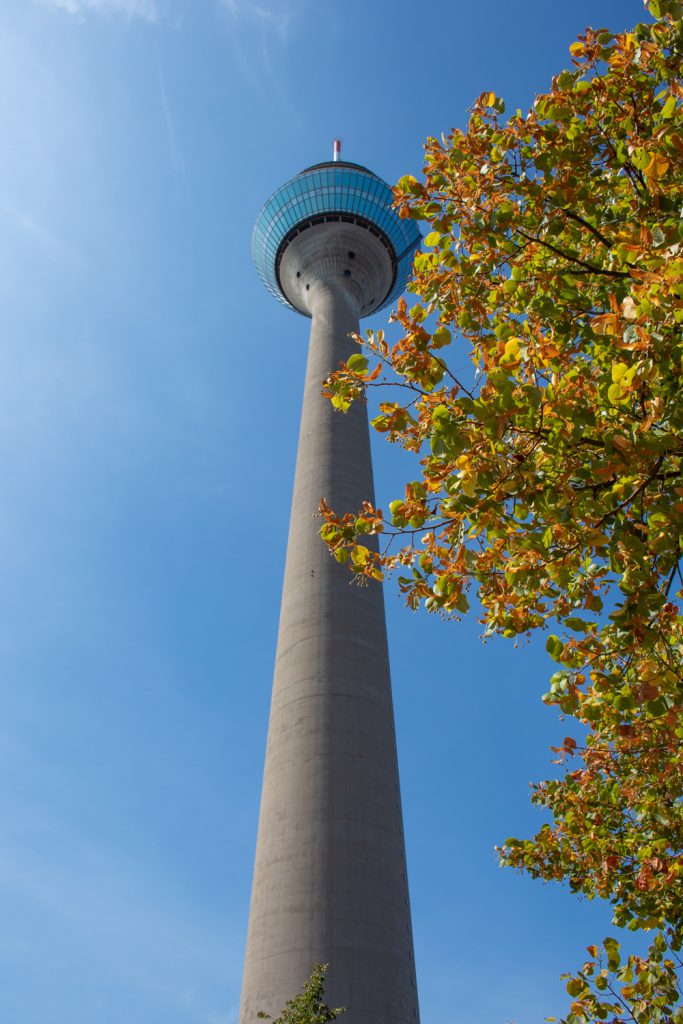 Admire the panorama from the city tower
Just a stone's throw away from this district is the Rheinturm, the city's 240-metre-high television tower. You can also admire the city from the panoramic vantage point and enjoy an exceptional dinner at the tower's panoramic restaurant – which I have heard is delicious but expensive. Count 9€ in full price to go up to admire the landscape at 168 meters high, 5€ between 10am and 11am or after 10pm. (Website here)
---
I hope that I have been able to give you a more precise idea of Düsseldorf and that I have made you want to come and visit this city full of surprises where life is good. If you wish to continue your discovery, I suggest you read my other themed articles on Düsseldorf!