If this is not your first visit to my blog, you will know that I love food and everything close to it. That's why when the Düsseldorf tourist office offered me the opportunity to take part in their new guided tour, I jumped at the chance. On the one hand, I found it really interesting to show you a new facet of my adopted city, and on the other hand, the guided tour included free tastings. That's all I needed. As a natural part of my series of articles about Düsseldorf, I would like to introduce you to the culinary soul of Düsseldorf through its 3 stars: beer, market, and bread. I hope you are not too hungry… Follow the guide!
Düsseldorf Food Tour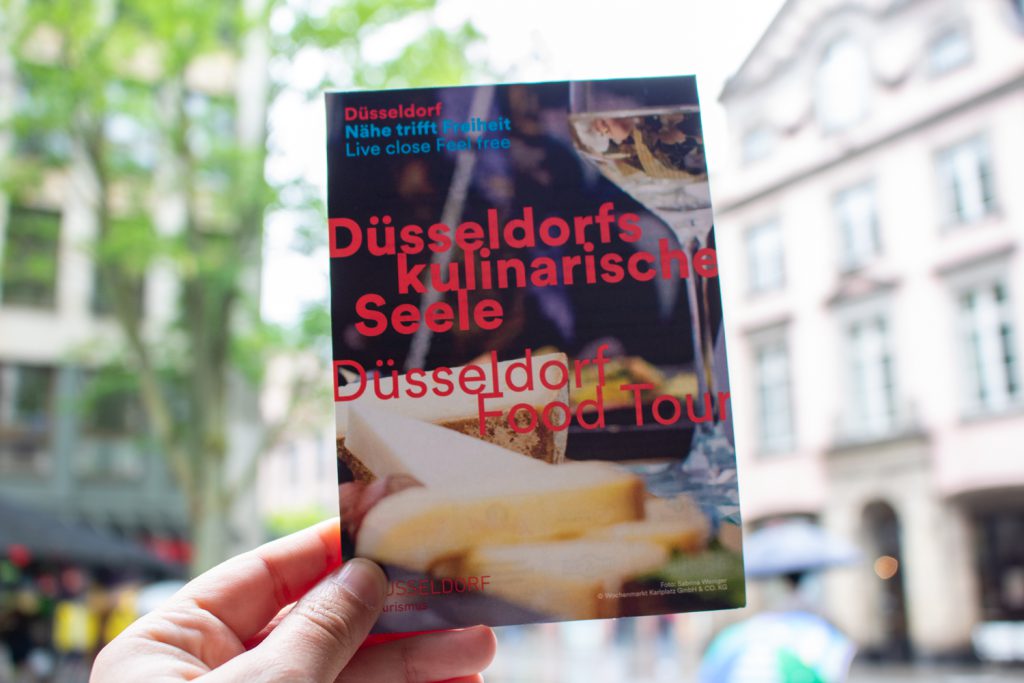 First of all, a short word about the thematic guided tour offered by the Düsseldorf Tourist Office! This guided tour, which has been organised since 2018, is offered once a week, i.e. every Saturday at 10 am for the English version (Friday at 3 pm for the German version). In addition to the 3-hour guided tour through the city with an official guide, you will be treated to numerous tastings (we eat well, I assure you), small tasteful souvenirs and vouchers for discounts in culinary shops and free admission to the city museum. The price is €39 for adults and €25 for children (20% discount with the Düsseldorf Card). You will be in a group of maximum. 12 people, and to be honest, it was one of my favorite visits to Düsseldorf and the 3 hours went by super fast. More information here.
Düsseldorf, its breweries and its altbier
Did you know that Altstadt (the Old Town) is one of the largest food markets in the world? Well, I didn't know that either. Yet this is what our guide, Hannelore, a German guide and former journalist, says, determined to share her love for Düsseldorf and its culinary wealth. The tour starts at the town hall square in the historic center. I joined a Canadian blogger friend who runs the blog LifeinDusseldorf (a real mine of information in English that I recommend) and we joined a group of 10 people who were mainly visiting Germans.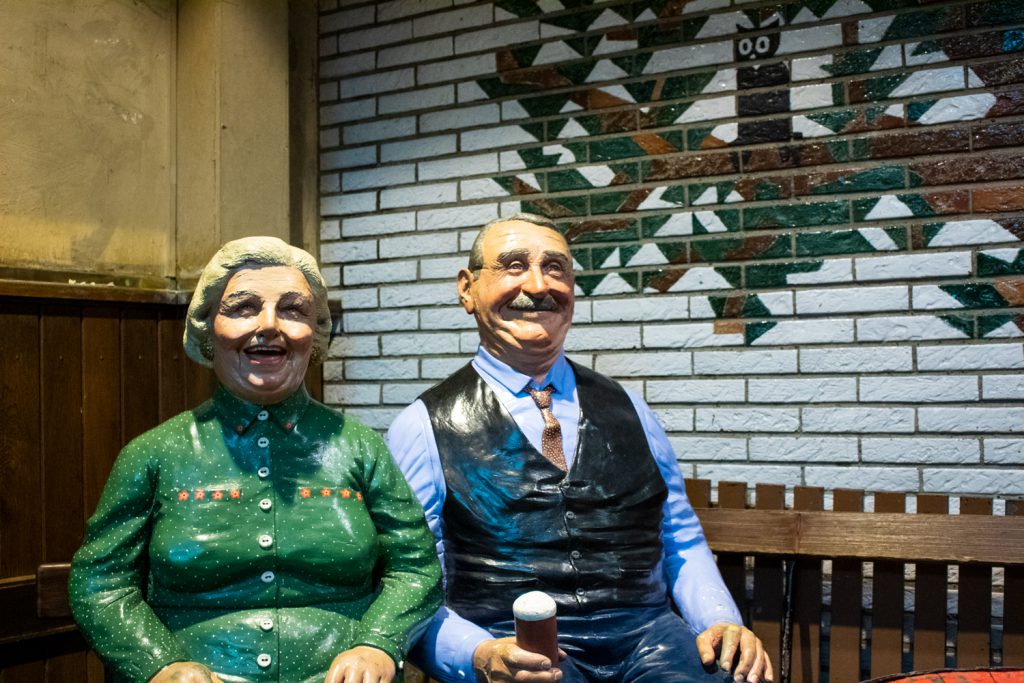 Our visit starts in one of the most famous micro-breweries in the city: Zum Uerige. Known for brewing altbier (literally "old beer"), the local beer, it is a real institution rich in history. Zum Uerige is not the original name of the brewery. When it was founded in 1658, it was called Zum Heydelberger Fass ("At the Barrel of Heidelberg") until 1802, when the brewery was taken over by a certain Wilhelm Cürten, known for his legendary bad temper. The regulars renamed him "die Uerige" (the grumbler) and the name of the brewery thus changed! To be honest, the atmosphere hasn't changed much. The breweries that serve the altbier in Düsseldorf are known for their unpleasant service, it's a bit of a trademark and Zum Uerige is undoubtedly the leader in this field. The waiters are direct, don't take time for formalities, it can be difficult to get anything other than beer served and you are asked to leave the premises if you don't drink. At least their altbier is good!
Tip: How to be well served in a brewery?
Waiters who work in traditional breweries specialising in altbier (especially those with a terrace at the front of the brewery) generally work on a freelance basis. They buy the beers from the brewery and come to your table to sell them to you. You will receive a bierdeckel (cardboard coaster) where they will write down your order with a line. When your glass is finished, the waiter will rarely wait for you to place your order and will serve you another glass directly. If you do not wish to be served again, place your coaster on your glass and ask for payment. It is very likely that you will be asked to leave, especially if it is crowded that day. Head for the next brewery!
Ein Altbier, bitte !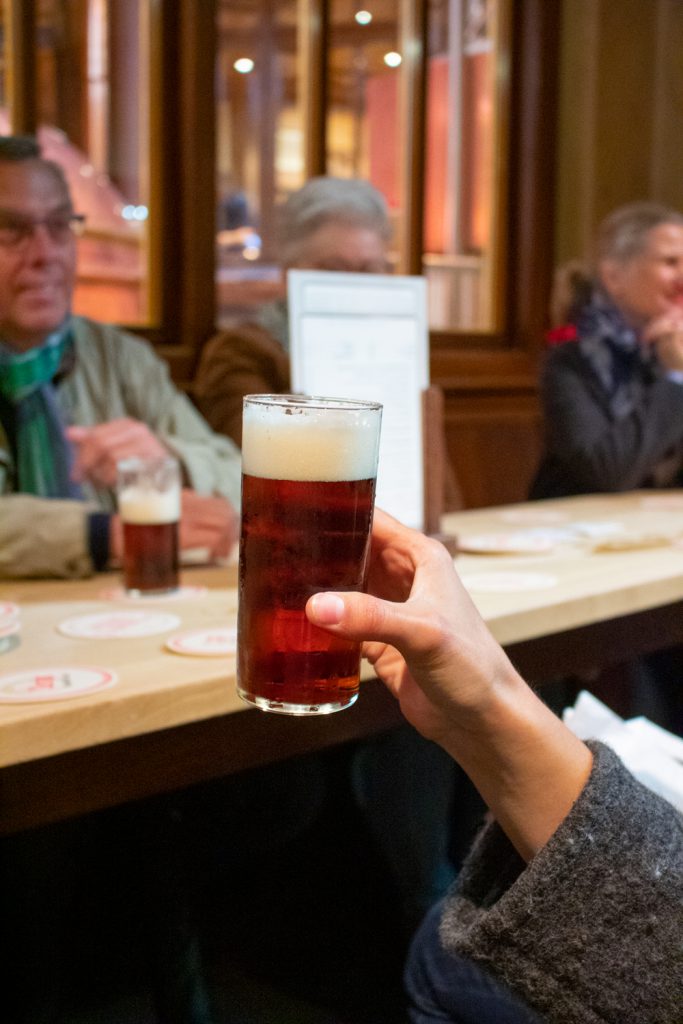 The Altbier is a top-fermentated beer originally from Düsseldorf but which is not subject to a controlled appellation so you can find other German or foreign producers (I drank a Canadian Altbier, it wasn't very good). Oscillating between 4.5 and 5% alcohol and recognisable by its copper colour, it has a slight sweet and bitter taste. With its great rival directly from Cologne, the kölsch is a beer that is old and common in the region.
There are only 8 breweries in Düsseldorf that brew altbier and most of them are sold locally or in local supermarkets. Each beer is a little different, some are sweeter, less strong, more bitter, more amber… There is something for every taste! If you are interested, there are many pub crawls or altbier tours, including one in English by the town (link here). I've taken part in 3 altbier tour since I've been living in Düsseldorf and each time it's an experience!
Let's have some brewery food now !
When you stop at a brewery, you have to stop at an altbier, but you also have to stop at brewery food! Probably better known than the altbier, brewery food is what most people think of when they think of German gastronomy. You will find dishes that hold your body, served in large portions: grilled chicken, grilled pork shank, stewed stew, local sausages, all served with cooked cabbage and sautéed or boiled potatoes. Of course, these dishes go extremely well with local beer and are served with mustard.
---
Düsseldorf's star, the mustard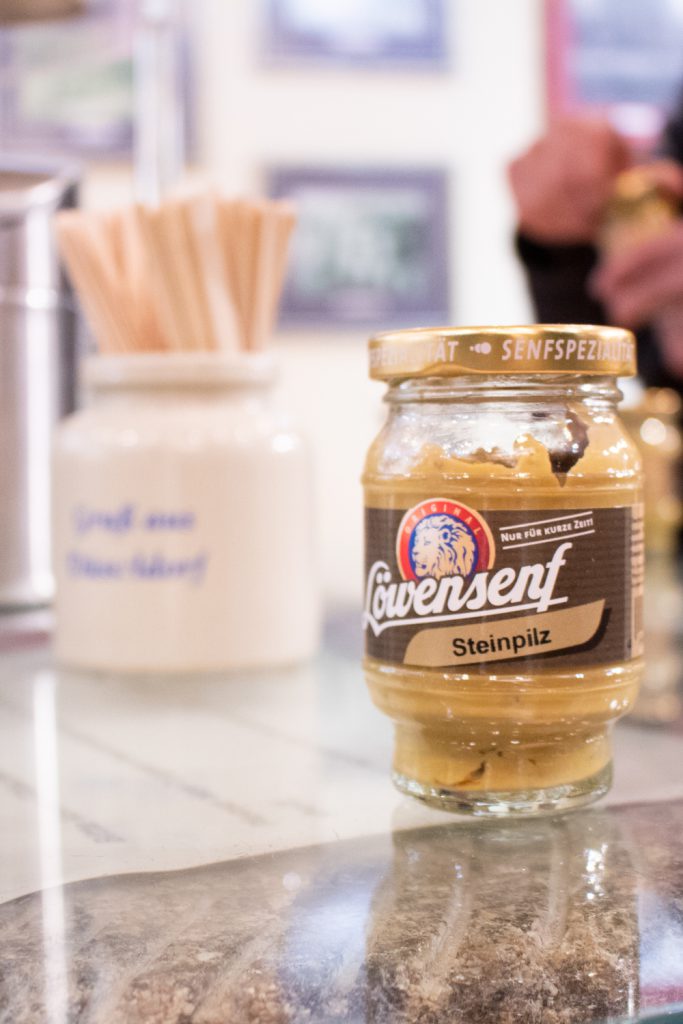 Two brands to keep an eye for
Mustard is also one of the local specialties as you will find 2 brands established in Düsseldorf and known worldwide. Löwensenf (literally lion's mustard) is easily found everywhere, while ABB (Adam Bernhardt Behrart) is milder, comes in various varieties, all more exotic than each other and is only sold in Germany. You can visit the official Löwensenf shop in Düsseldorf which has a tasting area (free and open to all) at the back where you can taste mustard with mushrooms, figs or altbier for example!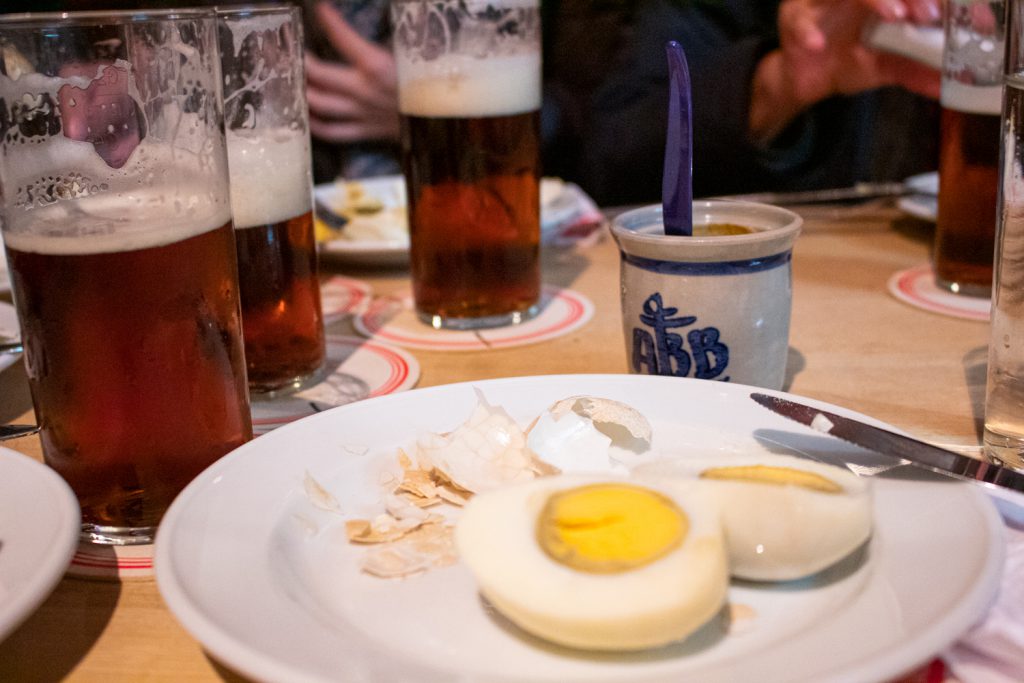 If you are a bit hungry, you can always order a traditional pretzel or opt for a speciality, the soleier. The soleier is a cooked egg, which is eaten with mustard, vinegar and oil. To eat it properly, cut your egg in half, remove the yolk, pour a little mustard, vinegar and oil into the free space, replace the yolk turned over on the egg white and swallow it all at once. It doesn't get more traditional than this!
---
Discovering the Carlsplatz Covered Market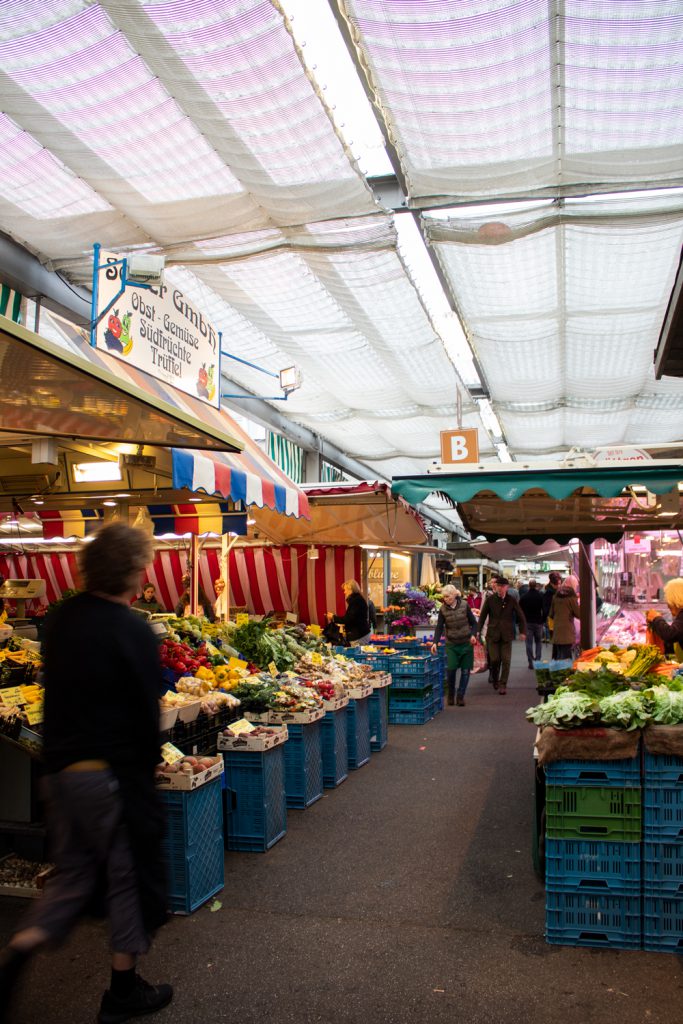 A historic market not to be missed
Carlplatz is the oldest still-operational market place in Düsseldorf. It is located in the Altstadt and today has more than 60 stands open every day of the year. But beware, this is not a "normal" market, here you will only find local, quality and even luxury products. Of course, there is also a brewery which is open to allow you to refresh yourself after your shopping: this is Germany all the same! Historically open-air, the market is now covered. During our visit, we were able to enjoy a kaffee und kuchen (coffee and cake), the equivalent of tea time and one of Germany's favourite moments. We were served delicious hot cakes, chocolates and coffee from one of the roasters at the market.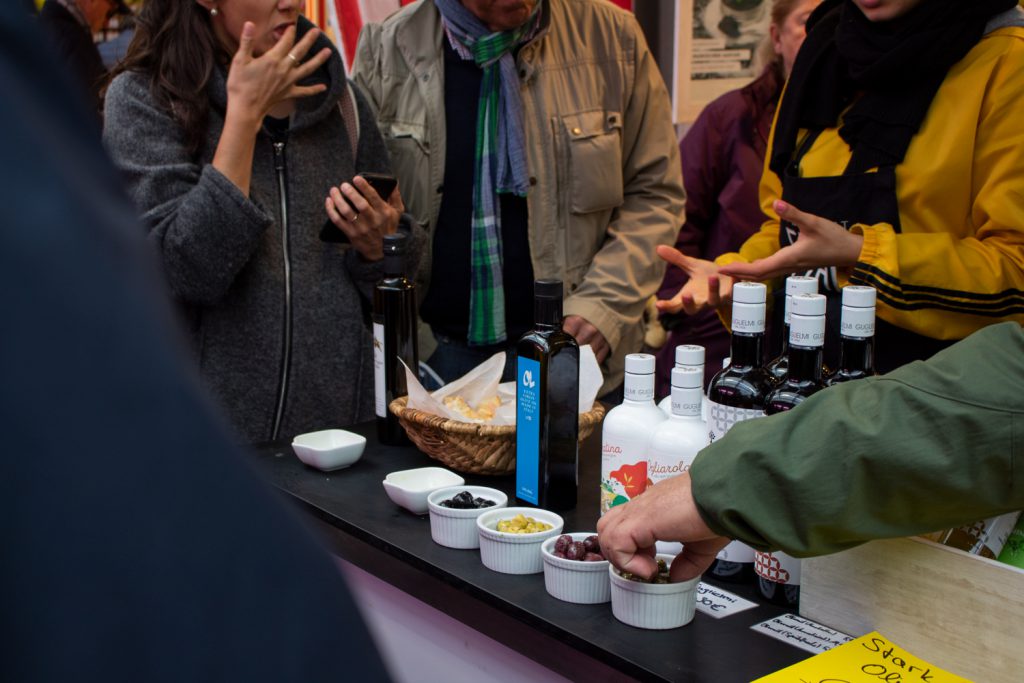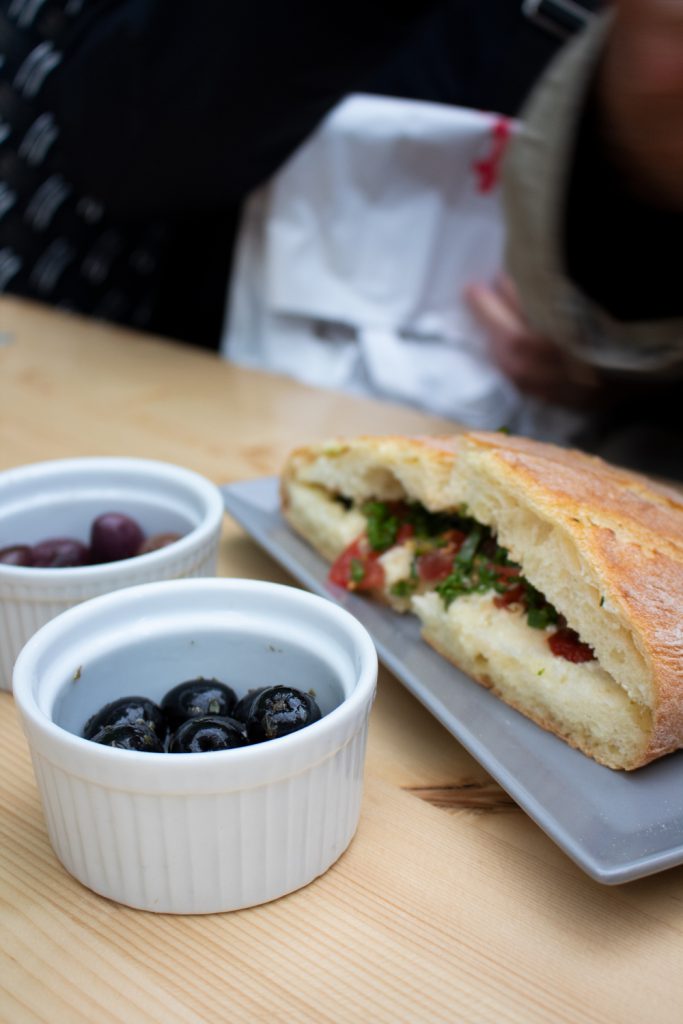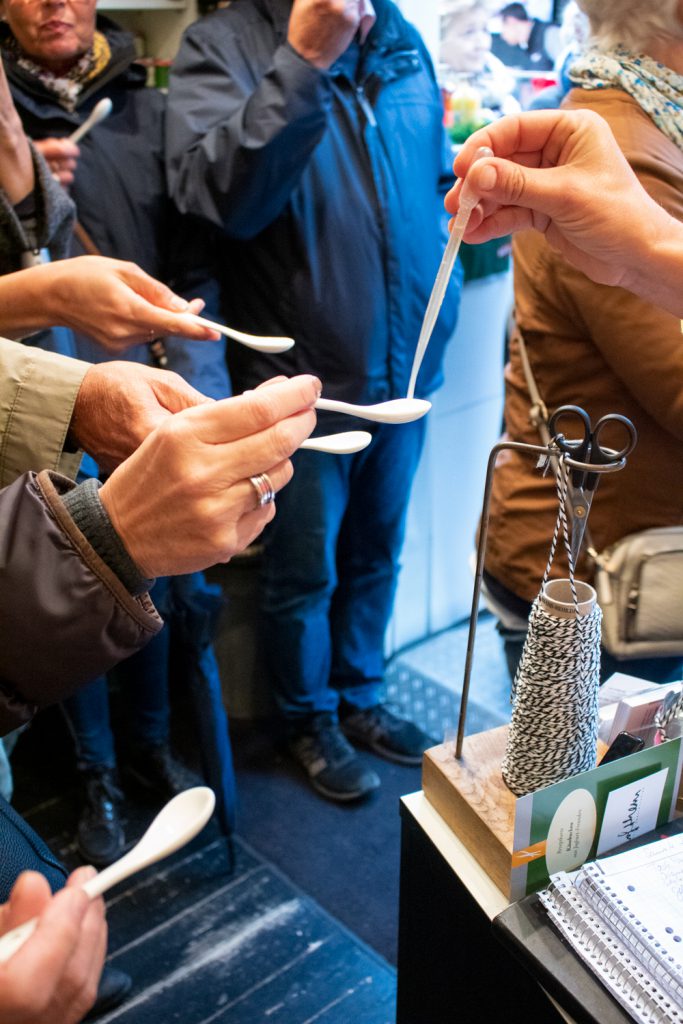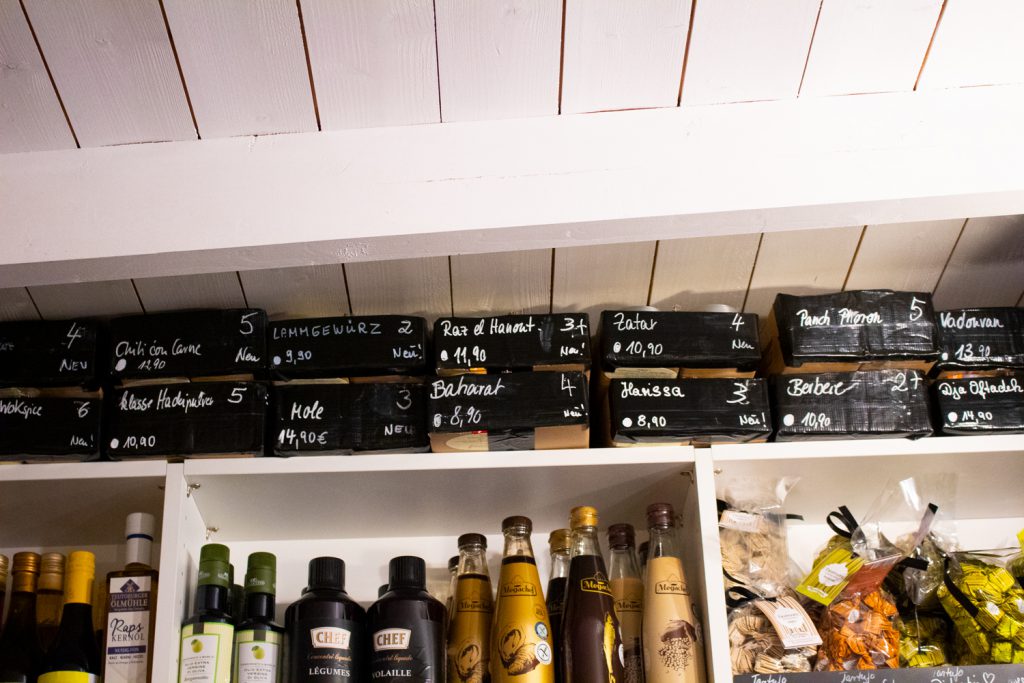 You will be able to discover the various cheesemakers and wine producers of the region who will be happy to serve you small glasses to test the quality of the product (personally, I had to say no after the 2nd glass). Each shopkeeper is passionate about his work, and you can feel it: preservation tips, recipe ideas and little tricks will be given to you, without you even having to ask for anything. One of my favourite shops was undoubtedly the one from Inka (Inka & Mehl), which specialises in spices, oils and vinegar. It was a moment rich in discoveries and I could never have imagined that vinegar and oil could be so interesting!
---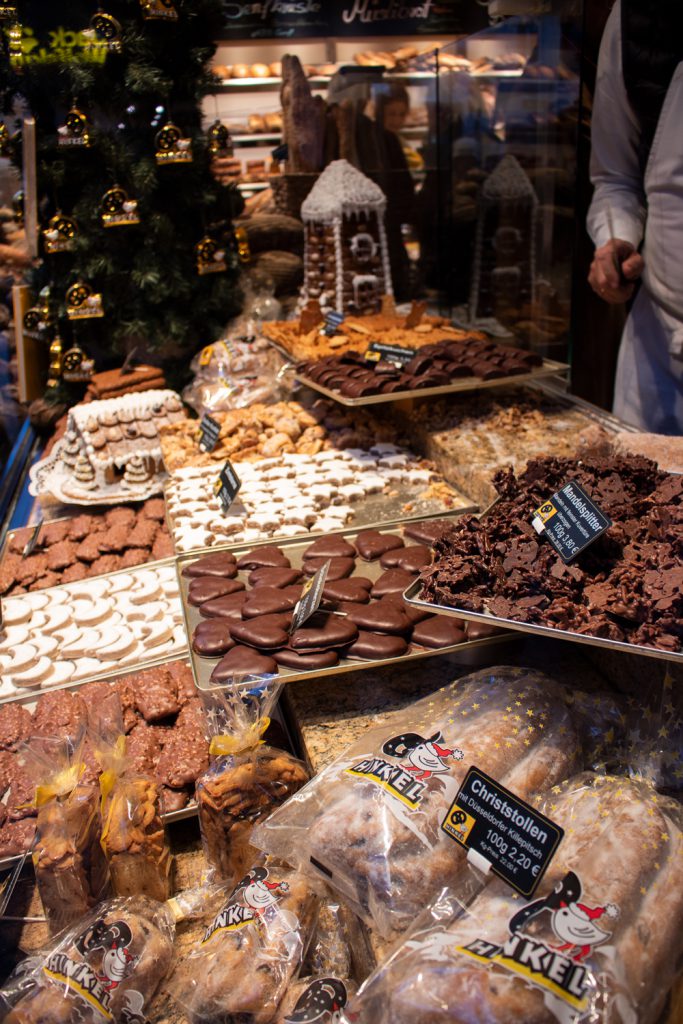 German bread, a love story
Another German pride: bread. With more than 1500 specialities, German bread is a true institution. Did you know that Germans devour an average of 85 kg of bread per year per capita? Germans often eat bread for breakfast and dinner with the Abendbrot (evening bread), which makes bread the star of the table. When you go to a bakery you won't really find a baguette but rather rolls and breads of all kinds, with or without seeds, of different flours and shapes. One of the best known in the region is the Pumpernicke, a dark bread made from rye flour, a little sour and with an earthy taste. Personally, I think it goes well with salted butter!
Joseph Hinkel & his bakeries
The reason I am talking about bread is that Düsseldorf is the home town of one of the bread stars, Joseph Hinkel. He is an emblematic figure of the city (proof of this is that the city offered to create a private guided tour with him and these tours were all sold out within a few weeks), he is the great-grandson of the founder of the Düsseldorf Bakers' Guild, trains most of the bakers in the region and you can find his 2 Hinkel bakeries in the city center. They offer almost 70 types of bread, all handmade, and I recommend you to visit them, where you can meet Joseph Hinkel (he's a character, I love him!) and taste bread samples.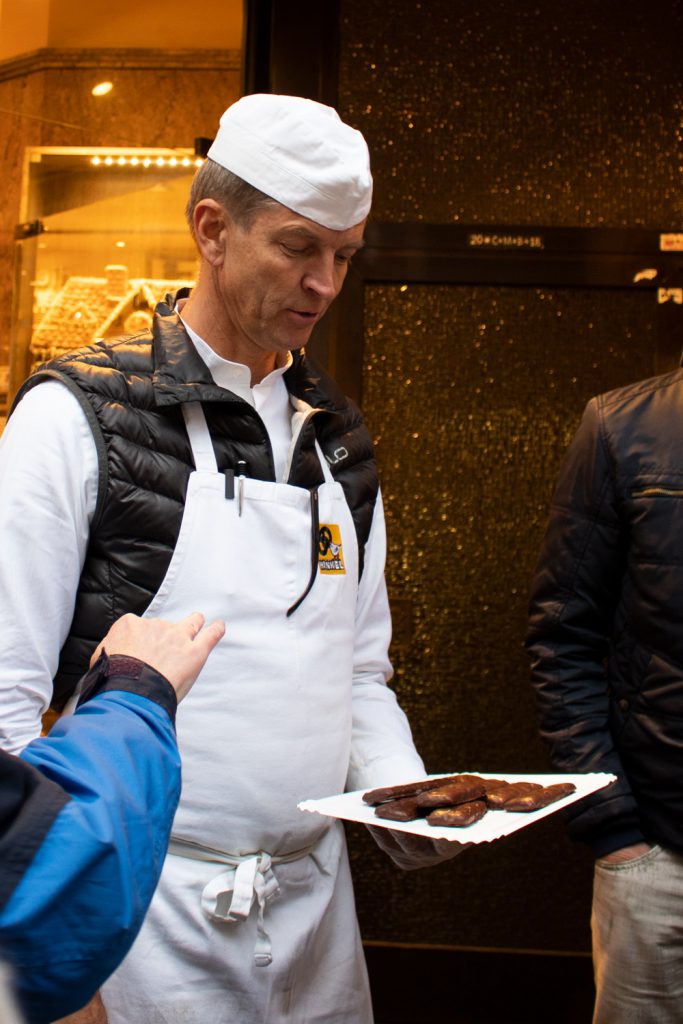 I hope that this gastronomic visit will have made you want to come and discover Düsseldorf by yourself!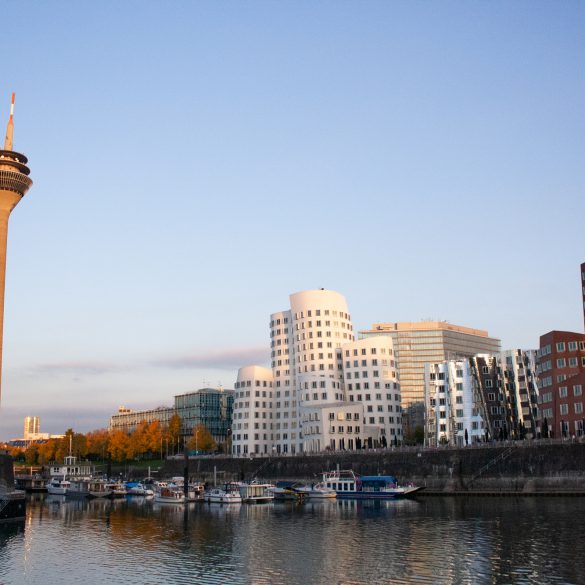 A weekend in Düsseldorf: tips, guide & itineraries
Guide complet avec conseils pratiques et idées d'itinéraires pour passer un visiter Düsseldorf, la capitale rhénane de l'Allemagne en un week-end ou plus.