Today I'm taking you on a little adventure to Seoul! If you've been reading my blog before, you'll know that I love collecting stamps (see my article on hiking/collecting stamps in Seoul). While researching for our trip to Korea, I came across a mini workshop where you could learn to write your name in Korean and then engrave it on a stamp that you could keep. Sounded like a dream! So I'd like to invite you to discover this activity with me, and in pictures please.
---
Last update: August 2023
During our stay in Korea, we used the Klook website to easily buy our tickets for certain activities (for example the Everland theme park, which I'll talk about in another article). Klook is a website that allows you to book tickets for local experiences, attractions but also transport tickets for example. It's a bit like Airbnb Experience but it's much more widely used in Asia. I'd spotted this stamp-engraving activity but we'd decided not to book online as we didn't want to set ourselves a strict schedule.
On our 3rd day in Seoul, we were walking in the Insa-dong district after spending the day discovering the beauties of the city (the Changgyeonggung Palace is so impressive) and I remembered that the workshop I'd spotted the month before we left was nearby. So I pulled out my phone and we were 3 streets away from the Yhlayuen Jeongak Academy! We went to have a look and the teacher at the academy let us in. We asked her if it was possible to take part in a workshop spontaneously and, even though we were outside the proposed times (there was a group who had booked the workshop), she agreed to do a workshop just for the two of us!
Traditionally, buckets/stamps in Korea, called dojang (도장), are used for signing official documents. It's also used in Japan (where we bought our own personalised stamp from an automatic kiosk – much less fun!).
Learn to write your name in hangeul
The first step was to learn how to write our first name in Korean. As my first name was a bit long, I opted for my nickname, Alex and my boyfriend wanted to use his nickname. The teacher was really lovely, spoke very little English but was really motivated to teach us the art of engraving! She wrote my name using different stylisations of hangeul (the Korean alphabet), so that we could choose a design that we liked.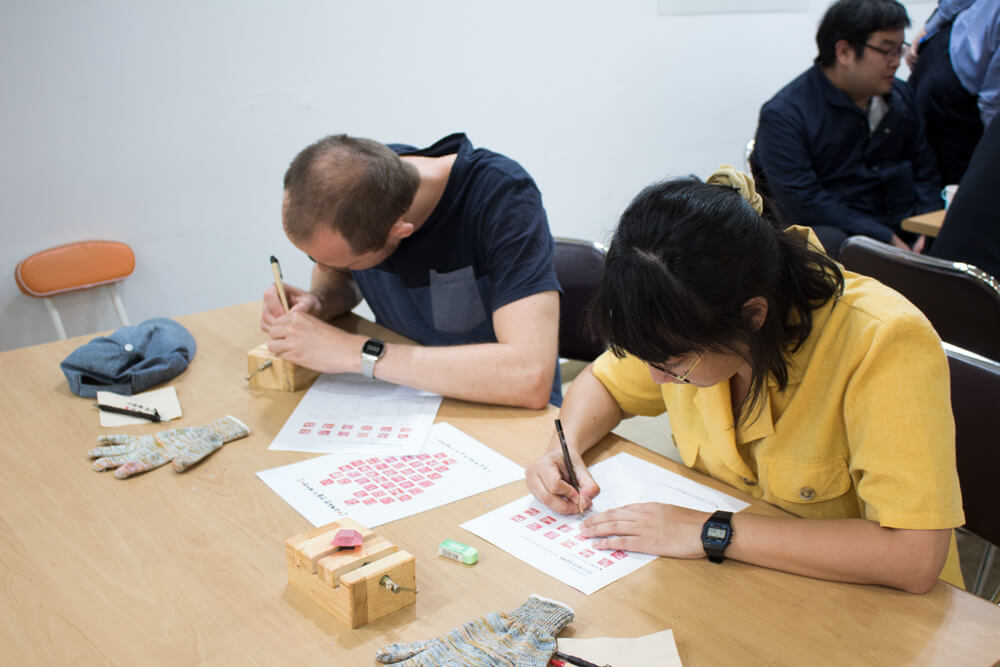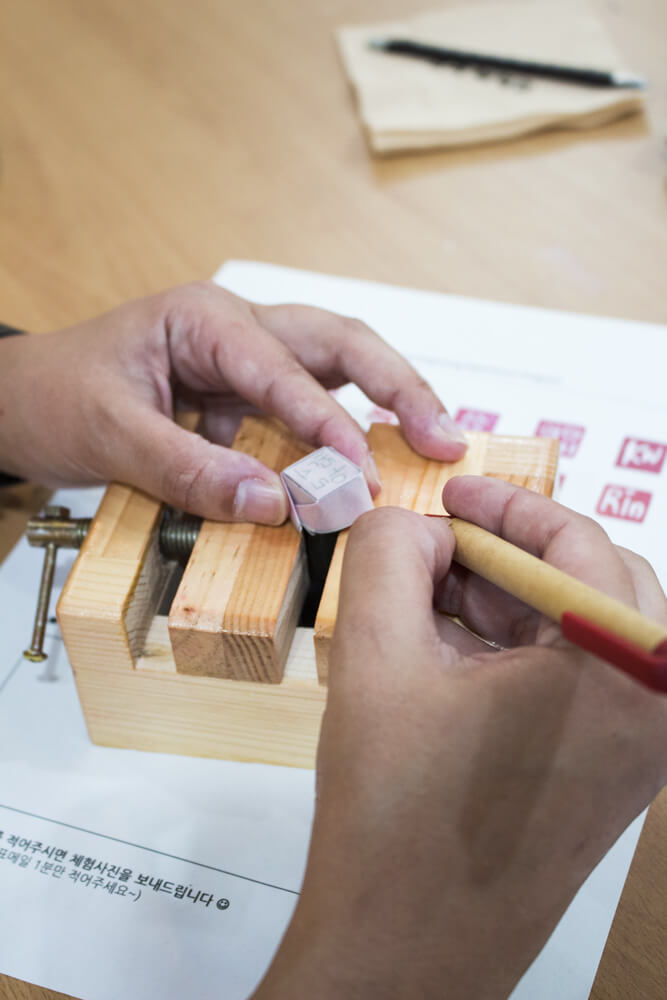 I then reproduced her design on a sheet of transfer paper (she was motivating me the whole time) which I then applied to the blank stamp. I don't really know what material I used, it's quite a hard surface but bouncy at the same time, a bit like silicone but harder.
Start engraving your dojang
You then need to go over your design again with a pencil, taking care to place a thin layer of carbon paper underneath. By pressing down hard, your design will finally be inscribed on the stamp and then it's time to move on to the second stage, engraving!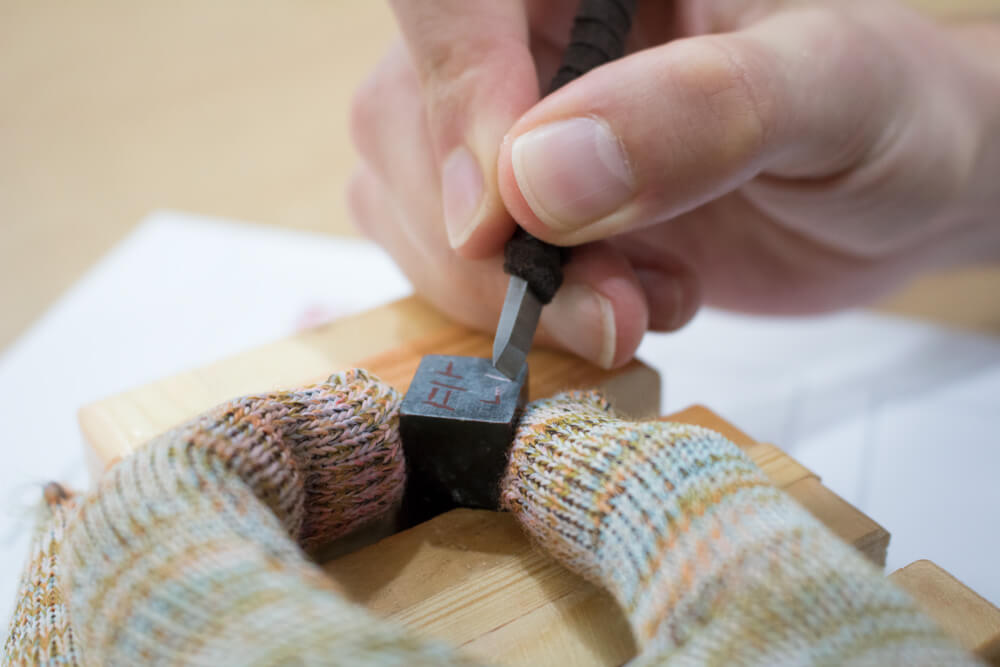 Using a small engraving scalpel, we painstakingly cut out our stamp and frankly, it wasn't as easy as it looks! My stamp in particular had an oval shape and phew, it was hard to make something clean. We also had to go over our cuts 3 or 4 times to get the engraving deep enough for us to see when inking.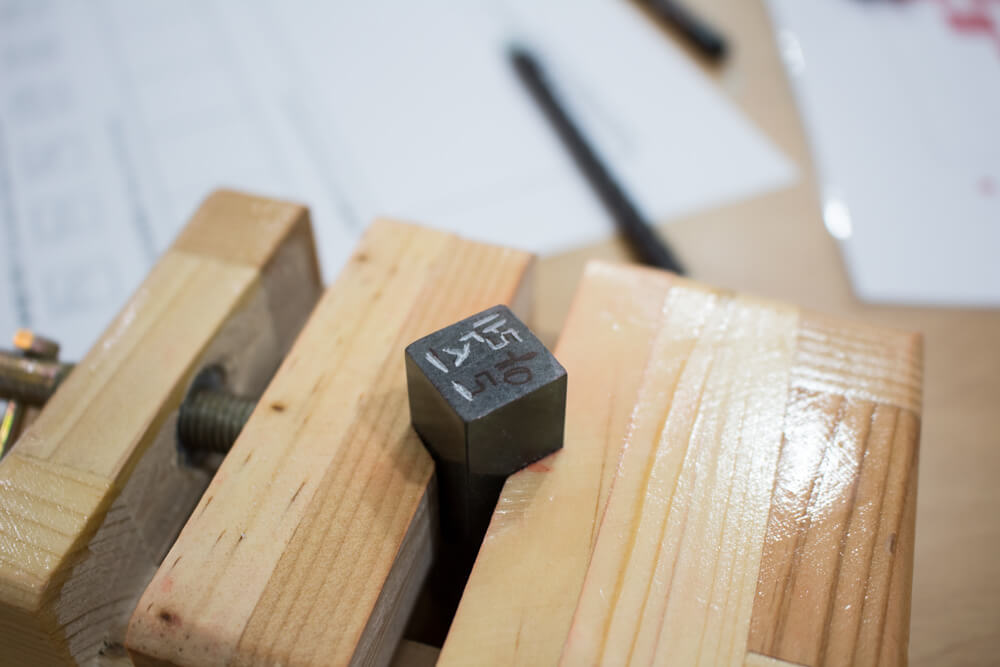 After gently brushing our freshly engraved stamp with a small brush, our teacher gave us a small inkwell filled with red ink that was quite pasty and smelt quite strong… which I love! However, be careful with your fingers, this ink stains a lot and stays on the skin quite easily. We went through a series of tests to learn how to apply the correct amount of pressure on the stamp to get a good distribution of ink and avoid smudges, and she also taught us how to look after the stamp so that it stays in good condition. You have to take the time to clean the seal with a clean cloth after each use!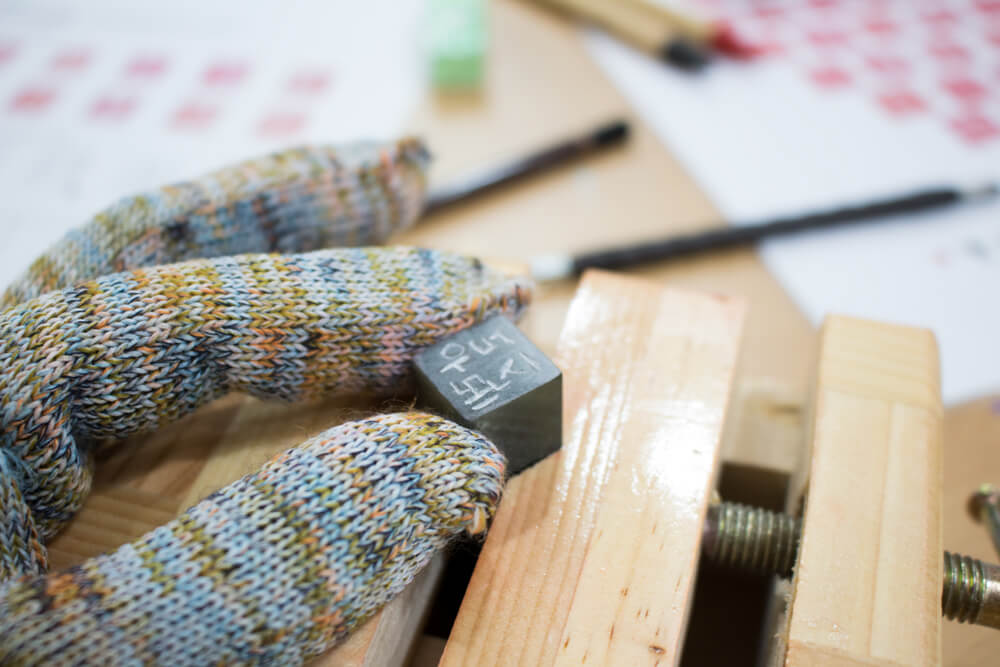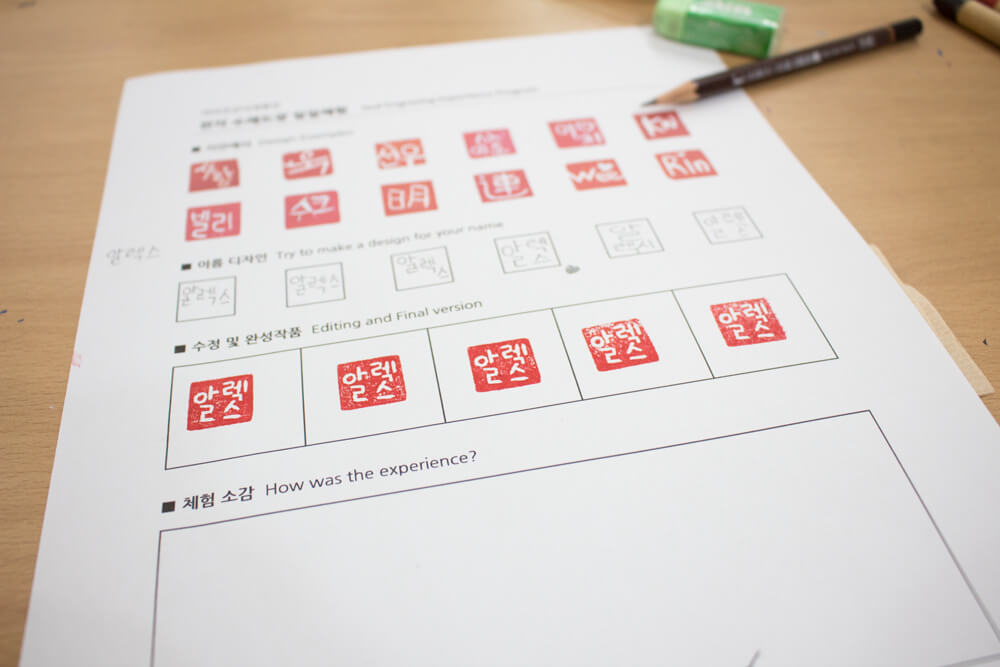 Each seal came with a small carrying pouch (we could choose the colour) as well as a card with the freshly applied stamp and a small portable inkwell. We then posed for a photo with our teacher and our beautiful seal, and voila! It was a really great and unusual activity that lasted about an hour, we even had a cup of tea and cookies and we were able to take home a nice personalised souvenir of our stay in Korea. It's really these kinds of experiences and encounters that make me love travelling!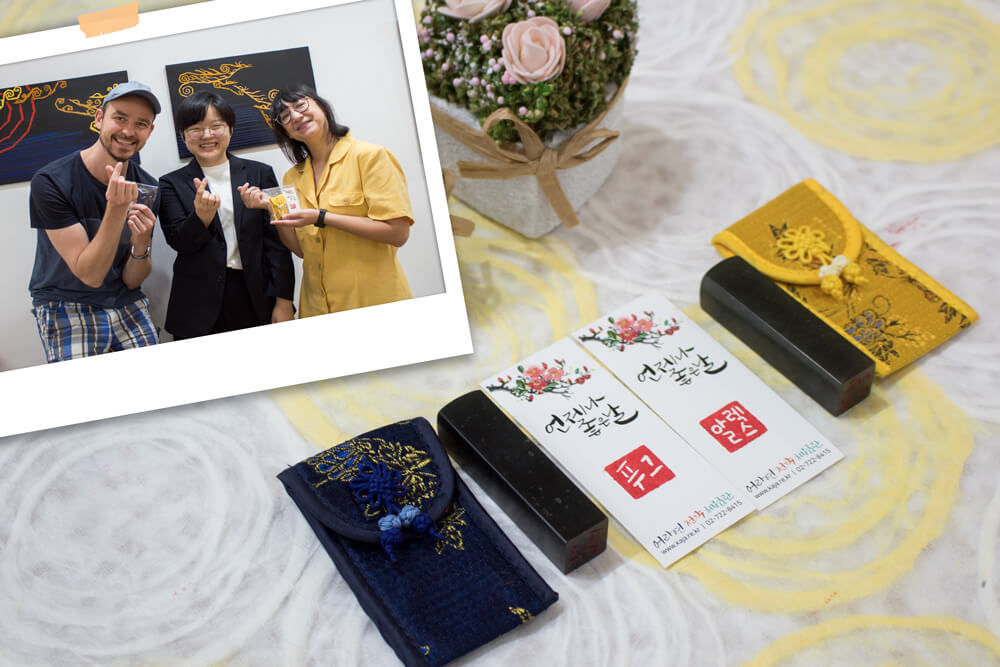 In my travel diary, I noted that we each paid 22,000₩ or €16 p/p. I also managed to find the link to the activity on Klook. More information here in English. If you use my affiliate link to create a Klook account, you'll receive €5 credit and so will I. So it's a win-win situation!
---
Have you heard about those kind of activities? Would you like to try it?