After Sokcho and the Seoraksan National Park, Gyeongju, Busan's Gamcheon Village, I take you today to discover one of Korea's most beautiful historical gems, Jeonju. Classified as a City of Gastronomy by UNESCO, it is the cradle of bibimbap and makgeolli, but also one of the places where you can walk through one of the largest hanok villages, the traditional Korean houses. During our stay in Korea, we decided to spend 24 hours there and in this guide you'll find my essentials to visit, what to do and what to see during your stay in Jeonju!
Last update: August 2023
Jeonju, cultural capital of South Korea
Located in North Jeolla Province and only 2 hours and a half by train (KTX) from Seoul, Jeonju City (전주시 in Korean) is one of the most popular cities for tourists and is considered a major cultural city in the country. In the past, it was the spiritual capital of the country (under the Joseon period of the Yi dynasty). Today, the city is known for its beautiful village made up of more than 800 hanoks (traditional Korean houses), its many festivals (such as the Jeonju International Sori Festival or the Jeonju International Film Festival – we have seen the Jeonju Hanji Culture Festival during our stay for example) but also for its culinary specialties. It is therefore the cradle of the famous bibimbap but also the makgeolli (a very popular local alcohol). During our stay in Korea we wanted to experience a night in a hanok and that's why we decided to stop for 24 hours in Jeonju, rather than going straight back from Busan to Seoul!
Arrival in Jeonju and overnight stay in a hanok
For our journey from Busan to Jeonju, we once again opted for the bus. It's really an easy, fast and cheap way to get from city to city in Korea! Our trip took 3 hours and cost us 24900₩ (about 19€) and it is the easiest way to get from one city to the other. The alternative would be to take the train, which would cost us more, be longer and have one stopover. Once we arrived at the bus station, we decide to take a taxi as we are travelling with our luggage and… what an adventure! We came across a taxi driver who didn't know the address of the hanok we had rented for the night. After an unsuccessful attempt using Google Translate, we call our host who manages to describe the route to the driver. And finally, after almost 4 hours of driving, we put your suitcases in our hanok!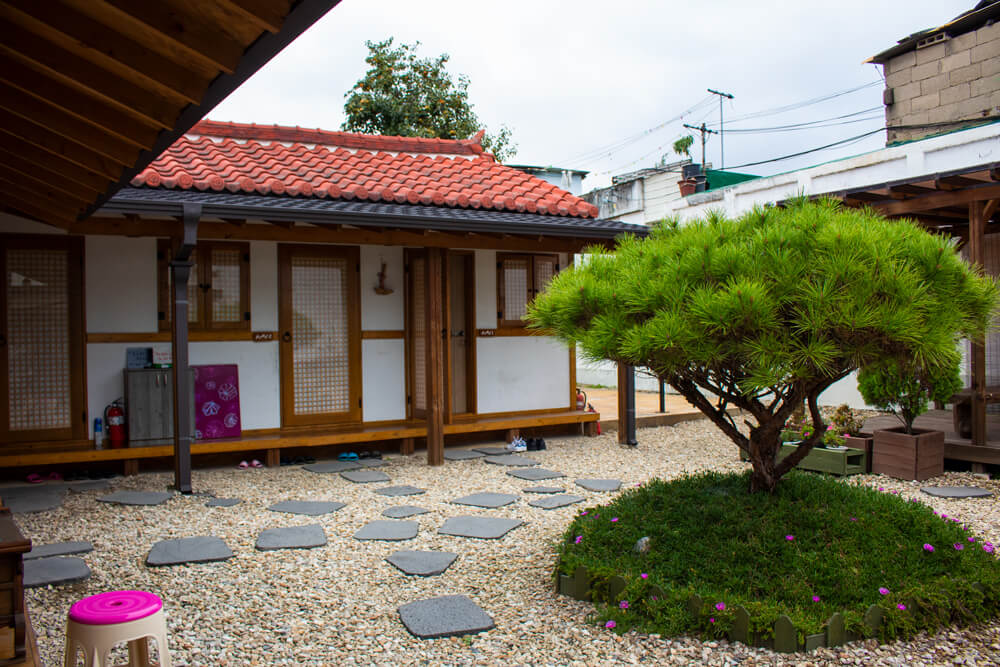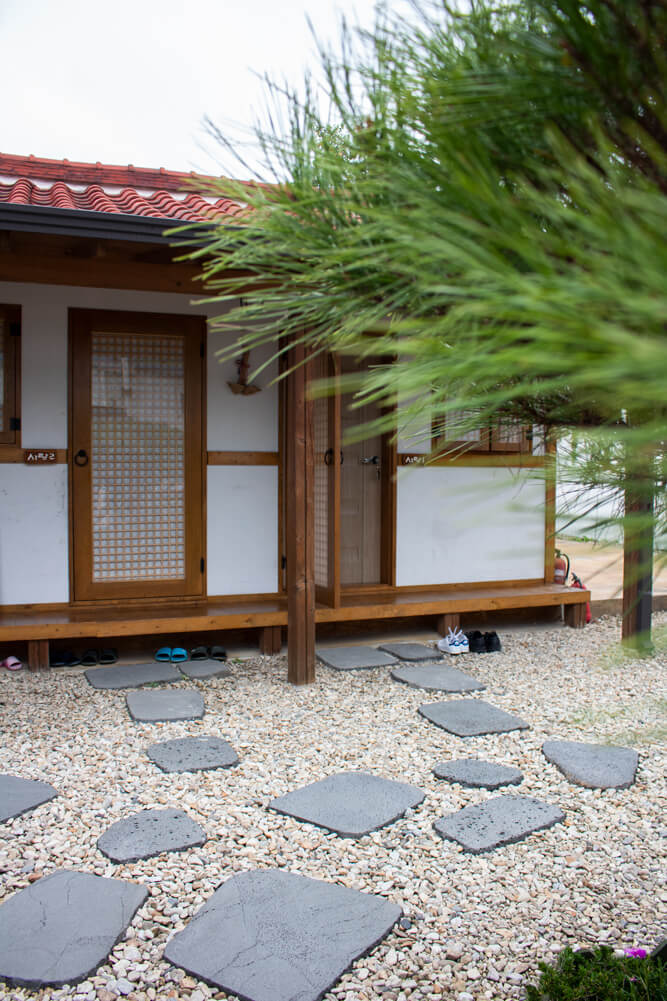 What is a hanok ?
A hanok (한옥 in Korean) is a traditional Korean house built according to the architectural style that extended from the period of the Three Kingdoms to the Joseon period (i.e. from -57 to 1910). In the building process, the positioning of the house in relation to its environment is considered, with a reflection on the earth and the seasons.
Of course, you can rent a whole house or a room, and you will find them at very different prices. Nothing luxurious in our case, as we opted for a room with a futon and a private ensuite bathroom. The floor was heated (which is also traditional), which was really nice as we slept on the floor. There is also a communal lounge and kitchen area in another part of the hanok and a small inner garden. We slept really well, everything was clean and it is really an experience I highly recommend!
What to see in Jeonju in one day ?
Is it realistic to visit Jeonju in one day? If you just want to walk around and soak up the atmosphere in general, I would say yes, you can opt to visit Jeonju in one day, arriving in the morning and leaving in the evening. We prefer to take our time even if we sleep there and that's why we stayed there for 24 hours. The town can definitely be explored on foot as most places of interest are close by. On the edge of the Hanok village, you will find the Namcheongyo Bridge, the last remaining structure of this style in the country. You can go on the bridge and admire the view of the river but remember to take off your shoes (you will see everyone doing it anyway). It is a place where many families have a picnic in the late evening for example.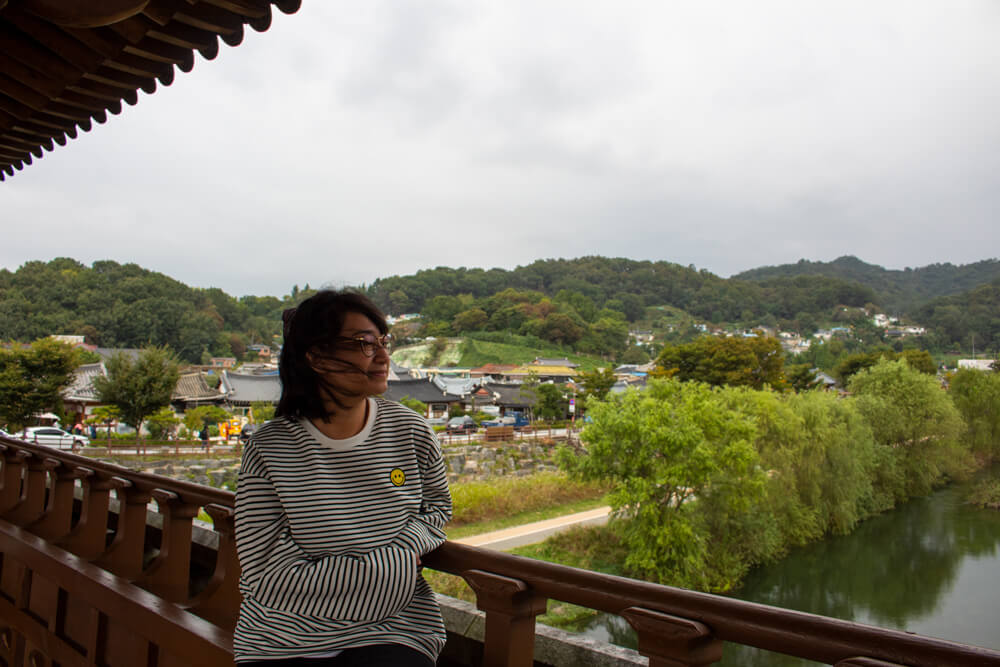 Visit Jeonju Hanok Village
The old town of Jeonju extends over many streets and alleys and corresponds to the hanok village. It's a great place to stroll around, you can find many cafes, small restaurants, and craft shops. The atmosphere is rather quiet during the day, although lively, the alleys are lit up at night and the atmosphere is really relaxing.
You can also rent a hanbok
You will also find many Koreans (and tourists) wearing hanbok, the traditional Korean clothing. During our day on site, we saw many photoshoots of couples or friends who wanted to immortalize their day! There are many specialized shops in the main streets of the hanok village where you can make your selection.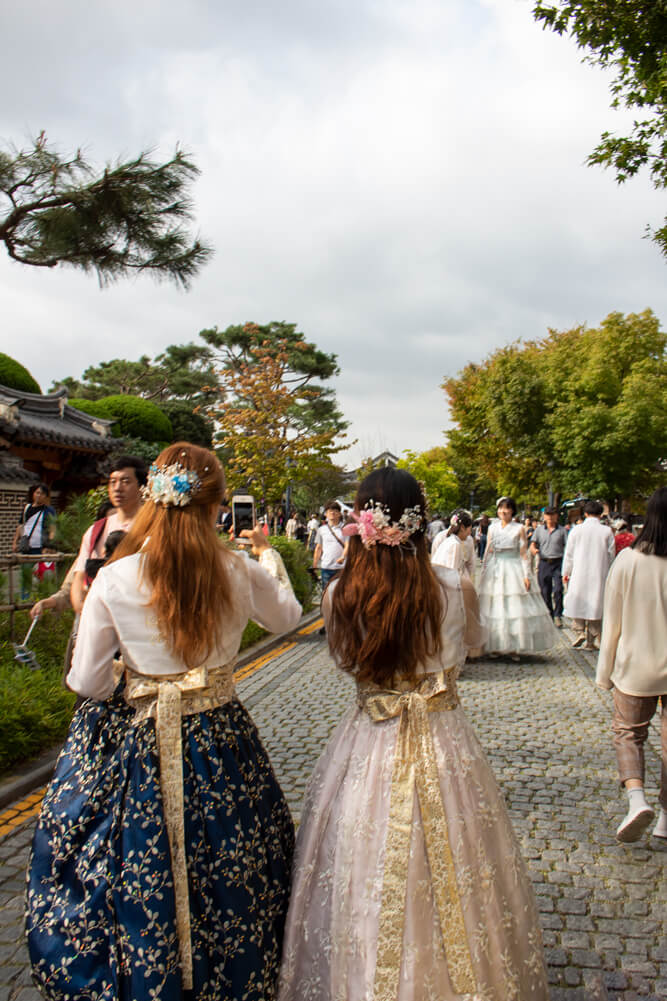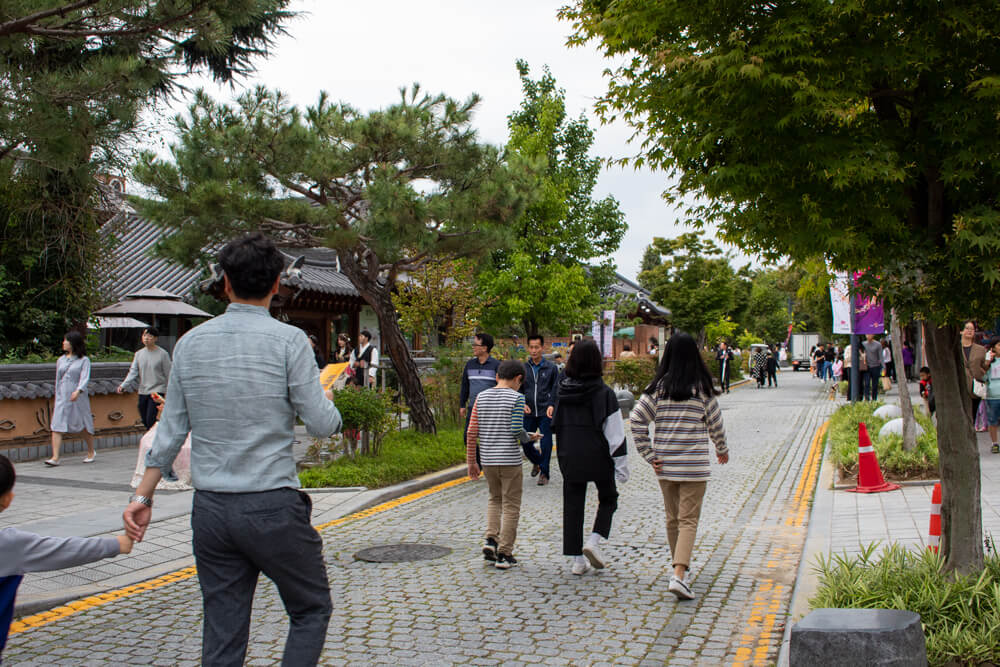 Eat on the go, day or night.
Situated southwest of Pungnammun Gate (I discuss it later in this article), between the gate and the Jeonjucheon River, Nambu Market is the largest market in the city. It is divided into two parts: a covered part and an outdoor part with shops overlooking the street. We decided to go there in the evening and dine there. You can easily go from stall to stall, order your food and then sit in one of the spaces indicated, inside or on the bank of the Jeonjucheon (which we did as the night was quite mild). There is something for everyone: sweet, salty, spicy, Korean, Japanese, or even European-inspired. Unfortunately, I didn't bring my camera (and yes, sometimes I like to walk around carefree) but I do have a few snack photos that I nibbled on throughout the day.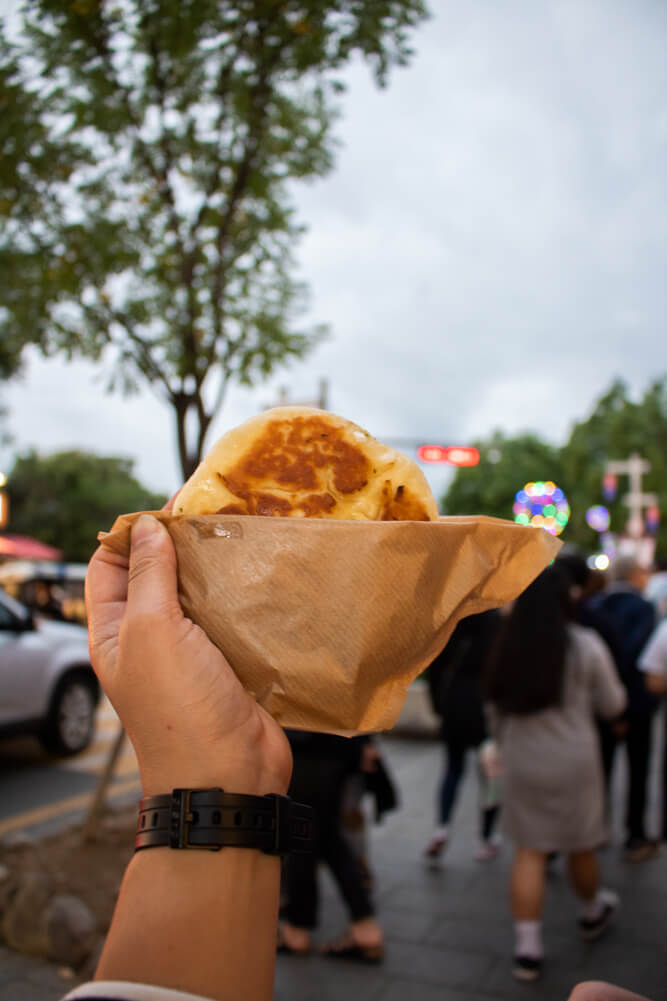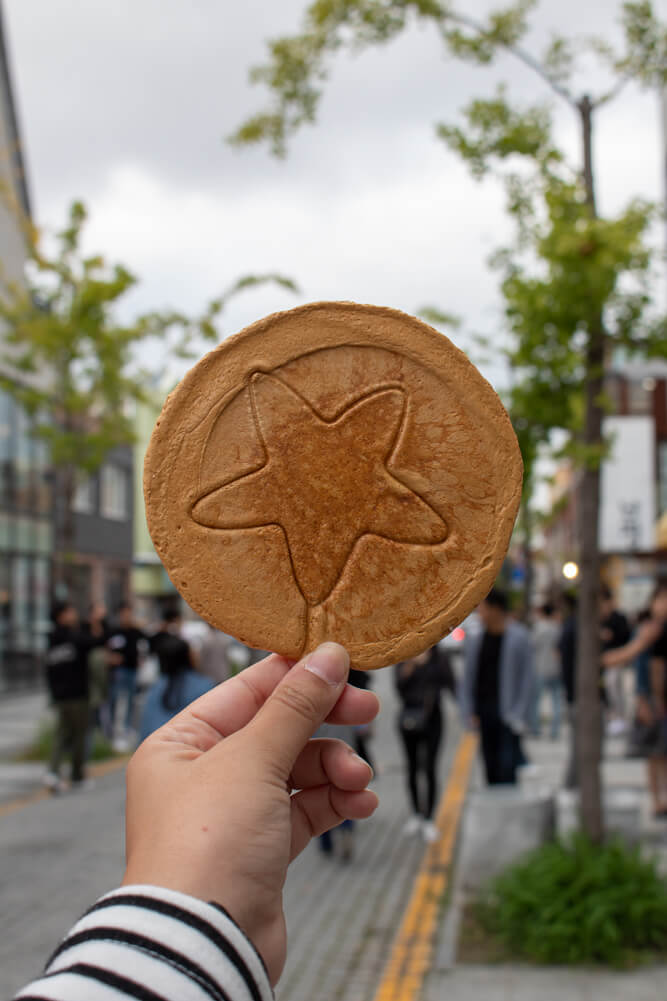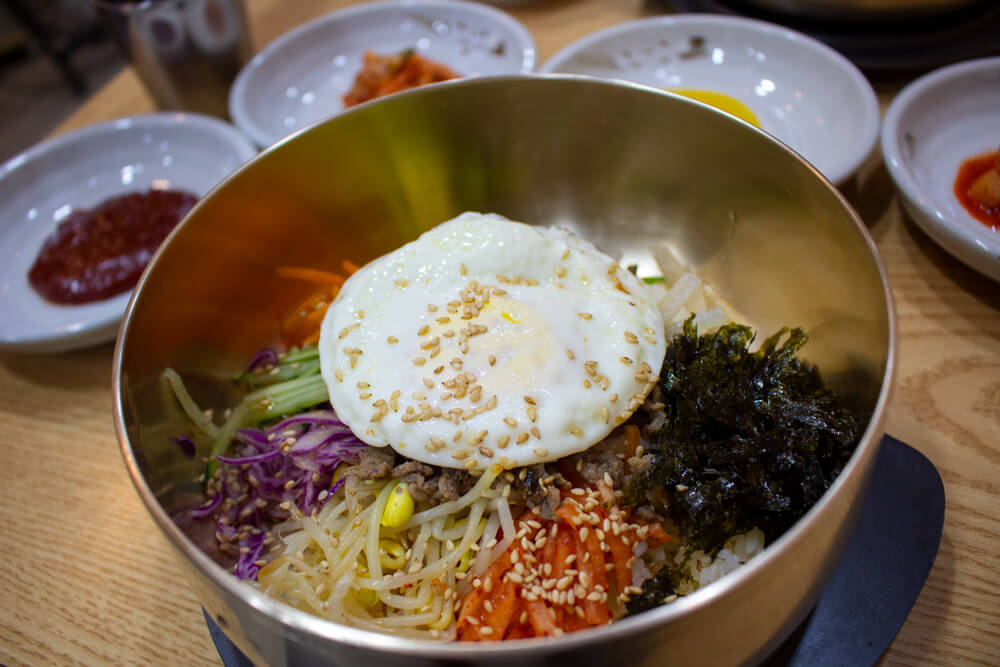 Don't miss the typical Jeonju dish: bibimbap (비빔밥)! It is rice with sautéed and seasoned vegetables, and sometimes slices of marinated beef or a cooked egg, served with sesame oil and gochujan, the Korean red pepper paste. Don't forget to stir your dish well before eating, otherwise, you risk attracting the outraged eyes of the locals! The art of the perfect bibimbap is a true tradition since the placement of the condiments is important: vegetables are often placed so that adjacent colors complement each other!
Two other dishes are also representatives of the city, such as kongnamul gukbap (콩나물국밥), a bean sprout soup with rice, or hanjeongsik, which is a Korean-style full meal characterized by an impressive number of small plates. A kind of local table d'hôtes!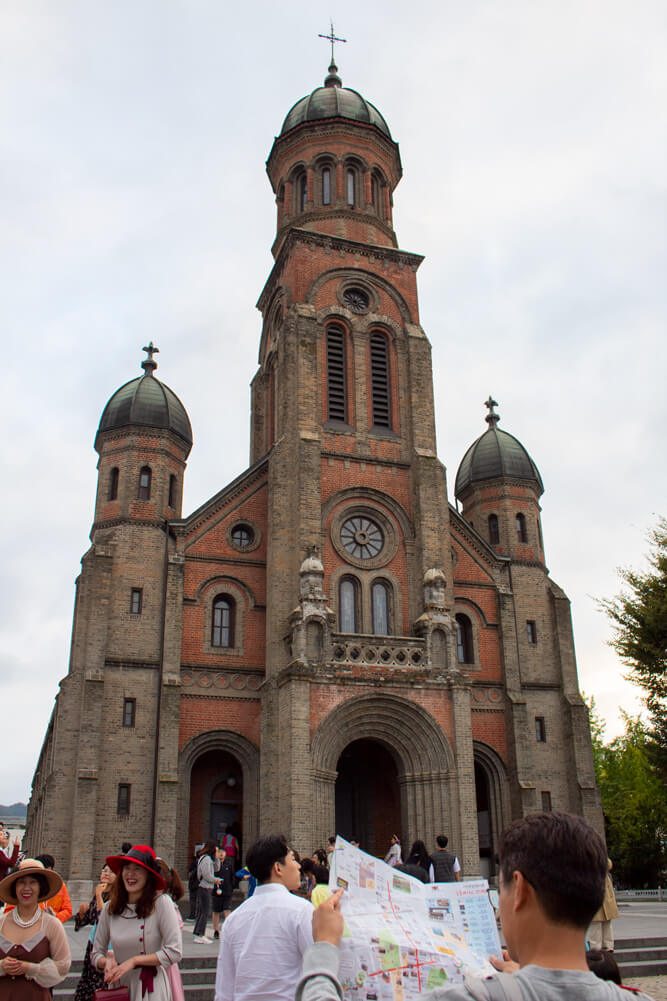 Admire Jeondong Cathedral
Did you know that Christianity is now the most widely practiced religion in the country? Originally introduced to Korea in the 18th century, Christianity has long been seen as a threat in the eyes of the Korean government. It was with the arrival of Protestant missionaries in the 1880s that this religion developed in the country and today there are more than 13.5 million Koreans who identify themselves as Christians (26% of the population).
Jeondong Cathedral is a Roman-Byzantine Catholic cathedral. It was built by a French priest at the beginning of the 20th century and is classified as a Korean historical site. You can visit it for free, and as you can see on the picture, there are many Korean and foreign tourists who are interested in it. It was quite confusing to see a Catholic church as we know them in Europe in a typical Korean environment!
Reaching for Jeonju
There's nothing better than taking a high altitude to be able to take pictures and contemplate the hanok village of Jeonju, isn't there? To do so, you can take a path that takes you to Omokdae (오목대) and Imokdae (이목대) which are two historical places not to be missed. Access is free and once you arrive on the hill, you will be rewarded with not only a breathtaking view of the hanok village but also two pavilions which are the place where King Taejo, the first king of the Joseon dynasty, held a banquet after his victory against the Japanese invaders.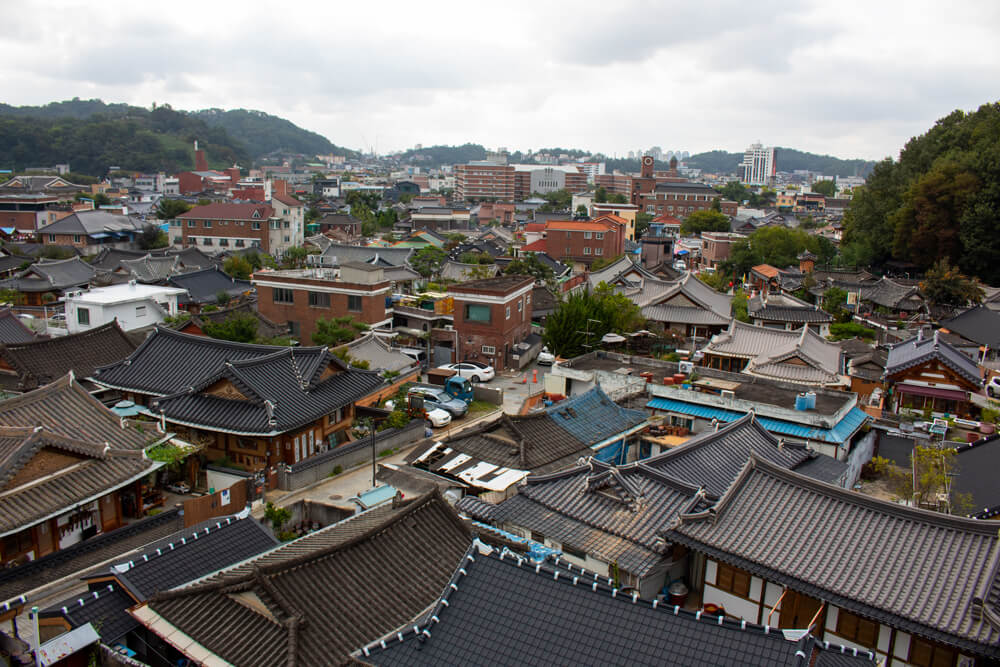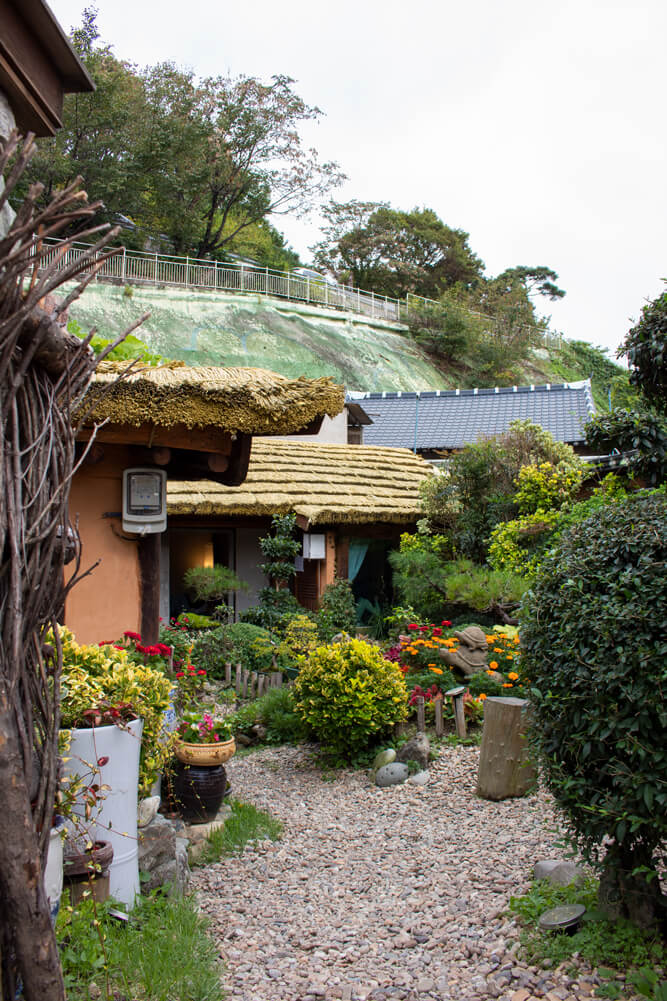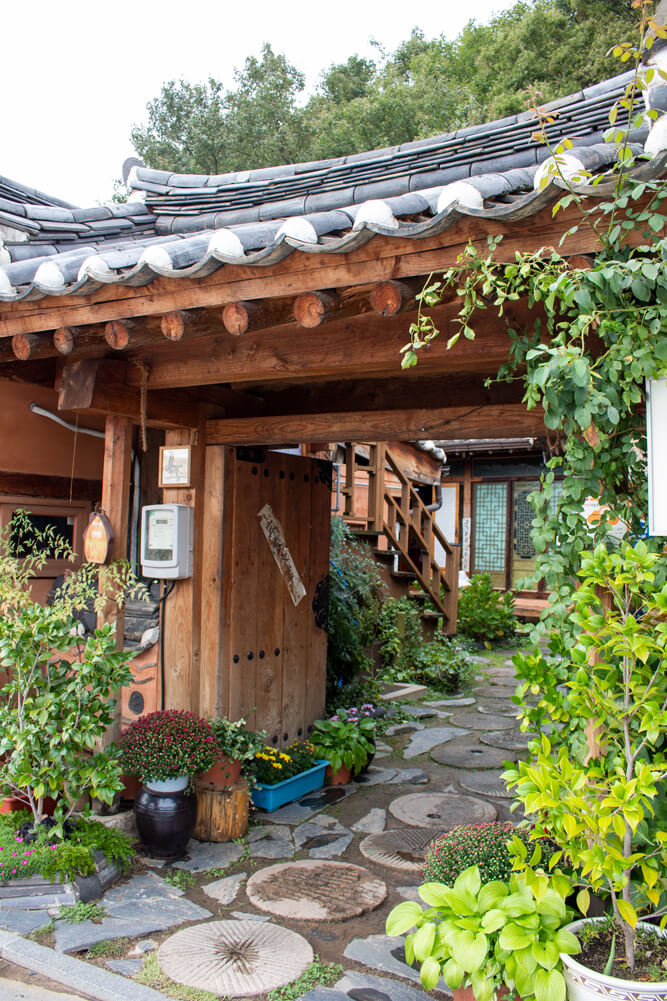 Along the way, you will see many hanok, some of which have been converted into a café, guesthouse or shop. There is no need to say, it is a real pleasure to get lost in the narrow streets of the village to soak up this very special atmosphere.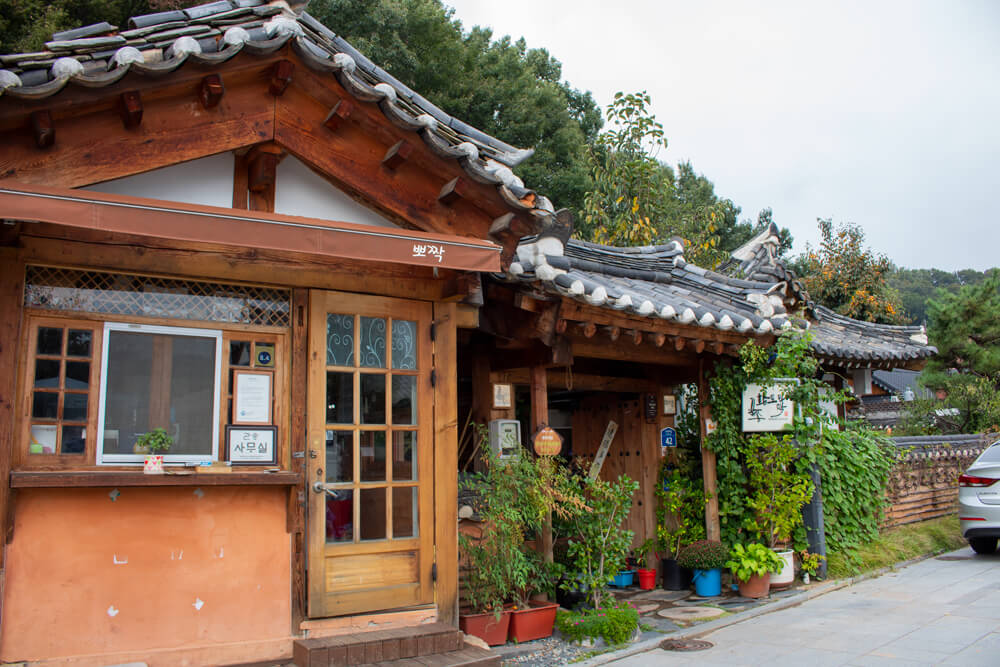 Watching the lights of Jeonju after dark
To end our day in Jeonju, we decide to do like many Koreans visiting the city, take a walk along the river. At night, the city is transformed and illuminated, and although it is October, the temperatures remain pleasant and we feel like we are taking a walk on a summer evening. We then left for Nambu Market, the covered market I was telling you about earlier and we also had the opportunity to admire the Pungnam Gate, one of the 4 gates that marked the entrances to the old town of Jeonju. It is the only gate that is still visible today and it is really an impressive building, especially in the evening when it is illuminated. Its construction dates back to the Joseon Dynasty in 1768!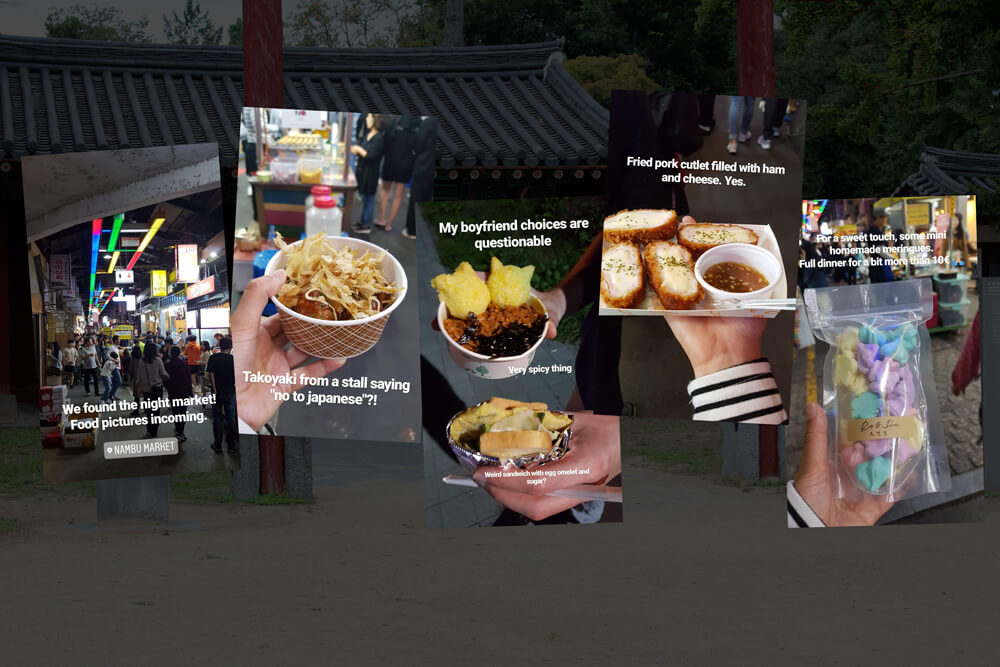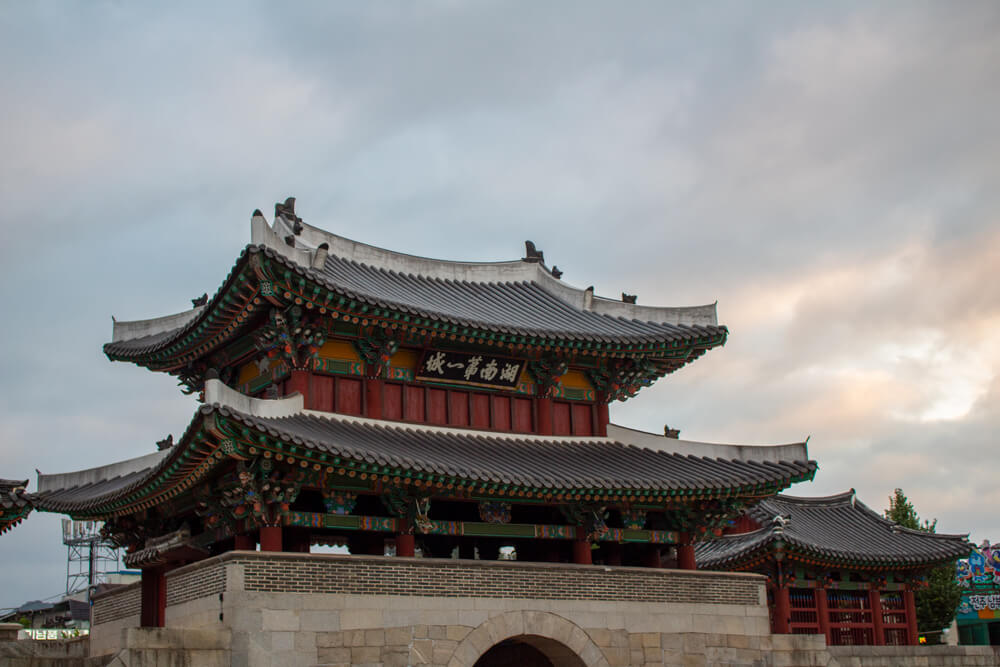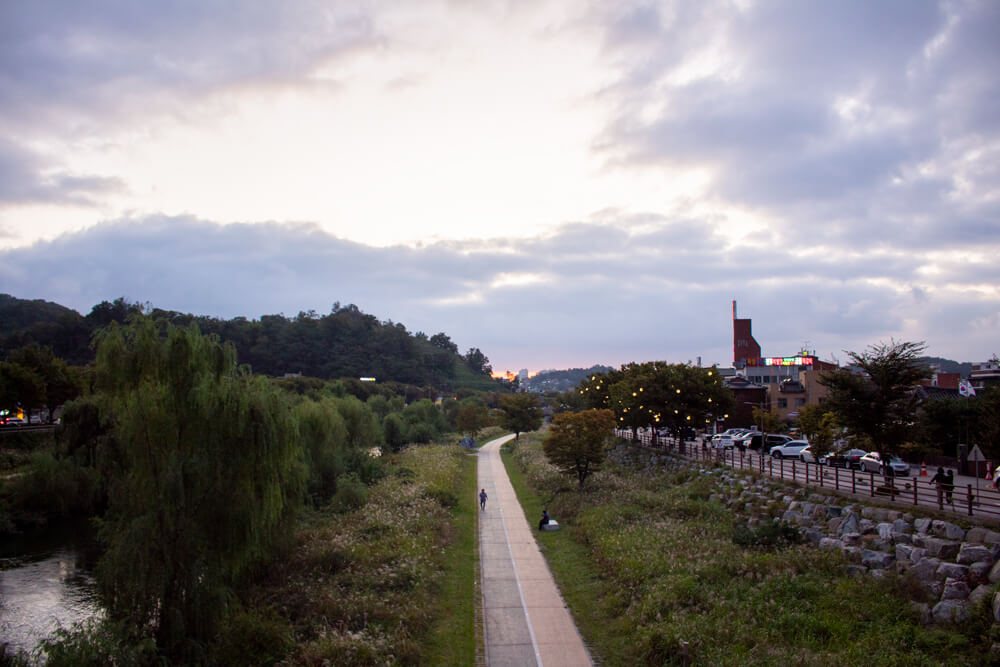 To enjoy this beautiful autumn day, I decide to leave my camera aside. After a rather copious dinner at Nambu Market (which consists of a selection of different small dishes that we devoured on a band along the river) we continue our night walk. We have to go to bed early as the next morning we have to take the bus to our last destination: our return to Seoul. We will spend 4 exciting days there before flying back to Germany!
Poursuivre votre découverte de Jeonju
Of course, our stay in Jeonju was just 24 hours and allowed us to discover only a limited number of things. Nevertheless, here's what we still had to visit if we had the time :
Jaman mural village: Jaman mural village: Located only 10 minutes walk from the hanok village, this small village is composed of houses entirely decorated with murals! You will also find there shops and small cafes, each one more cute than the other. It is the perfect place to take pictures. This article is very interesting and superbly illustrated. Here is a very interesting blogpost with lots of pictures.
Deokjin Park: Feel like going for a walk in the middle of nature? Deokjin Park is located in the north of Jeonju and is known to locals for its pond with water lilies. Another great blogpost about a day in Deokjin Park.
Geumsansa Buddhist Temple: Located 20km southwest of Jeonju, this temple was founded in 599 and is well known in South Korea as it houses a relic of Buddha. You can reach it by bus or car. Moreover, if like me, you like national parks, this sanctuary is located in the Moaksan Provincial Park.
Gyeonggijeon Shrine: Located on the edge of the Hanok village, Gyeonggijeon Shrine was built in the very early 15th century, after the death of King Taejo. In addition to visiting the shrine, you will find the Royal Portrait Museum where you can see various portraits including that of King Taejo. Please note that this visit is subject to a fee (3000₩).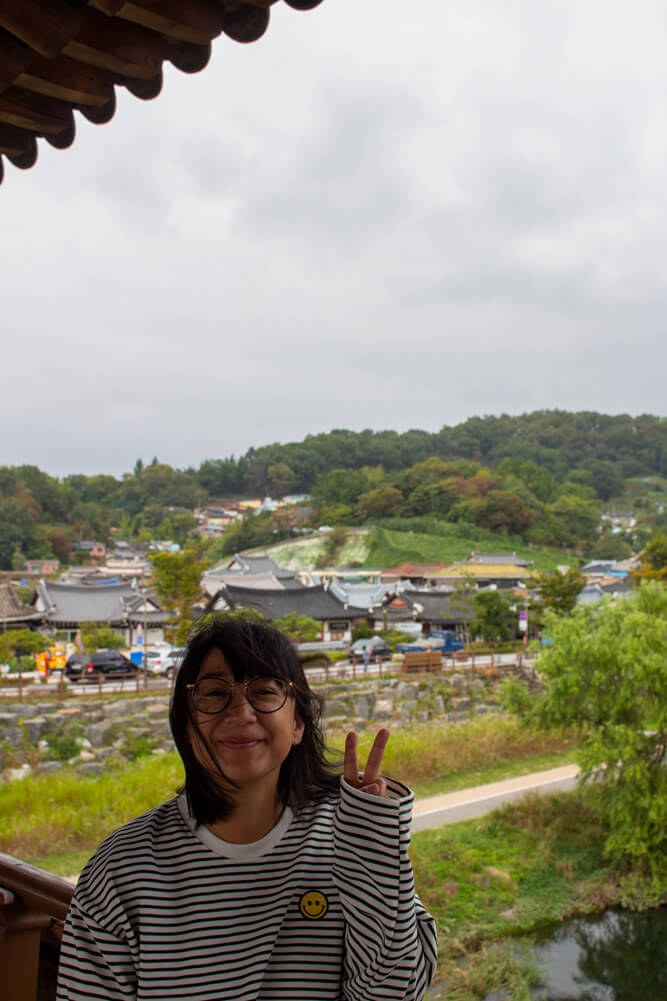 ---
I hope you enjoyed your discovery of Jeonju! I am slowly coming to the end of my stories about South Korea, but I still have some nice things to share with you before closing this parenthesis. See you soon!