Since we moved, we finally have a room that serves exclusively as our office, which is useful as we've both been working from home for a year now. Having a dedicated workspace, I can finally decorate my office the way I want! You must have seen on social networks this little Bluetooth speaker with a super cute retro design. Is this speaker really that good? Is it worth it? What are its features? Well, after a week of intensive testing, I share my impressions in this article!
A retro and cute design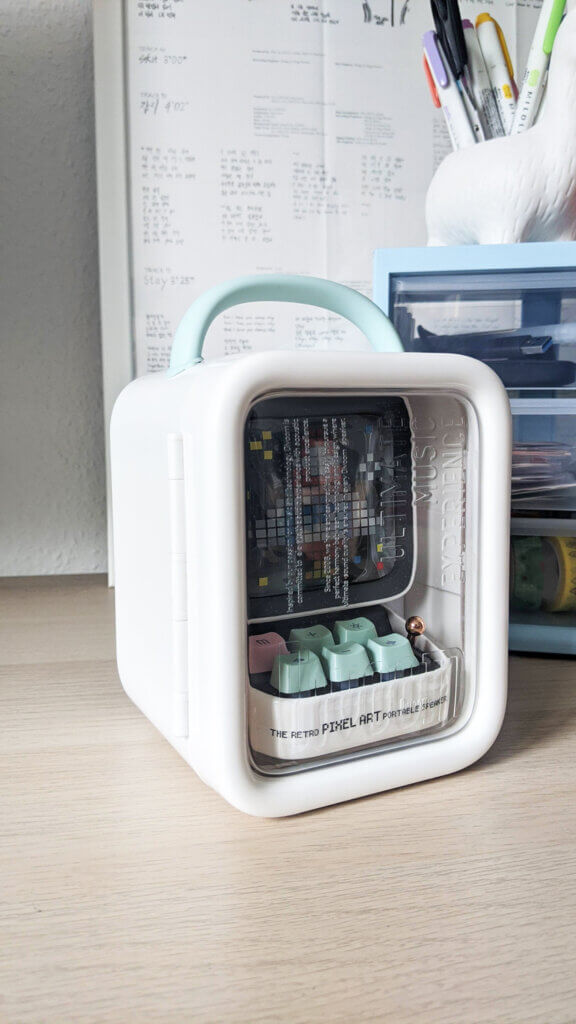 High quality packaging
The first thing that struck me when I opened the box was the way the product was presented. The speaker comes in a super good quality protective plastic shell with a silicone handle. I actually decided to keep this package to put my facials in in my bedroom because it was so cute!
Once out of its protective packaging (and transportable thanks to the handle), the speaker is protected by small plastic films that you can peel off, especially the one on the front where it says "the retro pixel art portable speaker".
What does it come with?
The Ditoo is delivered with a small user manual in several languages, 2 stickers sheets to customize your speaker according to your desires and a USB-C/USB cable to charge your speaker. Please note that the electrical plug is not included, as with many electronic devices.
Then, once the speaker is out of its packaging, you can really see the quality of the product itself: super nickel design, small qualitative 6-key mechanical keyboard accompanied by a small stable bronze coloured lever and a 7cm rectangular screen. The whole object is made of good quality plastic and the speaker is heavier than I expected. On the top of the speaker is the speaker and on the right side there is a slot for a MicroSD card (max. capacity 64GB), a power ON/OFF button and finally a USB-C port for charging.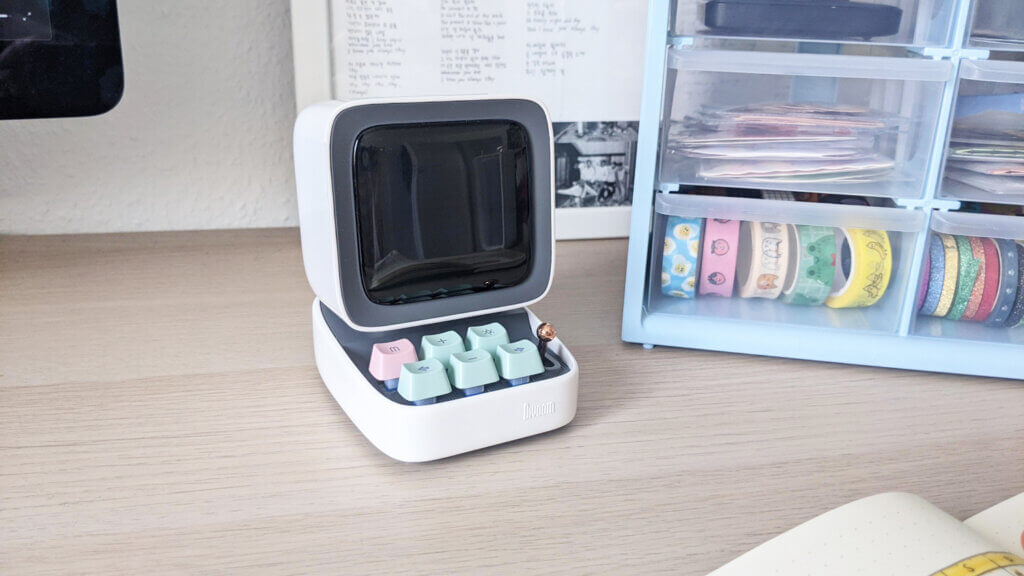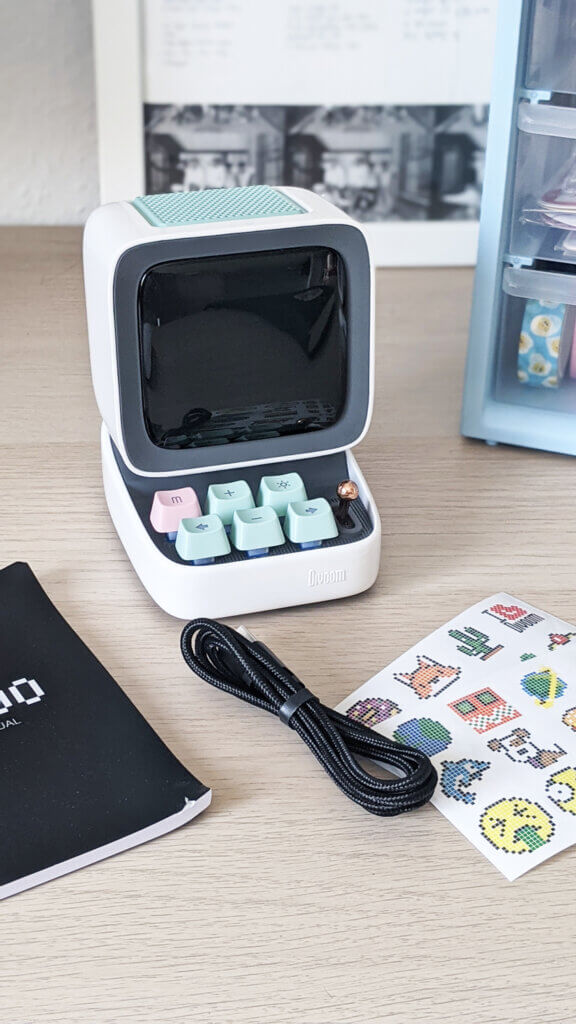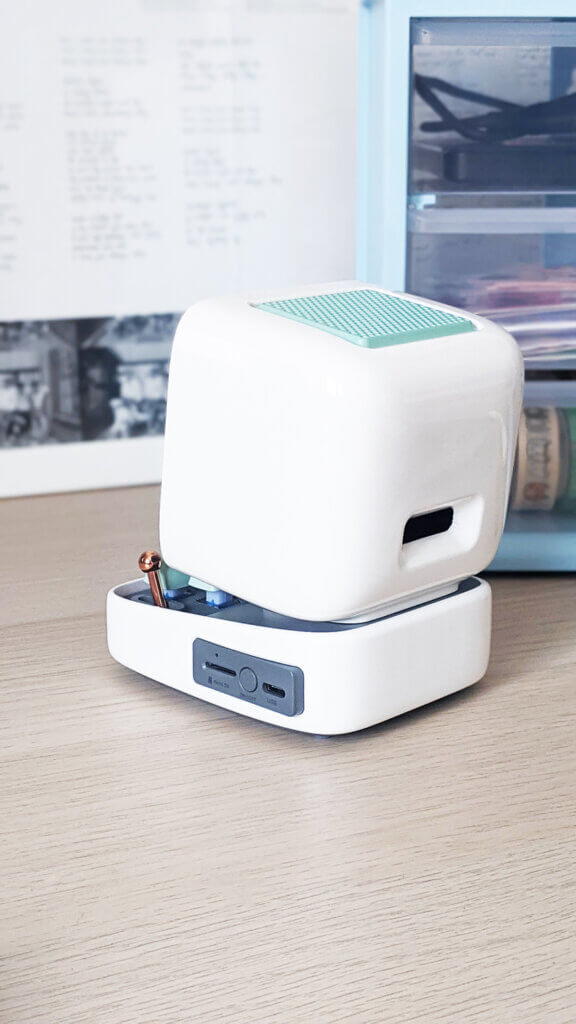 A portable speaker… or not
The Ditoo speakerphone is powered by a 3000 mAh battery, which will provide approximately 8 hours of battery life. This time will vary depending on a range of variables such as listening volume, screen brightness and keyboard backlight. Before I could test the Ditoo, I had to charge it. So I used the small cable that came with the Ditoo and used my mobile phone plug. Within 4 hours the speaker was fully charged. To check the battery level, you can have a look at the little light that will be switched off once the charging is complete or you can press the power button twice to see the charging level on the screen. To turn on your device, just press and hold the power button for 2 seconds and the Ditoo will turn on with a sound and then display the time (after having been synchronised to your mobile phone).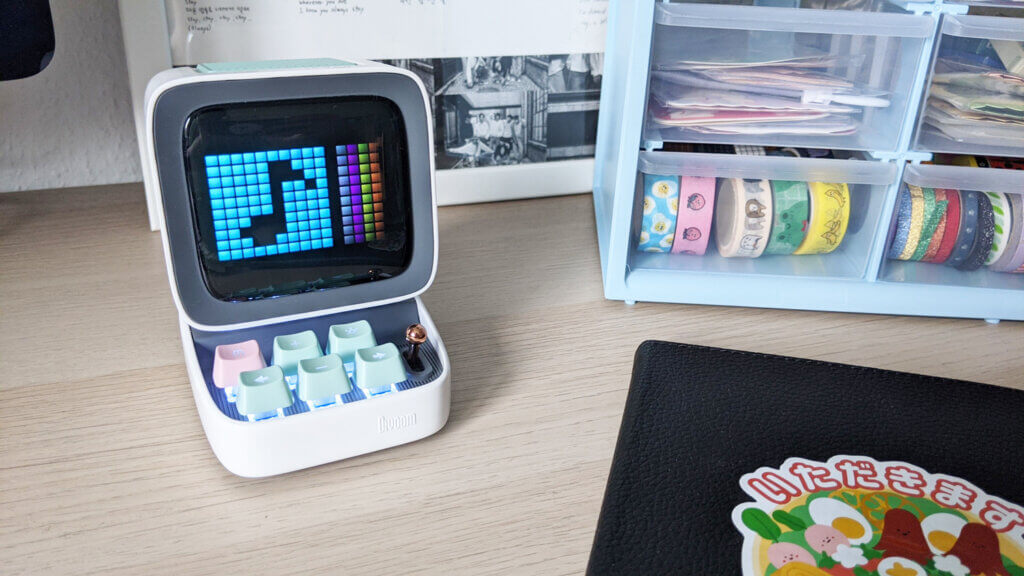 With a battery like that, I would say that it's quite difficult to use this speaker as a default speaker for your PC or as an alarm on your nightstand, but in that case, you can decide to leave the Ditoo plugged in by cable and thus solve this problem! So at the end it is a hybrid device, portable or not. Personally, I've used my bluetooth speaker connected to my phone several times while I'm cooking to listen to Spotify, a podcast or an audiobook, during a dinner party or, in the future, when we can invite friends for a party for example. Also, good to know that when you play music, the name of the song name will appear on the screen!
A powerful sound system
To access the various options of the Ditoo, you need to press the "m" key and use the arrow keys to navigate and press the handle to enter the menu. From there you can activate the bluetooth, access the alarm option or play the built-in retro mini-games.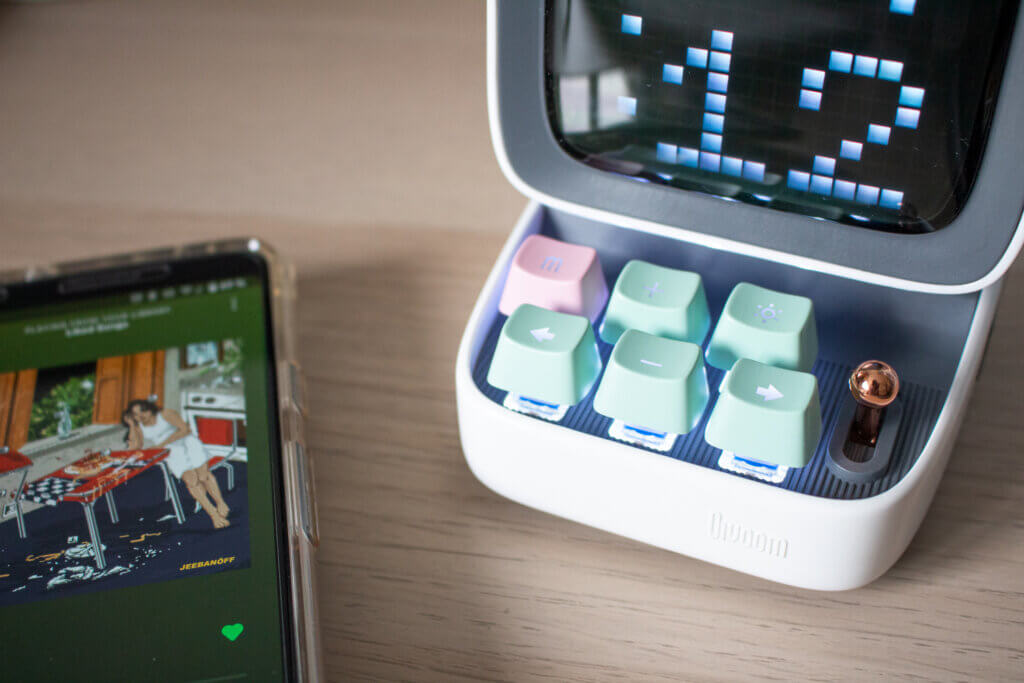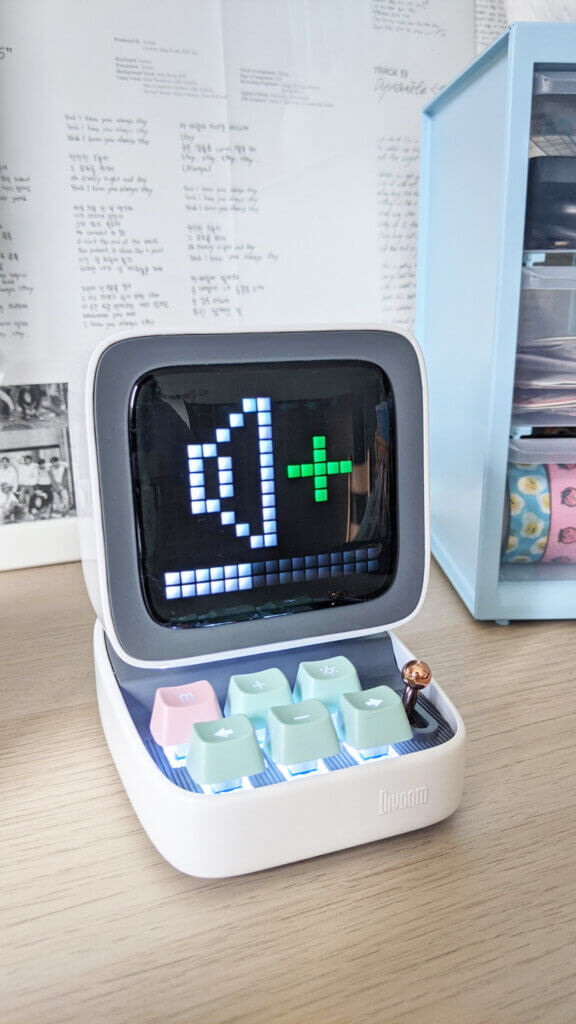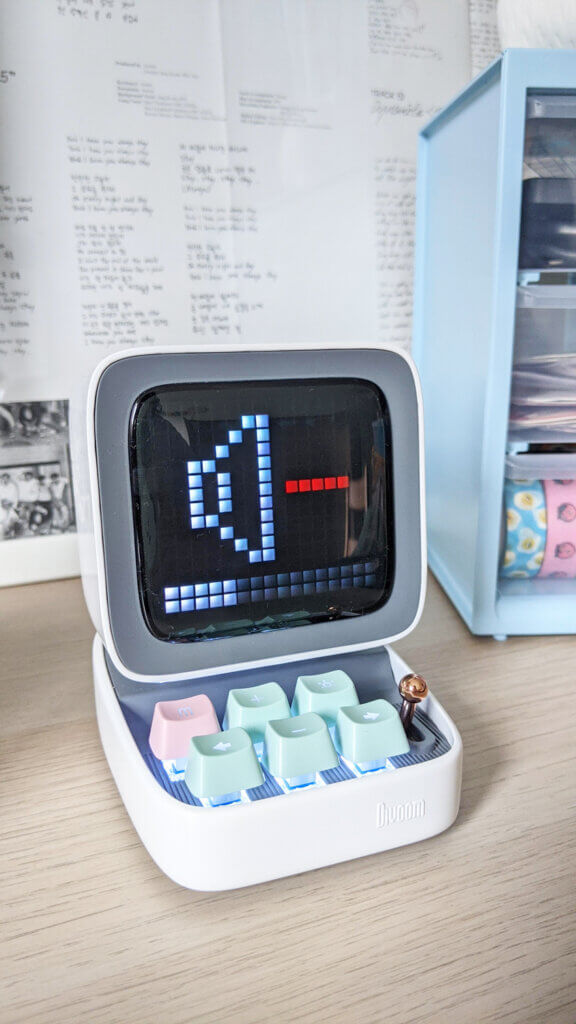 The most important question is of course the sound quality and I have to admit something: this is the aspect that surprised me the most! The sound is clear, of good quality, you can feel the bass and it is quite loud if needed! There is really a way to push the decibels, it's surprising to see such a quality in an object that I thought was rather a gadget. In comparison, we also have a portable bluetooth speaker at home and the quality between these two objects is equal (while the speaker we already have cost double the price). The sound quality is clearly a big plus point from a quality/price point of view! To control the sound, you just have to press the + and – buttons. In addition, the Ditoo can also be used as an internet radio or read music on a MicroSD card.
Customise your speaker endlessly
Long live pixel art!
The strength of Ditoo is the ability to display pixel art on the screen. You can either try your hand at pixel art from within your app as you can create your own pixel art designs, animations or scrolling text. If you're not feeling creative, you can access thousands of designs created by fans around the world. You can like them, download them, leave comments and post your own designs if you like. I was able to find lots of designs I liked super easily and download them to my Ditoo so I could display them. It's really impressive to see how talented some people are!
Choose your favourite colour
The Ditoo is available in various colours: red, black, blue, green, pink and white. The colour of the keys and the handle varies. I received the white version, which matches the colours of my office very well. The keys are water green and pink with a copper coloured handle.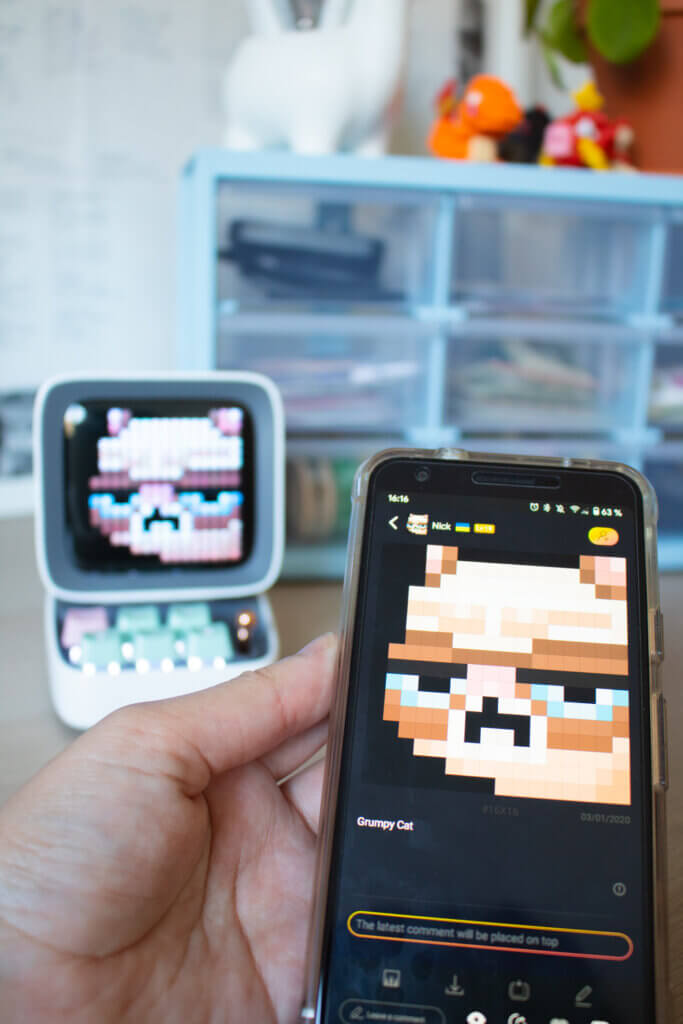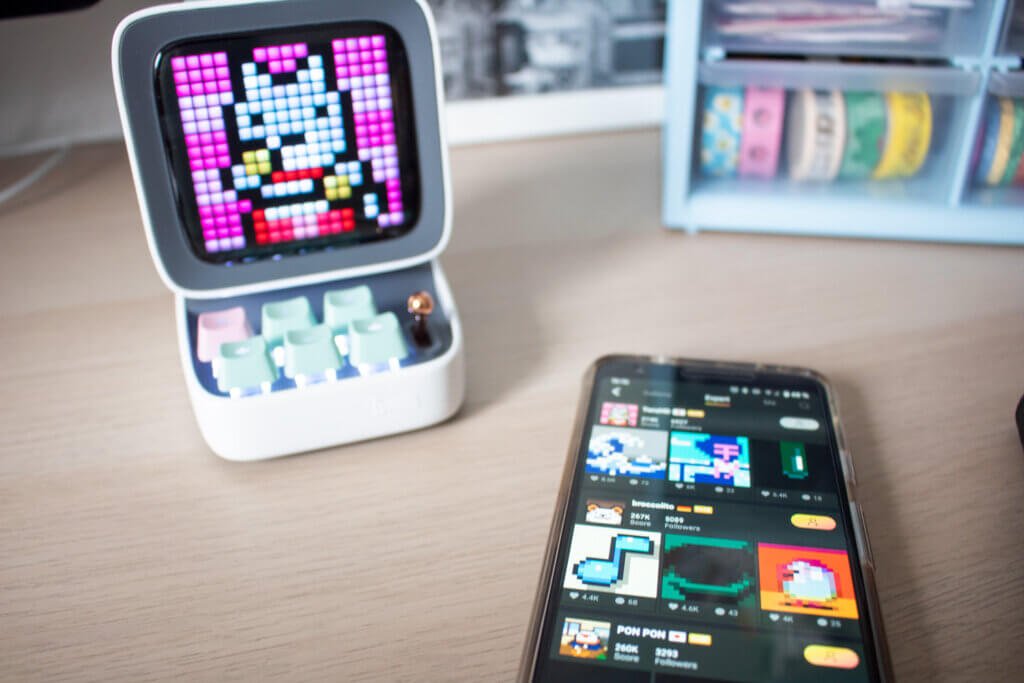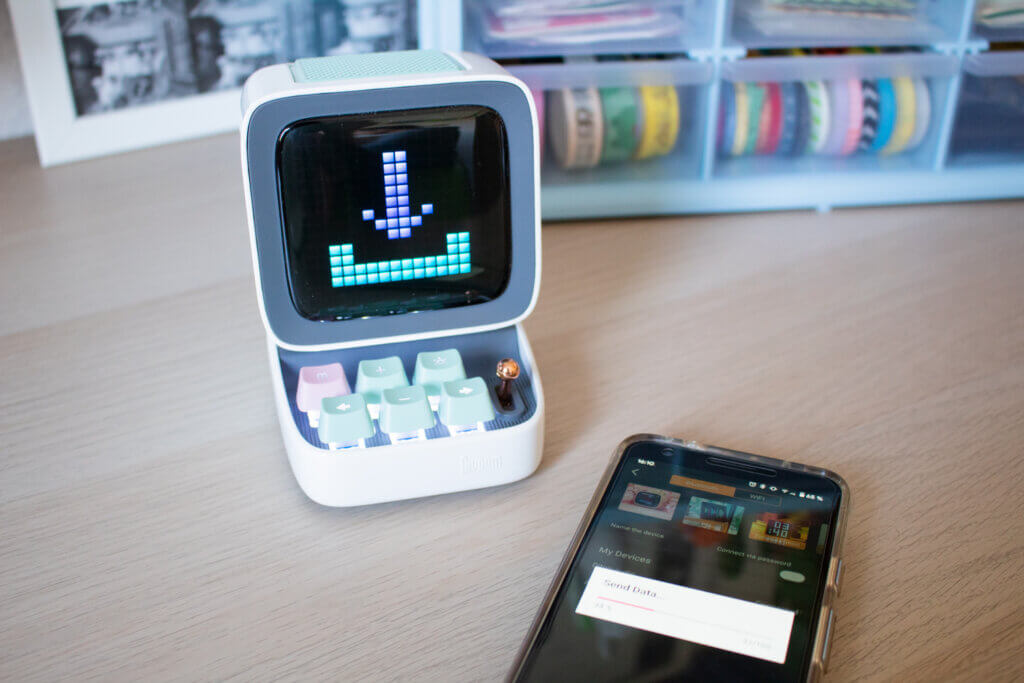 To customise your Ditoo, you'll need to arm yourself with your mobile phone and download the free "Divoom" app. You can then create an account and add your speaker to the list of devices. Be sure to activate the bluetooth option on your phone! Then you can use your speaker directly from your phone. On your profile, you can access your favourite designs or upload designs that you have created (so that others can see and download them). Competitions are also held from time to time and there is a chance to win prizes.
A complete office and life companion
You can also use the Ditoo as a desktop assistant as it can be used as an alarm clock, calendar, planner, birthday reminder, voice memo or stopwatch, but it can also display the weather, notifications (calls, Instagram, WhatsApp, Facebook or Twitter), measure the decibels or even serve as a sleep aid. This function is very interesting because you can decide to set a timer and play background music to relax. You can set the duration, the brightness of the screen (useful for sleeping) and choose between 24 different sounds (waves, wind, rain, birds,…).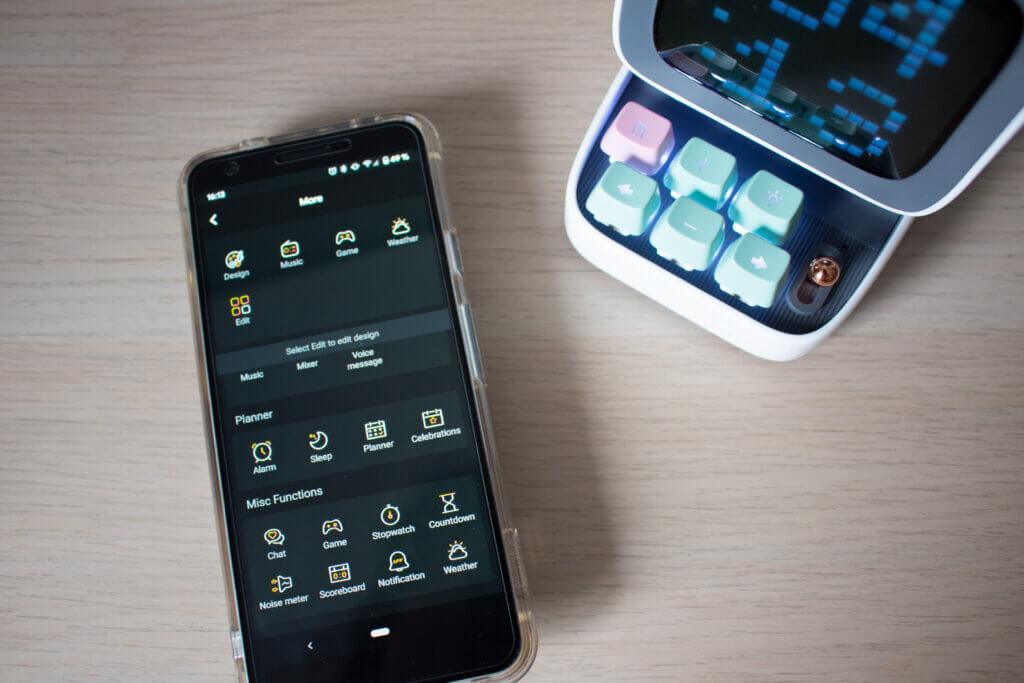 Also, if you feel like taking a little break, you can play various little games like snake, tetris and more (I tried but I'm super bad at it).
In conclusion: my opinion on the Divoom Ditoo
As you can see, for a price of around 80€ (depending on your Amazon shop), this is clearly a speaker that I highly recommend. The sound quality is really impeccable, the design will please fans of retro or cute objects, it can be used as a pixel art decoration and it comes with a lot of options that may seem gadgety at first but can really be useful!
Have a look at Divoom website for more information. You can buy it on Amazon DE or check all their products on the official Divoom shop on Amazon DE.
Thank you to Divoom for your trust and for offering me this product. This article reflects my honest and personal opinion and has not been influenced in any way whatsoever.