Hey!
It's been a while now that I want to share with you something on my blog. Something I really cares about but I didn't know how to start it. I like decoration and decoration magazines make me dream too but I just can't do it at home! I don't want to spend hundred of euros so my flat looks like a magazine so you will find a bit of everything in my flat like plastic dinosaurs, paper design stuff (big up to my master degree in crafting), watermelons and lots of DIY. Really, my home decoration keeps my guests busy each time. There is something in my flat which I really like: All the plants I adopted since I'm expatriate. I want to share with you my recent experience of indoor gardening.
I know that this blog post has nothing to do with all the "traditional" blog posts and that I'm not an expert in gardening but I want to propose you something different and I hope you will like it!
I own 10 plants including 4 cacti, an aloe vera and a bonsaï. Each plant has its own name and its own spot. I like to have plants because it's cute, it doens't take much space and it gives a special something to a room. Unfortunately, I don't have a green thumb… I'm so absent-minded that I always forget the rule number 1: You need to water your plants. Sometimes, I remember it and then I just go for it and maybe it happen that I flooded some of my plants. To add a difficulty to this gardening activity, I'm living in a flat at the 4th floor without elevator. It's quite tricky to garden properly in this case!
When Croix Chatelain proposed me a partnership a few weeks ago, I jump at the chance and I decided to speak about this 🙂 What's Croix Chatelain? No, they don't offer castles (you know, chatelain is the word we use in french for the people who live in a castle – this joke makes more sense in french obviously), but they offer pottery, garden tools and decoration. The best is that it's a 100% belgian company located in Brussels for more than 55 years #BelgianForOnce! I could choose products from their catalogue so I could present them to you and, trust me, it was hard to choose because they really have a lot of choice. I got a lot of nice flower-pots holders (and 3 crazy products, you'll see later). It's like if I have a bit of Belgium at home.
The basics
I managed to buy all my plants for very cheap! For example, I bought all my cacti for few euros on a local market to a little old lady who couldn't stop speaking german to me. If your are like mean  you don't have a green thumb, it's better you take some succulents because they don't bring much work. You will probably get your plants in one of those ugly plastic pots but there is a lot of very nice flower-pots holder available everywhere. I choose to stay simple and to select pots with neutral colors -black and white- (otherwise there is really too much color in my flat) and also to choose some light pots (because I have spaghetti arms).
I had to find some soil (blumenerde in german). I went to Bauhaus (which is like a huge department store in Germany) to do some shopping and I bought a 5L bag of soil because I don't have space in my flat for a bigger bag and I don't have strenght in my arms to bring this back home. I also found little rocks to put in the bottom of the flower-pots.
If you are like me and you don't have a lot of place to garden, it's all ok! I protected my floor with some waste paper and here it is! Ok, you can also wear gloves but I didn't have them > YOLO.
Get one's hand dirty…
Being a real city girl, I don't have a lot of experience in gardening (mom, I should have helped you more often in the garden, I'm sorry) and I was a bit scared to do something bad. I put some rocks in the bottom on my brand new pots to drain the water when I will water my plants and then I put a fine layer of soil. Then I removed gently the plants from their ugly pots, being really careful not to hurt their roots. I put the plan in the new pot and it was almost done. Once the plant is well installed, I added some soil which I packed down with my little fingers.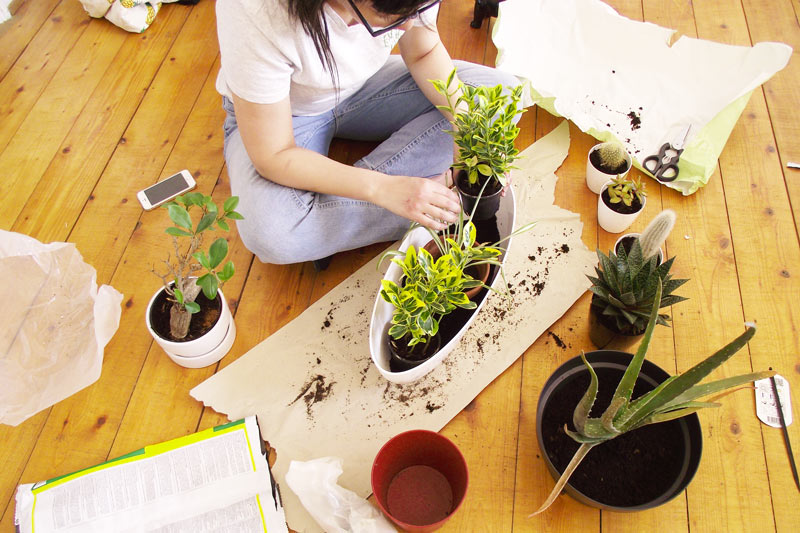 My mom gave me one of those spray bottles to humidify the plants (she's a pro). I did some pschiit to the soil and around my plants and TADAAA! In fact, it's not that hard to garden!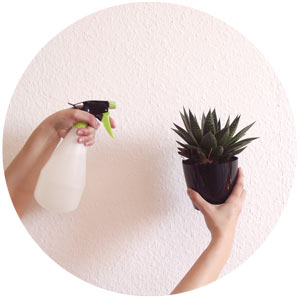 Plant-astic result!
Wait, let me show you the result of my gardening DIY session! My aloe vera (which is called Marc) is now in a super nice charcoal grey light pot, much bigger than the old one. He's a bit weak for the moment so I hope he'll get better in his new home now. I found those little wood stickers at Tiger so I could write down the name of my plants. I find the result super cute!
I let my bonsaï in its original pot, he doesn't like changes so much. No way I throw up my new pots: I use them to put all my DIY tools on my desk! The color contrast really well with all the white walls from my flat!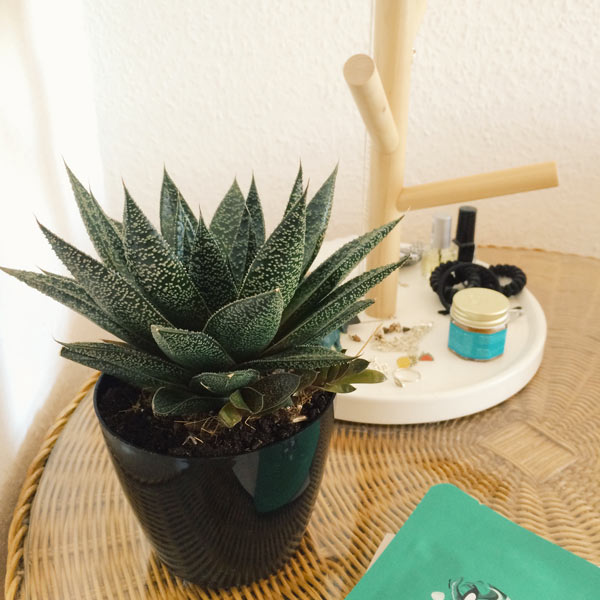 My cacti stay warm in their glass house on my windowstill (check out this beautiful landscape with all the factory towers) in their little white pots. I decided to add my cardboard watermelon found in a second-hand market. I have to admit that I'm in love with this little watermelon.
Finally, my indoor planter carries my two trees/plants (I have no idea about their name…) and my DIY Mario plant! I'm super happy about this planter and I'm looking forward for my trees to grow up. I got the robot for my birthday; the best thing with it is that it does light and sound!
"Indoor gardening is hard". Nah!
My little gardening day was really funny. I was a bit scared to destroy my plants of to dirty my whole flat but everything went well and the result is so cute that I can't complain! At the end, it's really not difficult to do indoor gardening: You just need to organize yourself before and not being scared of getting dirty! I really want to buy a big nice plant to put in the corner of my living room now…
Oh but wait, I'm not finished! I told you that I received 3 surprises from Croix Chatelain, right? I was a bit sceptical when I first opened the package since I'm living in a flat. Thanks Croix Chatelain for this little joke but I think that my mom made a much better use of this metal hen, metal magpie and huge windmill flower 😀 She was so happy that they directly find their place in her huge garden!
Here it is! I hope that you like this blog post and I'm happy that I could show you a small part of my flat 🙂 And you? Do you have plants at home? How do you do indoor gardening? Don't hesitate to drop me a line and to share my blog post 🙂 See you soon!
[blue_box]Disclamer: So yes, I'm honest with you! Those products were send to me and this blog post was a partnership with Croix Chatelain but I still could write whatever I wanted! So, don't worry, I didn't hide anything from you and I wrote honestly what I thought. Are we still friends :)? [/blue_box]
Don't hesitate to visit Croix Chatelain website, their Facebook page and their Twitter account.
[button link="https://olamelama.com/gardening-mama" color="blue"]EN FRANCAIS[/button]